MOOCS
What is online education like? There was an old Chinese motto: Poor rice field won't attract farmers to plow, but once there are farmers plowing such fields, many other farmers would join in and compete. Does it sound like what happens in online education?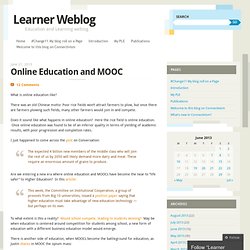 Online Education and MOOC
witter / Recherche - #mooc
10 of the World's Best Storytellers
the accidental technologist » Blog Archive » Connectivism: Theory or Phenomenon?
Posted by HeyWayne | Filed under Learning , Pedagogy , Technology "Connectivism" by ryan2point0 . Creative Commons licence CC BY-NC-SA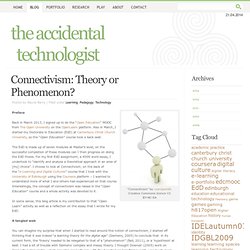 Here is my response to Connectivism: Theory or Phenomenon Interesting points and observation. There are lots of empirical evidence in support of Connectivism, only that I still haven't got the time to consolidate all of the research findings. My involvement of number of researches did reveal certain areas where the previous learning theories fell short in its explanation, especially in the areas where emergent, self-oganised and self-determined learning (Heutagogy) did occur.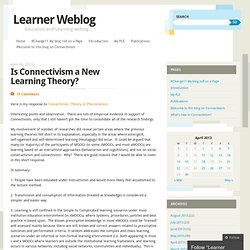 Is Connectivism a New Learning Theory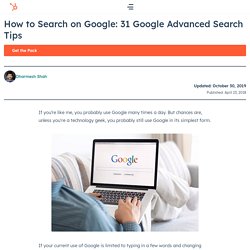 If you're like me, you probably use Google many times a day. But, chances are, unless you are a technology geek, you probably still use Google in its simplest form. If your current use of Google is limited to typing a few words in, and changing your query until you find what you're looking for, then I'm here to tell you that there's a better way – and it's not hard to learn. On the other hand, if you are a technology geek, and can use Google like the best of them already, then I suggest you bookmark this article of Google search tips. You'll then have the tips on hand when you are ready to pull your hair out in frustration when watching a neophyte repeatedly type in basic queries in a desperate attempt to find something. The following Google search tips are based on my own experience and things that I actually find useful.
Learning management systems are used by academic institutions and companies to manage, track, and deliver courses and training programs. One of the fastest growing software sectors over the last decade, it is now a billion dollar plus industry with hundreds of competing offerings. Below is a look the most popular options as measured by a combination of their total number of customers, active users, and online presence. In order to see a comprehensive list, please visit our LMS Software Directory . Read more about how we performed our research: Top LMS Software Solutions Infographic Embed this image on your site:
The Top 20 Most Popular LMS Software Solutions | Capterra
Stephen Downes relates to this post on MOOCs as networks. Stephen says: What gets me is that he apparently has *no idea* that we've been doing MOOCs as networks for 4 years, and indeed that MOOCs *originated* as networks Hi You have mentioned it in 2007 as I had cited in my post here in that MOOCs as networks, and YES, indeed that MOOCs originated as networks, and "we" continued as networks with networked learning.
#CFHE12 #Oped12 MOOC Emerging as Landscape of Change and Learning Platform Part 6- A Network Ecology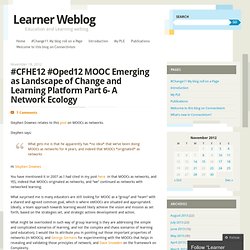 College Is Dead. Long Live College! | TIME.com
Problem accessing /ka3jto. Reason: Could not initialize class fm.see.model.ShortUrl$ Caused by:
500 - Comodo IceDragon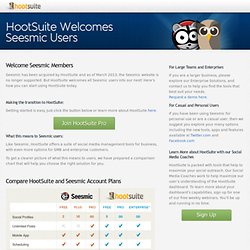 Seesmic has been acquired by HootSuite and as of March 2013, the Seesmic website is no longer supported. But HootSuite welcomes all Seesmic users into our nest! Here's how you can start using HootSuite today. Making the transition to HootSuite:
What does a great MOOC look like from learners' perspective? Through reading this post on MOOC, it seems to me that the principal pedagogy of instructivism with a sage on the stage (with one SUPER PROFESSOR) teaching in a MOOC is emphasised in the x MOOCs. Isn't that the way most people are perceiving the x MOOCs (or the super MOOCs) too? Ideally, Udacity and other MOOC providers will help strip away all the distractions of higher education — the brand, the price and the facilities — and remind all of us that education is about learning. In addition to putting downward pressure on student costs, it would be nice if MOOCs put upward pressure on teaching quality. Read more: http://nation.time.com/2012/10/18/college-is-dead-long-live-college/#ixzz29nAtt4gH
#Oped12 #MOOC Have people really understood what a great MOOC would look like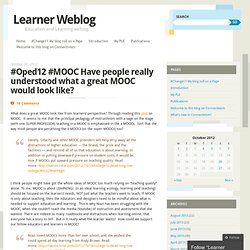 ORLANDO -- The men and women who attend the Sloan Consortium's annual meeting have been toiling in the fields of online learning for many years, so they could be forgiven for having a wee bit of skepticism (if not resentment) about "MOOC mania," the hubbub of hyper-attention that has been paid in recent months to the massive open online courses developed by Harvard, MIT, Stanford and other elite universities. "MOOCS will change the world and make the rest of higher education obsolete. Hyper-prestigious universities are driving all the change. Umm, I don't think so, folks," Jack Wilson, president emeritus of the University of Massachusetts system and Distinguished Professor of Higher Education, Emerging Technologies, and Innovation at the University of Massachusetts at Lowell, said during the conference's opening plenary Wednesday afternoon. "They're certainly not the first movers; they're not even the fast followers," he added, to applause from some in the audience.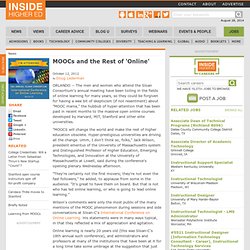 Online learning group hears from MOOC pioneer | Inside Higher Ed - Comodo IceDragon
Last Updated: 3/22/2013 09:02 PST As many people hit middle age, they often start to notice that their memory and mental clarity are not what they used to be. We suddenly can't remember where we put the keys just a moment ago, or an old acquaintance's name, or the name of an old band we used to love. As the brain fades, we euphemistically refer to these occurrences as "senior moments." While seemingly innocent, this loss of mental focus can potentially have a detrimental impact on our professional, social, and personal well-being. It happens to most of us, but is it inevitable?
Explanation: How Brain Training Can Make You Significantly Smarter
MOOCs at Edinburgh | Online Programmes | Postgraduate study
Massive Open Online Courses (MOOCs) at the University of Edinburgh The University of Edinburgh is joining the Coursera consortium , and in July 2012 became one of its first partners outside North America. Coursera offers short online courses from top universities in an increasing range of subjects, all entirely free of charge. All the courses are led by world-class academics, and supported by their teaching assistants. There are no entry requirements for students - all courses can be taken by anyone from anywhere online, and are generally offered two or three times per annum.
Reflections on open courses
UPDATE: The final research report is available: The MOOC Model for Digital Practice As part of a SSHRC grant , we ( Dave Cormier , Sandy McAuley , Bonnie Stewart , and I) are researching open courses such as Connectivism & Connective Knowledge , Edftures , and the upcoming Personal Learning Environments & Networks . Before I dive into refections on my experiences with open courses, I want to focus on how we got here.
you are not logged in. [] [] We have been collecting bits about the world of MOOCs and we wanted to share some of them with you for your perusal. Foof for lots of mental stimulation and lots of incubation material here and maybe even a discussion and blog post or two, or three. CMC11 was developed as a direct result of the Cormier, Downes, Siemens connectivist MOOCs that we followed as learner/participants, though more as lurkers than active contributors/participants. You may recognize yourself in either of those categories ... the learners/participants tend to shape the networks as well as the learning as the cMOOC flows along.
NEW READING OPPORTUNITIES IN MOOCDOM ~ CDL Projects
#MOOCMOOC Learning in MOOCs
What does it mean when learning online with MOOC? Are students ready to learn with MOOC? Who would succeed in completing MOOCs? Cathy asks in her post : why-have-students-been-left-out-mooc-discussion? If you do not include students in the conversation, you are merely replicating the hierarchical Sage-On-The-Stage model of pedagogy but on line. If students and learning are not intrinsically part of the MOOC conversation, then we're not talking education.
#MOOC MOOC Some reflections on MOOC
MOOCs are really a platform
Research into MOOC
Are we touching the nerves of MOOC
MOOC and its value
What made MOOC attractive
Even MORE MOOC MOOC MOOC! Chronicle article explains the business model | stevendkrause.com
What makes the difference – with the different MOOCs
What theory best supports Future Education and Learning
#MOOCMOOC Connectivism – Putting theory into practice
More reflections on MOOCs and MITx
George Siemens on Massive Open Online Courses (MOOCs)
Open Letter to Canadian Universities
Cursos Masivos en Línea (MOOC)