MOOCs
By Brad Hayward Stanford online coursework will be available starting this summer on a new open-source platform, OpenEdX , the university announced today. Kenneth Chan
New open-source platform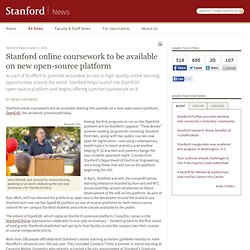 By Jeffrey R. Young In an unprecedented arrangement that involves aspects of MOOCs and a major technology company's support, the Georgia Institute of Technology will soon begin offering an online master's degree in computer science at an unusually low cost.
MOOC-based MS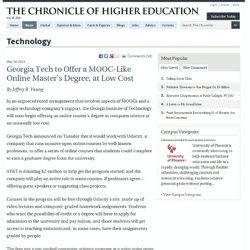 By KATHY PRETZ 1 May 2013 Massive open online courses, or MOOCs, have picked up support but also encountered criticism since my last blog about them in November. The Washington Post reports that Stanford will partner with the nonprofit edX , founded by MIT and Harvard, to develop an open-source Web platform for free online college courses offered by those two universities as well as other prestigious schools like Georgetown. Stanford has no plans to offer its own courses on the platform but will help develop a platform that edX says it hopes will be the "Linux of learning." The president of edX says the site plans to open all the software code for the platform to the world on 1 June.
MOOCs on the Move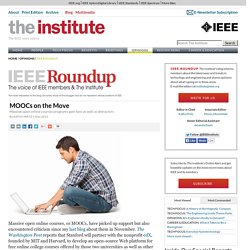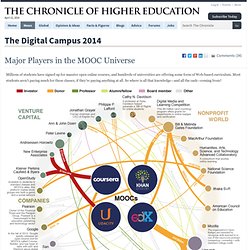 MOOC Universe Players
Millions of students have signed up for massive open online courses, and hundreds of universities are offering some form of Web-based curriculum. Most students aren't paying much for these classes, if they're paying anything at all. So where is all that knowledge—and all the cash—coming from? Graphic by XARISSA HOLDAWAY; illustration by NIGEL HAWTIN Sources: THE CHRONICLE OF HIGHER EDUCATION, FINANCIAL TIMES, NATIONAL SCIENCE FOUNDATION, THE NEW YORK TIMES, TECHCRUNCH, CNN, WIRED, AND YAHOO FINANCE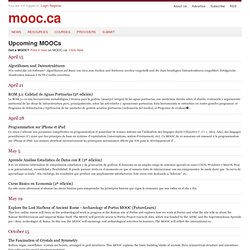 If you are looking for open online courses, please consult one of the sources below. If you are offering a MOOC (that is not from one of the sources listed) please send email to stephen@downes.ca and I will included it in the MOOC Course List. 2013 Connectivist-style MOOCs etMOOC - Educational Technology MOOC. we'll be needing you to share your knowledge, to support and encourage others, and to participate in meaningful conversations. OLDS MOOC - Open Learning Design Studio Massive Open Online Course (OLDS MOOC) "Learning Design for a 21st Century Curriculum" (www.olds.ac.uk), a free and open nine week course led by the Open University's Institute of Educational Technology MOOC MOOC - the Hybrid Pedagogy online journal group is starting a MOOC MOOC to study and evaluate MOOC's within an open online course environment.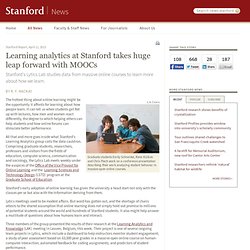 Learning analytics and MOOCs
By R. F. MacKay L.A. Cicero
Generation Rwanda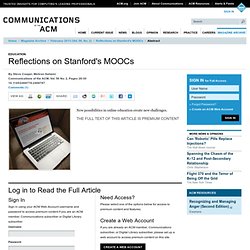 Reflections on Stanford's MOOCs
By Steve Cooper, Mehran Sahami Communications of the ACM, Vol. 56 No. 2, Pages 28-30 10.1145/2408776.2408787 Comments (1) New possibilities in online education create new challenges. The recent wave of Massive Open Online Courses (MOOCs) has highlighted the potential for making educational offerings accessible at a global level.
ACE Credit Study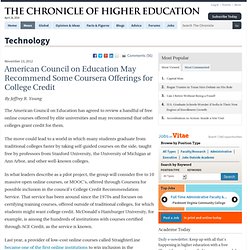 By Jeffrey R. Young The American Council on Education has agreed to review a handful of free online courses offered by elite universities and may recommend that other colleges grant credit for them.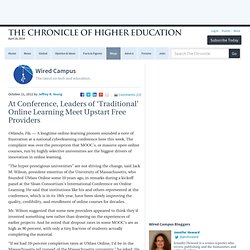 Orlando, Fla. — A longtime online-learning pioneer sounded a note of frustration at a national cyberlearning conference here this week. The complaint was over the perception that MOOC's, or massive open online courses, run by highly selective universities are the biggest drivers of innovation in online learning. "The hyper-prestigious universities" are not driving the change, said Jack M. Wilson, president emeritus of the University of Massachusetts, who founded UMass Online some 10 years ago, in remarks during a kickoff panel at the Sloan Consortium's International Conference on Online Learning. He said that institutions like his and others represented at the conference, which is in its 18th year, have been slowly improving the quality, credibility, and enrollment of online courses for decades. Mr.
MOOCs vs Traditional Online
Using Khan Academy as inspiration, Sebastian Thrun decided to bring his Stanford class on artificial intelligence online. Anyone could sign up for free. And 160,000 people from around the world did.
Sebastian Thrun Interview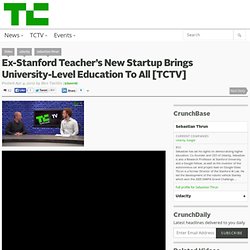 By Fred G. Martin Communications of the ACM, Vol. 55 No. 8, Pages 26-28 10.1145/2240236.2240246 Comments (1) Sharing recent experiences with the massive open artificial intelligence course developed and conducted by Stanford faculty Sebastian Thrun and Peter Norvig.
Effect of MOOCs on teaching
Daphne Koller's TED talk