Street art
THE UNDERBELLY PROJECT. Shaka - Graffiti, peintures. Toujours à sa Fenêtre. M o s k o e t a s s o c i é s. Graffiti Flava. Photos from Gilbert Mazout (gilbert) on Myspace. Collection Mini Héros - Stickaz. D.E.M.S.K.I. Profecy UB GT RTZ VMD. Teaseryan - une vidéo Art et Création. ZEVS. Bloglington. Street Stickers, Poster Art & Graphics from Brighton & London, UK – Worldwide. Keith Haring. FAITES LE MUR. M.CHAT. RED BULL STREET ART VIEW. LeCyklop. Paris : un album.
Rebel:art. MISS VAN | Official Miss Van Website. Mr. A. Street Art Par Mesnager - Paris (France) News - Site Jimdo de jefaerosol! Aakash Nihalani's Tape Art » Streetart Berlin Blog. Above. OaKoAk. LATLAS.NET. DAN WITZ. NY HARDCORE Solo Exhibition at Jonathan LeVine Gallery NEWS posted on April 01, 2014. 22:05 Dan Witz: ... read more » New Video: "Wailing Walls" NEWS posted on March 22, 2013. 07:34.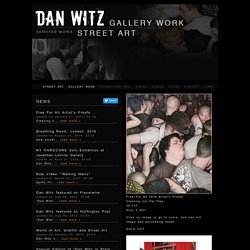 D*Face.
Photo
Alexandre Farto aka Vhils Selected Works. Le pool DOLK Stencils and Streetart.
---