So, you're a manager now
18 Tips For Success From Richard Branson
The best managers have a fundamentally different understanding of workplace, company, and team dynamics. See what they get right. Getty 23K in Share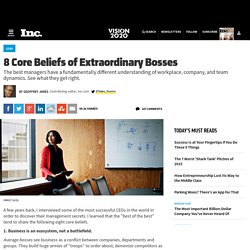 6 signs you're too nice of a boss
(MoneyWatch) A good leader not only has great knowledge and insight, but the softer people skills to utilize them. Still, for every manager there's a fine line between being empathetic and friendly and being a feckless pushover. "The big issue [especially] for new managers is that they don't understand the difference between 'business personal' relationships and pure personal relationships," says management psychologist Karissa Thacker. These two relationship may look similar on the surface, but there are important distinctions, she adds.
(MoneyWatch) COMMENTARY If you ask 10 senior executives if they like their jobs, I bet most would say yes. That's what I would have said back when that was my job. Pay, power, perks -- what's not to like, right? Not exactly.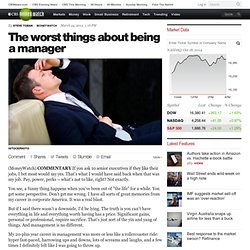 The worst things about being a manager
Are you called to leadership?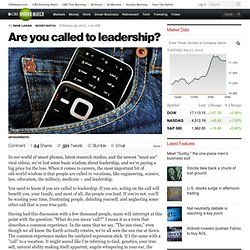 In our world of smart phones, latest research studies, and the newest "must see" viral videos, we've lost some basic wisdom about leadership, and we're paying a big price for the loss. When it comes to careers, the most important bit of old-world wisdom is that people are called to vocations, like engineering, science, law, education, the military, medicine -- and leadership. You need to know if you are called to leadership. If you are, acting on the call will benefit you, your family, and most of all, the people you lead. If you're not, you'll be wasting your time, frustrating people, deluding yourself, and neglecting some other call that is your true path.
The New Leader's Playbook - Tips for onboarding/on-boarding | PrimeGenesis
Why Flexible Hours Inspire Performance
COMMENTARY Of the 23 secondary schools that produced two or more Nobel Prize laureates, nine are in New York City. The high school I attended in Brooklyn graduated three Nobel Prize winners and dozens of famous scientists, engineers, athletes, musicians, actors and politicians. What went wrong with me is anyone's guess.
The myth of the visionary CEO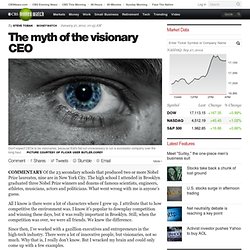 4 steps to becoming a great problem solver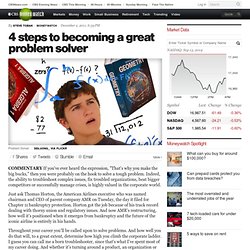 COMMENTARY If you've ever heard the expression, "That's why you make the big bucks," then you were probably on the hook to solve a tough problem. Indeed, the ability to troubleshoot complex issues, fix troubled organizations, beat bigger competitors or successfully manage crises, is highly valued in the corporate world.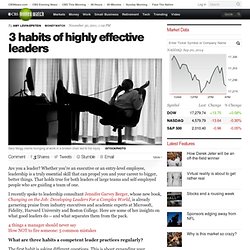 3 habits of highly effective leaders
Are you a leader? Whether you're an executive or an entry-level employee, leadership is a truly essential skill that can propel you and your career to bigger, better things. That holds true for both leaders of large teams and self-employed people who are guiding a team of one.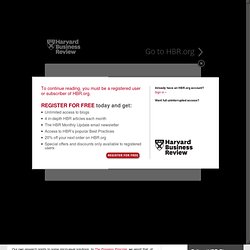 What Your Boss Needs to Know About Engagement - Teresa Amabile and Steve Kramer - HBS Faculty
by Teresa Amabile and Steve Kramer | 1:00 PM November 16, 2011
There's No Such Thing as Constructive Criticism - Tony Schwartz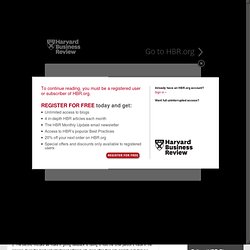 by Tony Schwartz | 8:00 AM November 21, 2011 Here's a question guaranteed to make your stomach lurch: "Would you mind if I gave you some feedback?" What that actually means is "Would you mind if I gave you some negative feedback, wrapped in the guise of constructive criticism, whether you want it or not?"
People listen to leaders.
4 things a manager should never say
9 Snap Judgments Managers Make in Job Interviews | BNET
One of my favorite Gladwellian Theories ( Malcolm Gladwell is the king of cool theories) is thin-slicing: the ability to find patterns and make decisions based on the combination of a limited set of data and a wealth of experience. Call them hunches, call them snap decisions, but more often than not thin-slice judgments turn out to be accurate.