Recipes
Budget Dinner Recipes - iVillage
Lobster Mac and Cheese
CPA Travels Watch for us on the roads this summer… CampingPA.com will be hitting the roads in PA and surrounding states visiting campgrounds, attending RV'ing and outdoors shows. If you see us on the road or in a campground, please feel free to stop by and say hello, we would really enjoy meeting you. If you'd like to know where we'll be camping, watch our Come Visit Us Forum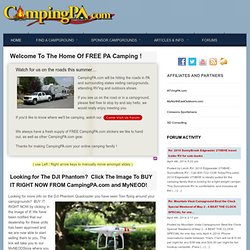 Wednesday, April 16, 2014 baked eggs with spinach and mushrooms My brunch arsenal, the dishes I've made enough times that they no longer cause any furrowed brows — a core entertaining principle here at House Smitten Kitchen (sigil: cast-iron skillet) — is as follows: bacon (always roasted in the oven, I mean, unless you were hoping to mist yourself with eau de pork belly*); some sort of fruit salad (either mixed berries and vanilla bean-scented yogurt or mixed citrus segments, sometimes with mint and feta); buttermilk biscuits; a pitcher of Bloody Marys, a bottle of champagne and a couple carafes of freshly-squeezed grapefruit or orange juice, blood orange whenever available; something sweet (our current favorite) and eggs.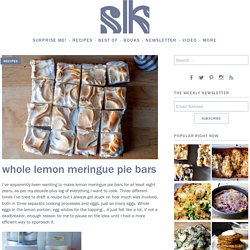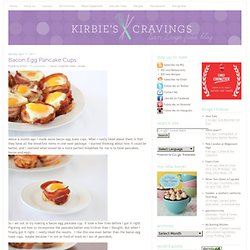 Monday, April 11, 2011 Bacon Egg Pancake Cups About a month ago I made some bacon egg toast cups. What I really liked about them is that they have all the breakfast items in one neat package. I started thinking about how it could be better, and I realized what would be a more perfect breakfast for me is to have pancakes, bacon and eggs.
While that tub of ice cream in the back of the freezer may be what you crave when you're feeling blue, there is a long list of other (healthier!) foods that can cure a grouchy morning or a stressed-out afternoon. We talked to the experts to get the scoop on what to eat to make you feel better no matter what your mood.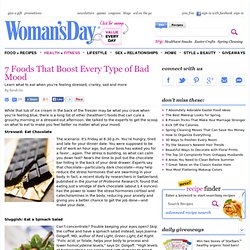 Healthy meals start with smart meal planning
Healthy meals start with smart meal planning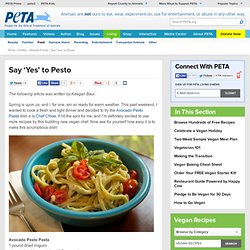 The following article was written by Keegan Baur. Spring is upon us, and I, for one, am so ready for warm weather. This past weekend, I wanted to cook a fresh and light dinner and decided to try the Avocado Pesto Pasta dish à la Chef Chloe.