ANONYMOUS4MUM
IH1li.png (556×565)
Interview FranceInfo
Les Anonymous français et belges détournaient le site de Vivendi en janvier © Capture d'écran selon les règles du mouvement, et si jamais c'est le cas, le membre est désavoué. Pour ces militants, seul le "nous" a une valeur.
Les Anonymous parlent d'une seule voix sur franceinfo.fr - Société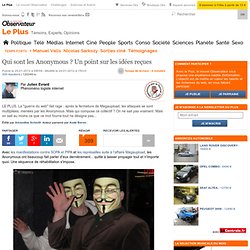 Avec les manifestations contre SOPA et PIPA et les représailles suite à l'affaire Megaupload, les Anonymous ont beaucoup fait parler d'eux dernièrement... quitte à laisser propager tout et n'importe quoi. Une séquence de réhabilitation s'impose. Anonymous (lyrion/CC/Flickr.com).
Qui sont les Anonymous ? Un point sur les idées reçues
Video: A Short, Strange History of Anonymous | Threat Level
Anonymous has come a long way in a few short years, graduating from filling the web with Pedobears and Rickrolls to fighting oppressive regimes and trying to get revenge on the companies that cut off WikiLeaks. Wired's video team chronicles the lulz and attacks from the leaderless online collective in the above video — made with some fun animation. For a longer textual take on Anonymous's history, check out the first two parts of Quinn Norton's Anonymous 101 series: Anonymous 101: Introduction to the Lulz and Anonymous 101 Part Deux: Morals Triumph Over Lulz.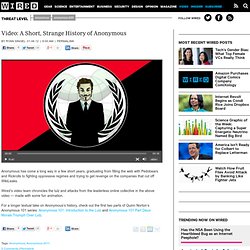 L'anthropologue Gabriella Coleman, spécialiste reconnue des Anonymous, a été la première à suivre le phénomène. Dans cet article fleuve, elle dresse le portrait de ces nouveaux activistes. Dans cet article, initialement paru en anglais et que nous rééditons, l'anthropologue Gabriella Coleman synthétise ses découvertes et ses analyses sur le mouvement des Anonymous. Chercheuse en sciences humaines à l'Université de New York, elle est actuellement l'une des plus fines observatrices des activistes d'Occupy Wall Street. Pris dans son ensemble, le concept d'Anonymous désigne une réalité vaste et complexe ; ce nom prend actuellement tout son sens dans un monde dans lequel son rôle est de coordonner une série d'initiatives décousues, lesquelles vont du trolling aux revendications politiques.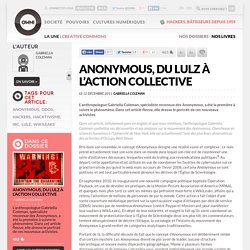 Depuis quatre mois, le collectif de hackers Telecomix soutient les internautes opposants au régime de Bachar Al-Assad en sécurisant les canaux de communication. Début octobre, le groupe a révélé l'implication présumée d'une entreprise américaine dans la fourniture de la technologie de surveillance aux autorités syriennes. Pour Kheops, jeune universitaire en informatique, tout commence avec la décision, en janvier 2011, d'Hosni Moubarak, alors président égyptien, de bloquer le réseau Internet dans le pays. Kheops lit alors un article sur le sujet dans lequel le collectif de hackers Telecomix était mentionné. Kheops, qui préfère garder l'anonymat, s'intéresse à ce collectif international qui défend la liberté d'expression sur le Net et qui aide le peuple égyptien à se connecter, en déjouant la surveillance des autorités.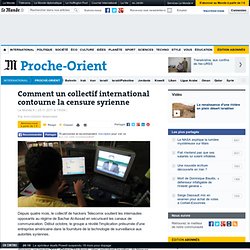 Comment un collectif international contourne la censure syrienne
We Are Legion: The Story of the Hacktivists - Trailer
Un collectif de hackers, Telecomix, a prêté main forte aux Syriens en lutte contre le pouvoir de Damas. Une nouvelle opération après les succès égyptien et tunisien. Dans la nuit du 4 au 5 septembre, à 2h53, KheOps (le pseudonyme d'un hacker familier des actions politiques) a "appuyé sur le bouton", comme il le dit modestement, et détourné l'Internet en Syrie. Dès lors, les internautes syriens étaient automatiquement redirigés vers un site web expliquant pourquoi, et comment, contourner la censure et protéger leurs communications sur le Net :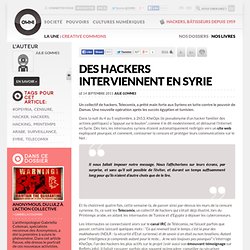 Anonymous n'est pas un groupe ou une entité. Ce n'est ni vous ni moi ni quiconque. Anonymous est une idée.
Appel d'Anonymous France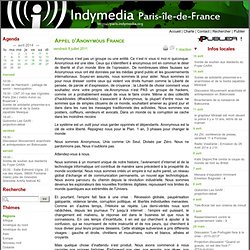 FrFz4.png (Image PNG, 400x1241 pixels) - Redimensionnée (66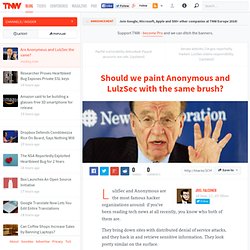 Should we paint Anonymous and LulzSec with the same brush? - Industry
LulzSec and Anonymous are the most famous hacker organizations around: if you've been reading tech news at all recently, you know who both of them are. They bring down sites with distributed denial of service attacks, and they hack in and retrieve sensitive information. They look pretty similar on the surface.
Une députée s'attaque aux Anonymous
Muriel Marland-Militello veut désarmer les internautes qui paralysent les sites internet grâce à des attaques par déni de service distribué (DDoS). La députée UMP a déposé, avec 58 de ses collègues, une proposition de loi pour durcir la lutte contre les attaques informatiques, a-t-elle annoncé lundi. Muriel Marland-Militello souhaite ainsi «renforcer une société numérique civilisée où les droits et libertés de chacun sont protégés», affirme-t-elle. La proposition de loi étend les amendes et les peines de prison en cas d'intrusion dans les services de communication au public en ligne, et plus seulement dans les «systèmes de traitement automatisé de données», afin de couvrir plus clairement les sites internet.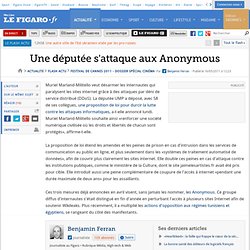 Ces « Anonymes » qui font trembler le Web - INTERNET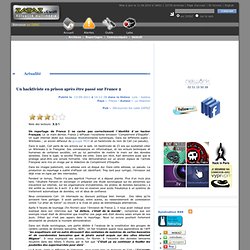 Publié le 13-04-2011 à 14:11:38 dans le thème Lois - Justice Pays : France - Auteur : La rédaction Pub : Découvrez les Labs ZATAZ Un reportage de France 2 ne cache pas correctement l´identité d´un hacker Français.
Un hacktiviste en prison après être passé sur France 2
Face à l'avalanche de lois sécuritaires sur Internet, les organisations citoyennes sont souvent le meilleur levier pour contrer la répression. Et si elles n'existaient pas? Cet article est une fiction basée sur l'extrapolation de faits réels.
Anonymous: final boss of the Internet? - Romhack.Net, the alternative IT magazine
4chan (NSFW: not safe for work) is what is usually called an image-board, a particular type of forum that occidentals barely know. Image-boards are the evolution of BBS (bulletin board systems) that were extremely popular in Japan before the Internet really took of. As such, most image-boards tend to be centered around japanese pop-culture and art like animu and mango anime and manga and video games. The most prominent board of this kind is Futaba Channel (2chan) which is exclusively intended to a japanese-speaking audience, and 5 years ago, 4chan was born, aiming to the english-spoken counterpart of Futaba Channel. The board is divided into several distinct categories relevant to the others interests, each sub-forum being named after the first one or two letters of the section name.
The tendency to relate past events to what is possible in the present becomes more difficult as the scope of the geopolitical environment changes. It is a useful thing, then, to ask every once in a while if the environment has recently undergone any particular severe changes, thereby expanding our options for the future. Terminology, let alone our means of exchanging information, has changed to such a degree that many essential discussions in today's "communications age" would be entirely incomprehensible to many two decades ago. As the social, political and technological environment has developed, some have already begun to explore new options, seizing new chances for digital activism - and more will soon join in. It is time for the rest of the world to understand why. Service denied
Everything Anonymous
Anonymous || Note to journalists Attention Journalists: If you are writing a story, and have come to this website to do research, or pull a quote -- stop. slow down. read. Read the big blue highlighted section at the top of the screen: AnonNews uses an open-posting concept.
Anonymous on The Colbert Report
"Consultez votre boîte mail, vous trouverez un numéro où appeler." Vous pensiez faire une simple enquête journalistique, vous voilà dans une ambiance de film d'espionnage. Le type à la voix grave a déjà raccroché.
[ENQUETE] Planète Anonymous - Vu sur le web
Re: Anonymous on FOX11
Anonymous on FOX11
S07E19c on Vimeo