Online comics
Tiny Hippo had a Tiny Train
Fingerpori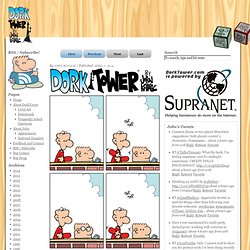 Boba Fett, Cake Boss Boba Fett, Cake Boss It was my nephew's 13th birthday, Monday. So the Lovely and Talented Judith, Daughter, Age 5, and I spent the weekend with family, in the great city of St.
Emerald City Comicon kicks off con season this weekend and the show is bigger this year than ever before. This is my favorite comic show of the year and I never miss it. This year I'll be at booth 1320 with Brad Guigar and Tavis Maiden.
Giant In the Playground Games
Rich Burlew on the Record-Breaking Success of the 'Order of the Stick' Kickstarter [Interview
Last week, I wrote about the Kickstarter drive at Order of the Stick that shattered records by raising $250,000 in just 8 days in order to get the collections of the stick-figure fantasy webcomic back into print. In the week since that article went up, the amount of money raised has doubled to over half a million dollars, raising enough money to reprint the entire OOTS library and securing its place as the most funded creative work in Kickstarter history. It's nothing short of a phenomenon, which is why we spoke to OOTS creator Rich Burlew about his incredible success. ComicsAlliance: You originally started the Kickstarter drive to raise money to reprint a single book. How did you expect it to play out? Rich Burlew: I thought there were three basic scenarios that could play out.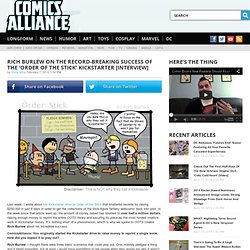 QC: New Comics Every Monday Through Friday
Main Page - Comixpedia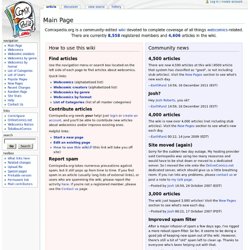 How to use this wiki Find articles Use the navigation menu or search box located on the left side of each page to find articles about webcomics. Quick links: Webcomics (alphabetized list) Webcomic creators (alphabetized list) Webcomics by genre Webcomics by format List of Categories (list of all master categories) Contribute articles
Viivi & Wagner