Cybersafety
Woogi World - Educators. Ed Online - Primer. Baruch College's Guide To Using Copyrighted Media in Your Courses. 29 Steps to Internet Safety for Kids. Photo credit: Public domain pictures This is a great list from Deb Ng, founder and former owner of the Freelance Writing Jobs.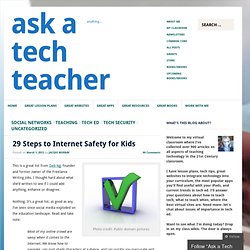 I thought hard about what she'd written to see if I could add anything, enhance or disagree. Nothing. It's a great list, as good as any I've seen since social media exploded on the education landscape. Read and take note: Welcome. Webonauts Internet Academy. A THIN LINE, MTV's sexting, cyberbullying, digital dating abuse campaign : www.athinline.org. Infinite Learning Lab. Through the Wild Web Woods - A game by the Council of Europe based on the Internet Literacy Handbook. T Internet Safety Connections Game. Password Bird | Password Generator.
Create a password : Passcreator.
---