Verbs
Verbs, Verbs, Verbs ppt free download
Action Verbs – They're What You Do Grammar Grade 2 ppt free download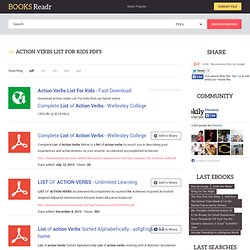 Sponsored High Speed Downloads LIST OF ACTION VERBS Accelerated Accomplished Accounted for Achieved Acquired Activated Adapted Adjusted Administered Advised Aided Allocated Analyzed Complete List of Action Verbs - Wellesley College Complete List of Action Verbs Below is a list of action verbs to assist you in describing your experiences and achievements on your resume. accelerated accomplished Achieved Action Verbs for Learning Objectives
Action Verbs List For Kids - Free PDF downloads
English Vocabulary Word Lists - most common English words and verbs
This page shows the most common words in English. These lists can be used to create vocabulary based materials and syllabi. Top 300 Most Common English Words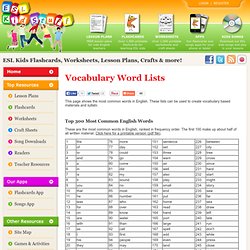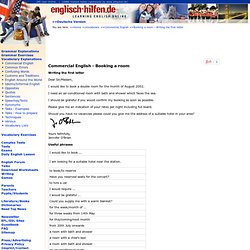 Dear Sir/Madam, I would like to book a double room for the month of August 2002. I need an air-conditioned room with bath and shower which faces the sea. I should be grateful if you would confirm my booking as soon as possible. Please give me an indication of your rates per night including full board.
Commercial English - Booking a room - Vocabulary - Learning English
Vocabulary Index - Learning English
Verbs, irregular - English Grammar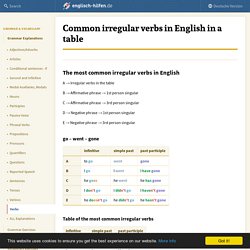 * regular form (+ -ed) also possible. The trend, in English, and especially in American English, is to standardize the irregular verbs. We do not foresee all the irregular verbs ever being standardized, but some of the more minor variations in less commonly used words will probably disappear in the next genration or two. The following English irregular verbs are now obsolete and use the standard past and participle forms (-ed). Download (pdf-files) irregular verbs irregular verbs irregular verbs
English Phrases
Verb tenses are tools that English speakers use to express time in their language. You may find that many English tenses do not have direct translations in your language. That is not a problem. By studying this verb tense tutorial, you will learn to think like a native English speaker.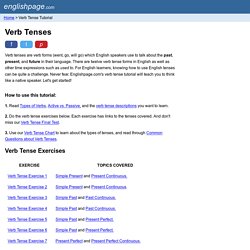 Englishpage.com > Verb Tense Tutorial > Verb Tense Exercise 11 Verb Tense Exercise 11 Simple Past / Past Perfect Using the words in parentheses, complete the text below with the appropriate tenses, then click the "Check" button to check your answers. I can't believe I (get) that apartment.
Verb Tense Exercise 11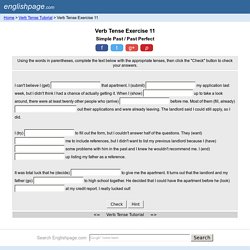 Irregular Verbs List
English Irregular Verbs Test - Verb Drill - Learn English Free