History
Maps. Home page Down to: 6th to 15th Centuries | 16th and 19th Centuries | 1901 to World War Two | 1946 to 21st Century The Ancient World ... index of places Aegean Region, to 300 BCE Aegean Region, 185 BCE.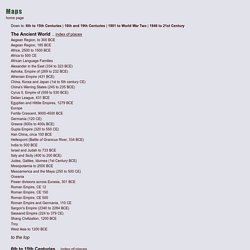 Paris Now and Then (1940s) : Classic Photography. The 25 Biggest Mysteries of History. Although they say curiosity has the power to somehow kill your cat, it seems that humans are immune.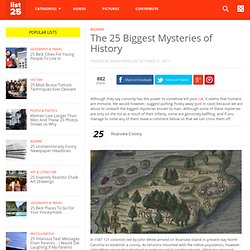 We would however, suggest putting Pooky away (just in case) because we are about to unleash the biggest mysteries known to man. Although some of these mysteries are only on the list as a result of their infamy, some are genuinely baffling, and if you manage to solve any of them leave a comment below so that we can cross them off. About David Pegg After helping found the United Nations, the United States, and United Airlines, David consigned himself to a transient life of writing lists and sleeping on park benches. Remember the War - Remembering our heroes - 13th November 2011. Www.mapsofwar.com/images/EMPIRE17.swf.
---