Resources
The web is full of resources, but they're often hard to reach. This is the reason why I think it's important to organize them with a coherent structure and share it with you. So just bookmark this page for whenever you'll need it, it'll be useful. Please also mention if I missed anything. OrganizingSample contract for WebDesignExample of a Webdesign contract to adapt for your needs.Design brief sampleExample of a brief for a Poster design that you can adapt for your needs.Things Simple task management for Mac OSX.Remember The Milk Online Task Manager.CommunicatingSkype Cheap or free calls from your computer.Adium Multi-client instant messaging application for Mac OSX.Pidgin Multi-client instant messaging application for Windows.Brainstorming – WireframingBubbl.usOnline brainstorming application.mindmeisterCollaborative online mind mapping.gliffyCreate and share flowcharts and diagrams online.TypographyWhat the Font?
Design tools for the freelancer | Design daily news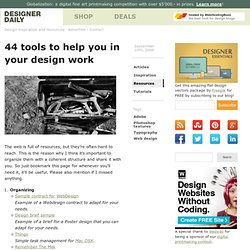 10-delicious-free-fonts-with-commercial use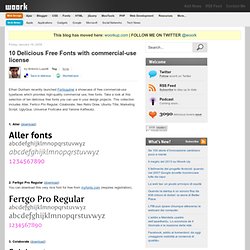 Ethan Dunham recently launched Fontsquirrel a showcase of free commercial-use typefaces which provides high-quality commercial use, free fonts. Take a look at this selection of ten delicious free fonts you can use in your design projects. This collection includes Aller, Fertico Pro Regular, Colaborate, Neo Retro Draw, Ubuntu Title, Marketing Script, UglyQua, Universal Fruitcake and Yanone Kaffesatz. 1. Aller (download) 2.
Advertisement Desktop blogging tools can benefit designers-bloggers in a number of ways. They provide extra functionality that can significantly speed up the blogging process for both newbies and professionals. One of the main benefits of using a desktop client is the ability to comfortably write a post offline, and publish it later.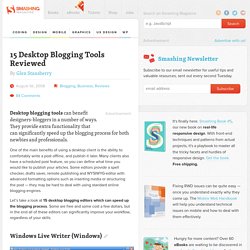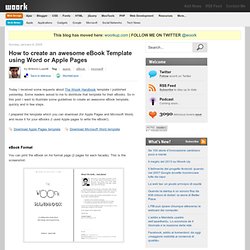 Today I received some requests about The Woork Handbook template I published yesterday. Some readers asked to me to distribute that template for their eBooks. So in this post I want to illustrate some guidelines to create an awesome eBook template, quickly and in few steps. I prepared the template which you can download (for Apple Pages and Microsoft Word) and reuse it for your eBooks (I used Apple pages to write the eBook!).
How to create awesome ebook template
Online - Free Documentary Courses from the BBC
We're a fan-created, fan-run, non-profit, non-commercial archive for transformative fanworks, like fanfiction, fanart, fan videos, and podfic. We currently have 14110 fandoms, 256344 registered users, and 964704 works. While the site is in beta, you can get an invitation from another user or from our automated invite queue. All fans and fanworks are welcome! The Archive of Our Own is a project of the Organization for Transformative Works.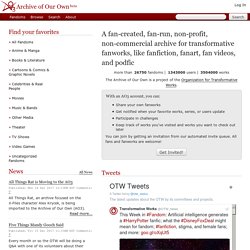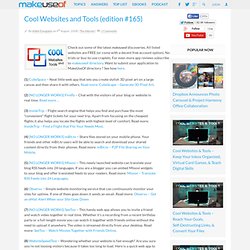 Cool Websites and Tools (edition #165) | MakeUseOf.com
(1) CubeSpace – Neat little web app that lets you create stylish 3D pixel art on a large canvas and then share it with others. Read more: CubeScape – Generate 3D Pixel Art. (2) [NO LONGER WORKS] Firefly – Chat with the visitors of your blog or website in real time.
Today, we are listing 17 online free web based applications that are very helpful for you to process your daily work. Whether you are designer, developer, office worker, manager, supervisor, student, home user, etc. But we make sure to add something interesting for everyone. Most of them are not very well-known, but they are really amazing in respect to their features.
17 Online Free Web Based Applications That You Probably Love To Use! - Opensource, Free and Useful Online Resources for Designers and Developers
Freelancer.com is the world's largest freelancing, outsourcing, and crowdsourcing marketplace for small business. With over 10 million users, you can hire a freelancer to do your contract work at a fraction of the cost. Whether you need PHP developers, web designers, or content writers, you can outsource jobs within minutes. Browse through hundreds of skills including copywriting, data entry, and graphic design or more technical areas like coding HTML, programming MySQL, and designing CSS. Are you an entrepreneur just starting a company?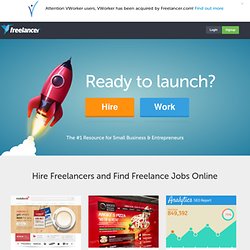 32 online tools that can help your tech freelancing career | View from the Cubicle | TechRepublic.com
Remote Worker Daily | Helpful tips and articles for remote / virtual workers and telecommuters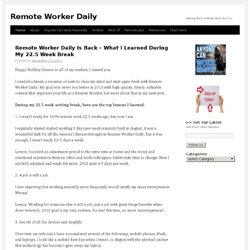 Friends and readers, our Anyone Can Work Remotely Guide on Breaking Free From Your Cubicle, Opening Up Your World, and Getting the Life You Want is now available for your consideration. The link is above for those who are ready to pick it up, and for those who want more information, just keep reading. What It's About: A step by step Guide to Working Remotely. Including directions and resources for finding or creating Remote Work for yourself.
freelancer job web sites