Izzybell74
Trista
I am me
Say 'Yes' to Pesto | PETA.org - StumbleUpon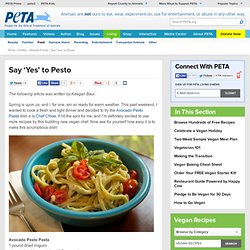 The following article was written by Keegan Baur. Spring is upon us, and I, for one, am so ready for warm weather. This past weekend, I wanted to cook a fresh and light dinner and decided to try the Avocado Pesto Pasta dish à la Chef Chloe. It hit the spot for me, and I'm definitely excited to use more recipes by this budding new vegan chef. Now see for yourself how easy it is to make this scrumptious dish! Avocado Pesto Pasta 1 pound dried linguini 1 bunch basil leaves (about 2.5 ounces) 1/2 cup pine nuts 2 ripe avocados, pitted and peeled 2 Tbsp. fresh lemon juice (about 1/2 of a lemon) 3 garlic cloves 1/2 cup olive oil Salt, to taste Freshly ground black pepper, to taste 1/4 cup chopped sun-dried tomatoes (optional)*
75 Reminders for Tough Times - StumbleUpon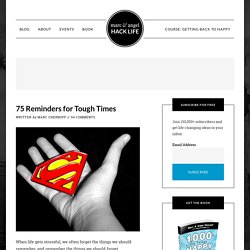 post written by: Marc Chernoff Email When life gets stressful, we often forget the things we should remember, and remember the things we should forget.
- StumbleUpon
Labour And Wait & FAN THE FIRE
Bacon and Cheddar Macaroni & Cheese - iVillage - StumbleUpon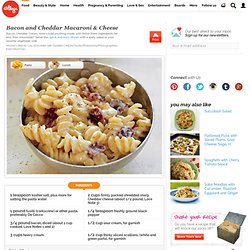 1 Bring a medium (6- to 8-quart) pot of water to a boil. Salt it generously (it should taste like the sea). Stir in the pasta and cook according to the package directions. Drain (but don't rinse, or you'll rinse away starches that will help thicken the sauce) and return to the empty pot. 2 Meanwhile, place a large (12- to 14-inch) sauté pan over high heat for several minutes. When hot, add the bacon and sauté until browned and crispy (lower the heat to medium-high if necessary to prevent scorching), about 5 minutes.
Top Bloggers Favorite DIY Projects - iVillage - StumbleUpon
elephantine: the baked mac and cheese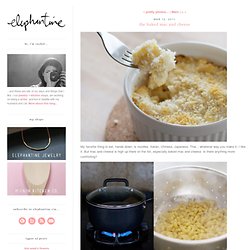 My favorite thing to eat, hands down, is noodles. Italian, Chinese, Japanese, Thai... whatever way you make it, I like it. But mac and cheese is high up there on the list, especially baked mac and cheese. Is there anything more comforting?
Who came up with the idea that we are supposed to drink orange juice at breakfast? And why, if oatmeal is so good for us, do we eat that only in the morning as well? Apologies to the Palinites, but nutritionists are starting to realize that you and I like our oatmeal and OJ before we start the day because we evolved to like it that way—because enjoying the two together is healthier than eating each of them alone.
- StumbleUpon
Crafts: Pierced Sun Catcher | Tween Crafts - Fun, Cool Crafts for Tweens | FamilyFun
Crayon Hearts - Martha Stewart Crafts - StumbleUpon
[Note: This list of Einstein quotes was being forwarded around the Internet in e-mail, so I decided to put it on my web page. I'm afraid I can't vouch for its authenticity, tell you where it came from, who compiled the list, who Kevin Harris is, or anything like that. Still, the quotes are interesting and enlightening.] "Any intelligent fool can make things bigger, more complex, and more violent. It takes a touch of genius -- and a lot of courage -- to move in the opposite direction."
Collected Quotes from Albert Einstein - StumbleUpon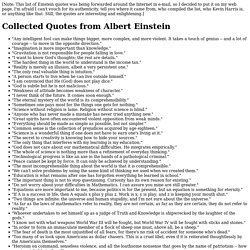 Extraordinary Water Pictures on FunFoll.com
This Is What Happens When You Give a Puppy An Adult Doggy Water Dish! Video - StumbleUpon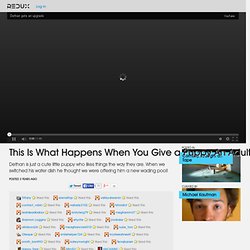 Log in Comedy: Caught on Tape Michael Kaufman This Is What Happens When You Give a Puppy An Adult Doggy Water Dish!
Healing foods reference database - StumbleUpon
Eating 10 hot dogs in 6 minutes and belching the national anthem may impress your friends, but neither of those feats will do much for your body—at least not much good. Instead, why not train yourself to do something that may actually pay off? We're not talking bench presses and interval training (though those do help). You can teach your body to cure itself from everyday health ailments—side stitches, first-date jitters, even hands that have fallen asleep. Just study this list, and the next time your friends challenge you to an ice cream eating contest, chow down: You know how to thaw a brain freeze—and 17 other tricks that'll make everyone think you're the next David Blaine.
printer.php from menshealth.com - StumbleUpon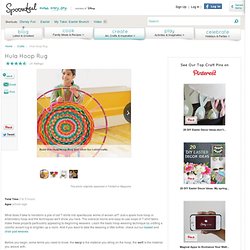 Print Hula Hoop Rug Page | Crafts | FamilyFun - StumbleUpon
This photo originally appeared in FamilyFun Magazine Total Time 2 to 3 hours Ages school-age What does it take to transform a pile of old T-shirts into spectacular works of woven art? Just a spare hula hoop or embroidery hoop and the techniques we'll show you here.
The best new recipes from The Kitchn | punchfork.com - StumbleUpon
Pretzel Buns and Pretzels... I love this recipe!!!... you can actually do 2 bread products from 1 recipe. Just the way I like it! This recipe comes from my sister-in-law who lived in Germany for quite some time. I adapted it by making a slight change.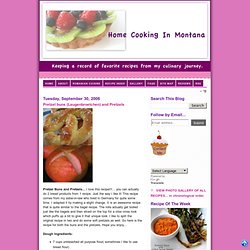 Pretzel buns (Laugenbroetchen) and Pretzels
The Fresh Loaf | News & Information for Amateur Bakers and Artisan Bread Enthusiasts
Bread Machine Review: Zojirushi Home Bakery Supreme
The bread in these photos was made from hard red wheat We love our homemade wheat bread! After Joshua's experimentation with natural dough conditioners, we arrived at what we consider the perfect loaf: light, slightly sweet, and 100% whole wheat. Our loaves stay soft, yet don't have the chemical aftertaste of store-bought bread.
most gawked all-time | foodgawker - StumbleUpon
The Best Of The Philosoraptor Meme | Runt Of The Web
Absolutely the best way to disagree online
Top 10 Weird and Interesting products! - StumbleUpon
(2) Facebook