Pics
Landscapes. Photo. Simon Tong Photography. Most popular photography. Visual Inspiration. 50 Portraits That are Worth Seeing. 30 Portraits That are Worth Seeing Posted on August 20, 2013 by Jaspal Singh • Filed Under: Photographers Here you can see best portrait photography collection, which is really worth seeing.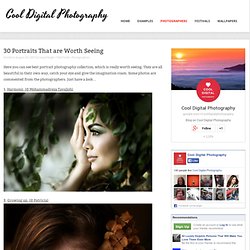 They are all beautiful in their own way, catch your eye and give the imagination roam. Amazing - Books. 30 Gorgeous and Innovative Bookshelves. This week, we read a short article over at NPR about Bookshelf, a blog-turned-book by Alex Johnson about — you guessed it — the bookshelf in all its glory.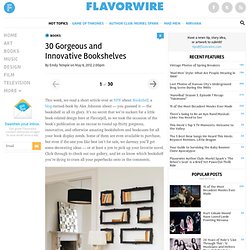 It's no secret that we're suckers for a little book-related design here at Flavorpill, so we took the occasion of the book's publication as an excuse to round up thirty gorgeous, innovative, and otherwise amazing bookshelves and bookcases for all your book display needs. Some of them are even available to purchase, but even if the one you like best isn't for sale, we daresay you'll get some decorating ideas — or at least a yen to pick up your favorite novel. Click through to check out our gallery, and let us know which bookshelf you're dying to cram all your paperbacks onto in the comments. Baroque bookshelves by Graham & Greene. Most Beautiful Bookstores in the World. [Editor's note: In celebration of the holidays, we're counting down the top 12 Flavorwire features of 2012.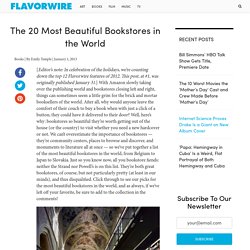 This post, at #1, was originally published January 31.] With Amazon slowly taking over the publishing world and bookstores closing left and right, things can sometimes seem a little grim for the brick and mortar booksellers of the world. After all, why would anyone leave the comfort of their couch to buy a book when with just a click of a button, they could have it delivered to their door? Well, here's why: bookstores so beautiful they're worth getting out of the house (or the country) to visit whether you need a new hardcover or not. We can't overestimate the importance of bookstores — they're community centers, places to browse and discover, and monuments to literature all at once — so we've put together a list of the most beautiful bookstores in the world, from Belgium to Japan to Slovakia.
15 Mind-Blowing Images by NASA. The NASA Goddard Space Flight Center is home to the United States' largest organization of combined scientists, engineers and technologists that build spacecraft, instruments and new technology to study the Earth, the sun, our solar system, and the universe.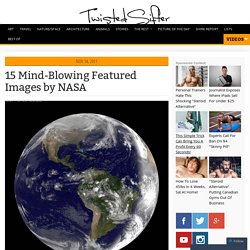 They are also home to some of the most amazing images, visualizations and videos NASA has to offer! Please do yourself a favour and check out their incredible Flickr page which has thousands of images with wonderfully detailed descriptions. Space Shuttle Discovery. The Observable Universe. The 45 Most Powerful Images Of 2011. Sistine Chapel. Ballpoint Pen Drawings. The Art of Complex Problem Solving.
Icon Drawer - Free & Stock Icons.
---