Photographers
SIAM Undergraduate Research Online. Publishing outstanding undergraduate research in applied and computational mathematics Rachel Levy Editor-in-Chief Harvey Mudd College SIAM Undergraduate Research Online (SIURO) is a web-based publication devoted to undergraduate research in applied and computational mathematics.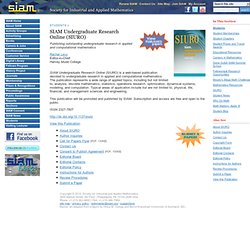 The publication represents a wide range of applied topics, including but not limited to, analysis, discrete mathematics, statistics, operations research, optimization, dynamical systems, modeling, and computation. African Wildlife Prints I African Photo Safaris. Brooke Shaden : Creating new worlds through images. This week I received an email from a most beautiful soul, asking if I would write about the topic of how to find inspiration when life is getting you down.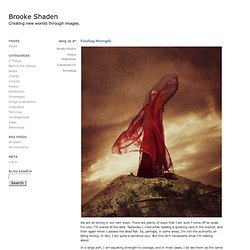 I'm extremely empathetic and I take on others pain and joy very easily, and after reading her email, I cried for her. And if I can offer any words of advice that might be even 1% useful, well, that is how to contribute to our community. The first thing that I think needs to be clarified about artistry or inspiration or even passion is that it does not have to be who we are. We are artists, we are creative thinkers, but we are so much more than the label "Artist" or "Photographer".
Svjetlana Tepavcevic Visual Artist :: Home Page. Photolucida: Jon Wyatt: Huangshan Ltd. If you happened to attend the Magenta Foundation's Flash Forward exhibition in Boston last year, you may have had the pleasure of seeing the work of Jon Wyatt.
If you happened to attend this year, you would also have had the pleasure of viewing work from his Avalanche UK series. Jon made his way to Photolucida from London, bringing several bodies of work to the review. His gorgeous prints from his Huangshan series brought to mind work from legendary black and white landscape photographers. Born in Devon, UK, but now living in London, Jon states about his growing up: "Though I've spent none of my adult life there, I still consider Devon and the westcountry my spiritual 'home'. This fact made me consider how cultures turn to the landscape for collective identification – creating the notion of a 'homeland'. Joel Sartore - National Geographic Photographer and Speaker. Main : Maroesjka Lavigne. Hengki Koentjoro / Photos. Art by Robert Doisneau. The House in the Woods. Marina Cano / Photos. Kyoheiabe. Wegman | Home. Viewfinder: Masao Yamamoto's 'Nakazora' series.
山本昌男 YAMAMOTO MASAO WEBSITE. Konietzko « bryan « photojournal. Jim Brandenburg Gallery. Jim Brandenburg | Professional Insights | Nikon Professional Services. My name is Jim Brandenburg and I am an American nature photographer.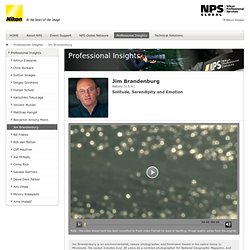 Most of my career has been with National Geographic Magazine and in television. Today I am on the west coast of France testing the Nikon D800, a very exciting new product. I am honored to be able to be one of the first to use this camera. When I was young, I was very shy, I didn't speak much, so I developed a visual language early on to express myself. Sayaka Ikemoto | Professional Insights | Nikon Professional Services. Digital and film photography can be radically different from one another, and not just from an operational standpoint.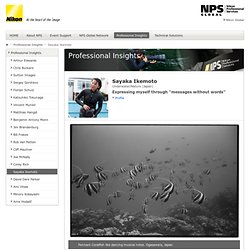 Each medium instills a different feeling when shooting, and both require a different approach to subject matter. It is true that recent D-SLRs can improve your chances of capturing the right moment dramatically. Moreover, the post-production process with digital allows for more freedom than with film, and you can shoot more frames with less consideration about how much film is left or when might be the right moment to use your last frame. PHOTOGRAPHY of Sayaka Ikemoto. Ashes and snow. Nick Brandt : Photography. Sam Gellman Photography. よわよわカメラウーマン日記. 85mm Street. Amy's FAQs - Matt Moyer & Amy Toensing | On Assignment. As a kid, I was obsessed with this book "The Family of Woman".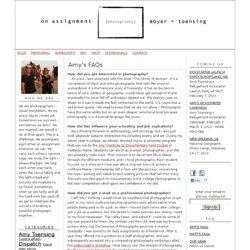 It's a compilation of black and white photographs that tells the story of womanhood. It's the feminine story of humanity; it has no borders in terms of race, politics or geography. I could never get enough of it and eventually the cover fell off and pages slipped out. AMY TOENSING PHOTOGRAPHY. Photography - Home. Interview: Magical Insect Photographer. When we first came across Nadav Bagim's macro insect photography, we were taken aback by just how magical he could make their miniature world look.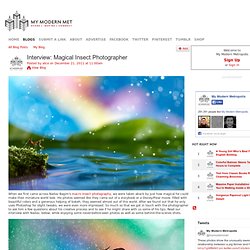 His photos seemed like they came out of a storybook or a Disney/Pixar movie. Filled with beautiful colors and a generous helping of bokeh, they seemed almost out of this world. After we found out that he only uses Photoshop for slight tweaks, we were even more impressed. Andreas Gursky. Andreas Gursky, 99 Cent II Diptychon, 2001, C-print mounted to acrylic glass, 2x 207 x 307 centimeter.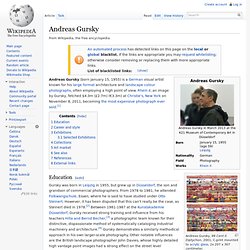 Andreas Gursky, Chicago Board of Trade II, 1999, C-print mounted to plexiglass in artist's frame 73 x 95 inches. Andreas Gursky, Rhein II, 1999, C-print mounted to plexiglass in artist's frame, 81 x 140 inches. Andreas Gursky, Shanghai, 2000, C-print mounted to plexiglass, 119 x 81 inches. Education[edit] Tim Flach. Light fossils. Illuminated Negatives by Christine Caldwell. BRAD WILSON PHOTOGRAPHY, NEW YORK CITY, NEW YORK + SANTA FE, NEW MEXICO. Roger Ballen, Photographer. A Lesson in Ballen Photography. Teen Nature Photography - Kento Mizuno. Ansel Adams. Ansel Easton Adams (February 20, 1902 – April 22, 1984) was an American photographer and environmentalist.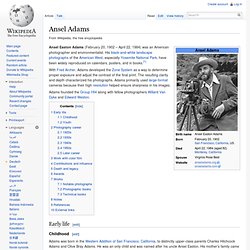 His black-and-white landscape photographs of the American West, especially Yosemite National Park, have been widely reproduced on calendars, posters, and in books.[1] With Fred Archer, Adams developed the Zone System as a way to determine proper exposure and adjust the contrast of the final print. The resulting clarity and depth characterized his photographs. ERNST HAAS ESTATE. Taryn Simon. Spotlight | Kento Mizuno. Kento Mizuno's keen eye, skill, and passion for capturing nature are far beyond his years.
A senior at The Bay School of San Francisco, Mizuno has already interned with a National Geographic photographer and won several nature photography awards including a high school scholarship sponsored by the North American Nature Photography Association (NANPA). His photographs are featured in private collections in Paris, New York, and San Francisco. In this interview with Photoshop.com, he shares feelings about photography and his creative process.
Photoshop.com: What piece of equipment can't you live without and why?
---