Sources of Knowledge
Human Brain Facts and Answers
By Disabled World - 2008-10-19 Questions answers and facts relating to the human brain and the study of the brain organ including the spinal cord. What is the Brain? The brain is the center of the nervous system in animals.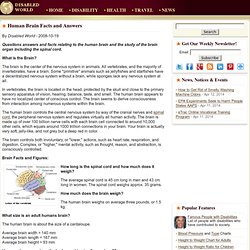 The occurrence of written materials (and so the beginning of local "historic times") varies generally to cultures classified within either the late Bronze Age or within the Iron Age. Historians increasingly do not restrict themselves to evidence from written records and are coming to rely more upon evidence from the natural and social sciences, thereby blurring the distinction between the terms "history" and "prehistory".[8][9][10] This view has recently[when?] been articulated by advocates of deep history. This article is primarily concerned with human prehistory, or the time since behaviorally and anatomically modern humans first appear until the beginning of recorded history. There are separate articles for the overall history of the Earth and the history of life before humans. Definition[edit]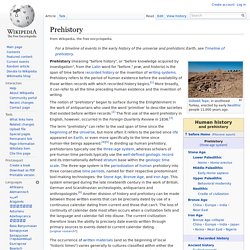 An undead völva, a Scandinavian seeress, tells the spear-wielding god Odin of what has been and what will be in Odin and the Völva by Lorenz Frølich (1895) For the practices and social institutions of the Norse pagans, see Norse paganism Norse mythology, or Scandinavian mythology, is the body of mythology of the North Germanic people stemming from Norse paganism and continuing after the Christianization of Scandinavia and into the Scandinavian folklore of the modern period. The northernmost extension of Germanic mythology, Norse mythology consists of tales of various deities, beings, and heroes derived from numerous sources from both before and after the pagan period, including medieval manuscripts, archaeological representations, and folk tradition.