Superfétatoire / Superfluous
New Jersey Gov. Chris Christie has long been a favorite target for late-night comedians. Now, as he becomes ensnarled in a scandal over politically motivated traffic jams, Christie is finding himself the butt of a new wave of jokes. Here's what the late-night comedians are saying about Christie and "Bridge-gate": "Chris Christie is dealing with a scandal after it was revealed that a top aide shut down access to the George Washington Bridge to get back at a Democratic mayor for not endorsing him.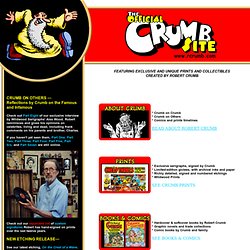 In the early 90's, Crumb collaborated with author David Mairowitz to create an "Introducing Kafka" book. However, the original watercolor illustration that Crumb painted for the cover of the book (he sent to England where the publisher was located) was never returned, and has been missing since. This wonderful portrait was used for the first several editions, but subsequently never used again as the publisher went out of business and succeeding publishers had neither the artwork nor films to use that portrait again. I had always admired the skill and beauty of the portrait, but given the book's small size, a reproduction would be nearly impossible. Surely a photographic reproduction (for instance, a giclee print) would only enlarge the mechanical dots that were created in the offset printing process when the book was printed.
The Official R. Crumb Website
Tic tac tic tac tic tac... drrrrrrriiiiiiiiiiiNNNNNNNNNNNG Lundi 1er avril. 4h32 du matin Oh putain 4h32, je suis à la bourre moi. Vite avant que les vieux ne se réveillent.
Projection on Buildings on Vimeo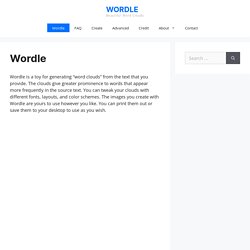 Wordle is a toy for generating "word clouds" from text that you provide. The clouds give greater prominence to words that appear more frequently in the source text. You can tweak your clouds with different fonts, layouts, and color schemes. The images you create with Wordle are yours to use however you like. You can print them out, or save them to the Wordle gallery to share with your friends. Create your own.
Friday, April 4, 2014 On the Street……Sixteenth St., New York Yes, it's still that cold in New York! I love how the b&w of the image places the focus on the texture of these two beautiful coats! (the people seem to be beautiful too) Thursday, April 3, 2014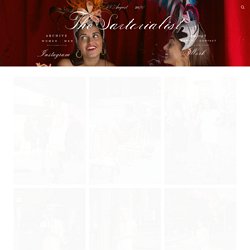 Voyage accéléré
Ok GO