Time space mind
Researchers & Theories...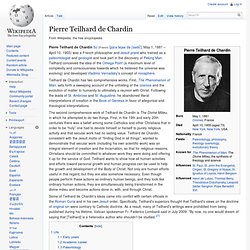 Pierre Teilhard de Chardin SJ (French: [pjɛʁ tejaʁ də ʃaʁdɛ̃]; May 1, 1881 – April 10, 1955) was a French philosopher and Jesuit priest who trained as a paleontologist and geologist and took part in the discovery of Peking Man.
The Philosopher Stoned
Kolmogorov Complexity – A Primer | Math ∩ Programming
The Complexity of Things Previously on this blog (quite a while ago), we've investigated some simple ideas of using randomness in artistic design (psychedelic art, and earlier randomized css designs), and measuring the complexity of such constructions. Here we intend to give a more thorough and rigorous introduction to the study of the complexity of strings.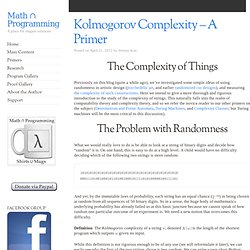 The noosphere (/ˈnoʊ.ɵsfɪər/; sometimes noösphere) is a concept used by Vladimir Vernadsky[1] and Teilhard de Chardin to denote the "sphere of human thought".[2] The word derives from the Greek νοῦς (nous "mind") and σφαῖρα (sphaira "sphere"), in lexical analogy to "atmosphere" and "biosphere".[3] It was introduced by Pierre Teilhard de Chardin in 1922[4] in his Cosmogenesis.[5] Another possibility is the first use of the term by Édouard Le Roy (1870-1954), who together with Teilhard was listening to lectures of Vladimir Vernadsky at the Sorbonne. In 1936 Vernadsky accepted the idea of the noosphere in a letter to Boris Leonidovich Lichkov (though he states that the concept derives from Le Roy).[6]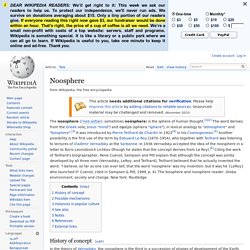 One of the problems facing neural science is how to explain evidence that local lesions in the brain do not selectively impair one or another memory trace. Note that in a hologram, restrictive damage does not disrupt the stored information because it has become distributed.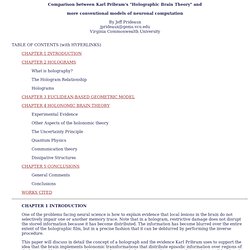 Comparison between Karl Pribram's "Holographic Brain Theory" and ore conventional models of neuronal computation
A wide-ranging list of philosophers from the Western traditions of philosophy. Included are not only philosophers (Socrates, Plato), but also those who have had a marked importance upon the philosophy of the day.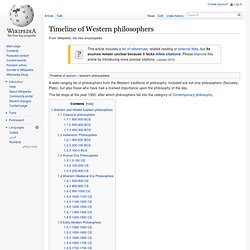 Timeline of Western philosophers
This is a list of some of the major unsolved problems in philosophy. Clearly, unsolved philosophical problems exist in the lay sense (e.g. "What is the meaning of life?"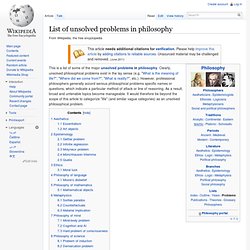 A holon (Greek: ὅλον, holon neuter form of ὅλος, holos "whole") is something that is simultaneously a whole and a part. The word was coined by Arthur Koestler in his book The Ghost in the Machine (1967, p. 48).
Holon (philosophy)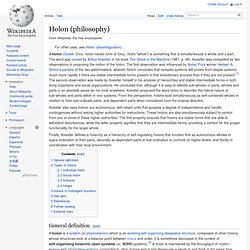 Second-order cybernetics
Second-order cybernetics, also known as the cybernetics of cybernetics, investigates the construction of models of cybernetic systems. It investigates cybernetics with awareness that the investigators are part of the system, and of the importance of self-referentiality, self-organizing, the subject–object problem, etc. Investigators of a system can never see how it works by standing outside it because the investigators are always engaged cybernetically with the system being observed; that is, when investigators observe a system, they affect and are affected by it.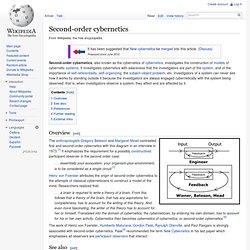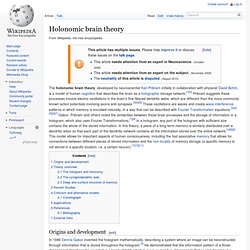 The holonomic brain theory, developed by neuroscientist Karl Pribram initially in collaboration with physicist David Bohm, is a model of human cognition that describes the brain as a holographic storage network.[1][2] Pribram suggests these processes involve electric oscillations in the brain's fine-fibered dendritic webs, which are different than the more commonly known action potentials involving axons and synapses.[3][4][5] These oscillations are waves and create wave interference patterns in which memory is encoded naturally, in a way that can be described with Fourier Transformation equations.[3][4][5][6][7] Gabor, Pribram and others noted the similarities between these brain processes and the storage of information in a hologram, which also uses Fourier Transformations.[1][8] In a hologram, any part of the hologram with sufficient size contains the whole of the stored information.
Holonomic brain theory
90 Most Influential philosophers of All-Time
Some scientists have proposed in the last few decades that a general living systems theory is required to explain the nature of life.[1] Such general theory, arising out of the ecological and biological sciences, attempts to map general principles for how all living systems work. Instead of examining phenomena by attempting to break things down into components, a general living systems theory explores phenomena in terms of dynamic patterns of the relationships of organisms with their environment.[2]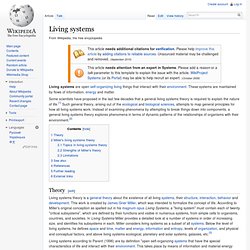 Living systems
Impression of systems thinking about society[1] Systems science is an interdisciplinary field that studies the nature of complex systems in nature, society, and science itself.
Systems science
Impression of systems thinking about society[1]
Complex system
This article largely discusses complex systems as a subject of mathematics and the attempts to emulate physical complex systems with emergent properties. For other scientific and professional disciplines addressing complexity in their fields see the complex systems article and references. A complex system is a damped, driven system (for example, a harmonic oscillator) whose total energy exceeds the threshold for it to perform according to classical mechanics but does not reach the threshold for the system to exhibit properties according to chaos theory.
Dynamic stock and flow diagram of model New product adoption (model from article by John Sterman 2001)
System dynamics
In this context the word systems is used to refer specifically to self-regulating systems, i.e. that are self-correcting through feedback.
Systems theory
Neuroscience News | picower
science express » Exhibition Topics
911:Energy - Wikicompany
Mind–body problem
Chinese room
World view
Intentionality
The Quantum Mystics
Consensus reality
Social constructionism
Fundamental Fysiks Group
What is the Higgs boson and why does it matter? - physics-math - 13 December 2011
What is the Higgs boson and why does it matter? - physics-math - 13 December 2011
Energetic Forum - Energetic Science Ministries
Energetic Forum - View Single Post - a better way to present the periodic table