Aleister Crowley
Aeon (Thelema)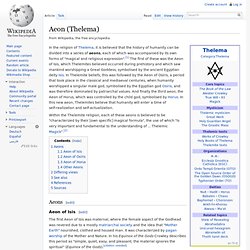 In the religion of Thelema , it is believed that the history of humanity can be divided into a series of Aeons , each of which was accompanied by its own forms of "magical and religious expression". [ 1 ] The first of these was the Aeon of Isis , which Thelemites believed occurred during prehistory and which saw mankind worshipping a Great Goddess, symbolised by the ancient Egyptian deity Isis . In Thelemite beliefs, this was followed by the Aeon of Osiris , a period that took place in the classical and mediaeval centuries, when humanity worshipped a singular male god, symbolised by the Egyptian god Osiris , and was therefore dominated by patriarchal values. And finally the third aeon, the Aeon of Horus , which was controlled by the child god, symbolised by Horus . In this new aeon, Thelemites believe that humanity will enter a time of self-realization and self-actualization.
Thelema ( pron.: / θ ə ˈ l iː m ə / ; Koine Greek: [θélima] ) is a religion [ 1 ] that was developed [ 2 ] by the early 20th century British writer and ceremonial magician , Aleister Crowley . He came to believe himself to be the prophet of a new age, the Æon of Horus , [ 3 ] based upon a spiritual experience that he and his wife, Rose Edith, had in Egypt in 1904. [ 1 ] By his account, a possibly non-corporeal or "praeterhuman" being that called itself Aiwass contacted him and dictated a text known as The Book of the Law or Liber AL vel Legis , which outlined the principles of Thelema. [ 1 ] [ 4 ] An adherent of Thelema is a Thelemite . The Thelemic pantheon includes a number of deities focusing primarily on a trinity of deities adapted from ancient Egyptian religion , who are the three speakers of The Book of the Law : Nuit , Hadit and Ra-Hoor-Khuit .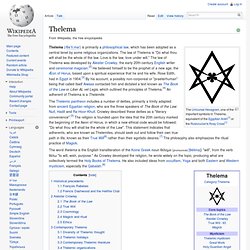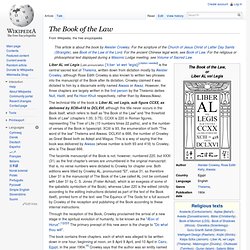 Liber AL vel Legis ( Latin pronunciation: [ˈliːbɛr ˈæɫ wɛɫ ˈleːɡɪs] ) is the central sacred text of Thelema , written by Aleister Crowley , who claimed it was dictated to him by a discarnate entity named " Aiwass ". The full title of the book is Liber AL vel Legis, sub figura CCXX, as delivered by XCIII=418 to DCLXVI , [ 1 ] and it is commonly referred to as The Book of the Law . Through the reception of this book, Crowley proclaimed the arrival of a new stage in the spiritual evolution of humanity, to be known as the " Æon of Horus ". [ 2 ] [ 3 ] [ 4 ] The primary precept of this new aeon is the charge to " Do what thou wilt ". The book contains three chapters, each of which was written down in one hour, beginning at noon, on 8 April 9 April, and 10 April in Cairo , Egypt , in the year 1904. [ 5 ] Crowley says that the author was an entity named Aiwass , whom he later referred to as his personal Holy Guardian Angel (analogous to but not identical with "Higher Self").
The Book of the Law
Aleister Crowley ( / ˈ k r oʊ l i / KROH -lee ; 12 October 1875 – 1 December 1947), born Edward Alexander Crowley , and also known as both Frater Perdurabo and The Great Beast 666 , was an English occultist , mystic , ceremonial magician , poet and mountaineer , who was responsible for founding the religious philosophy of Thelema . In his role as the founder of the Thelemite philosophy, he came to see himself as the prophet who was entrusted with informing humanity that it was entering the new Aeon of Horus in the early 20th century. Born into a wealthy upper-class family, as a young man he became a member of the esoteric Hermetic Order of the Golden Dawn . Subsequently he claimed that he was contacted by his Holy Guardian Angel, an entity he named Aiwass , while staying in Egypt in 1904, and that he 'received' a text known as The Book of the Law from what he claimed was a divine source, and around which he would come to develop his new philosophy of Thelema.