Politics
Widerstand in Aktion - der ASR-Stammtisch in Nürnberg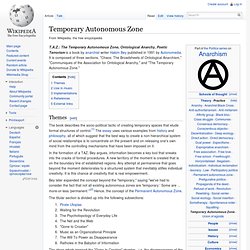 T.A.Z.: The Temporary Autonomous Zone, Ontological Anarchy, Poetic Terrorism is a book by anarchist writer Hakim Bey published in 1991 by Autonomedia. It is composed of three sections, "Chaos: The Broadsheets of Ontological Anarchism," "Communiques of the Association for Ontological Anarchy," and "The Temporary Autonomous Zone." Themes[edit]
Temporary Autonomous Zone
anarchistischer mailorder
Alternative Kultur Nürnberg*
Terminkalender Regelmäßige Termine Montag: 19h | KOMM, Untere Seitenstr. 1 Volxküche und Kneipe
Termine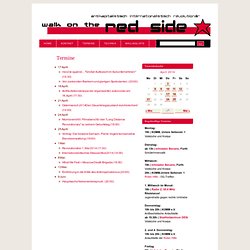 faire Klamotten Hannover
Anarchia Versand
The Love Police
Aufkleber online günstig drucken | Aufkleberdruck | DeineStadtKlebt.de
Reclaim the Streets (RTS) is a collective with a shared ideal of community ownership of public spaces. Participants characterize the collective as a resistance movement opposed to the dominance of corporate forces in globalization, and to the car as the dominant mode of transport. Protests[edit] Reclaim the Streets often stage non-violent direct action street reclaiming events such as the 'invasion' of a major road, highway or freeway to stage a party. While this may obstruct the regular users of these spaces such as car drivers and public bus riders, the philosophy of RTS is that it is vehicle traffic, not pedestrians, who are causing the obstruction, and that by occupying the road they are in fact opening up public space.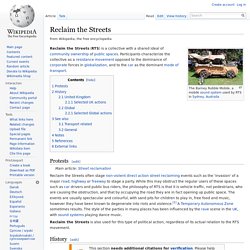 Reclaim the Streets
Alle Informationen zu flashmob Events - weltweit.
Meine Landwirtschaft
Flashmob Nürnberg
Green Music Initiative | Plattform für eine klimaverträgliche Musikbranche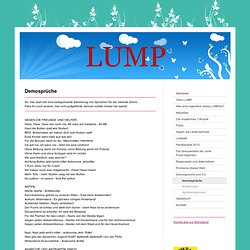 Demosprüche - Lump
So, hier jetzt mal eine ketegorisierte Sammlung von Sprüchen für die nächste Demo... Falls ihr noch andere, hier ncht aufgeführte, kennen solltet: Immer her damit! GEGEN DIE FREUNDE UND HELFER: Hass, Hass, Hass wie noch nie.
Partei - Lump
vegane antifa süd
Occupy Directory
Home page
APPD - Anarchistische Pogo-Partei Deutschlands
Hauptseite – Anarchopedia
Adressen in Ihrer Stadt: nachhaltig, fairtrade, bio, grün | Utopia City
Critical Mass [LINKS]
AJA – Autonome Jugendantifa Nürnberg
Ethify | ethisch leben und wirtschaften
waschbaerwaschbaer.de
topian.org
Start: INKOTA-netzwerk e.V.
Kreativer Strassenprotest
Printable Cold Sores
Startseite | kreaktivisten.org - Plattform für kreativen Aktivismus
Demo-Sprüche -
Pepperspray Productions
go.stop.act! | Just another WordPress.com site
reclaim the streets - Berlin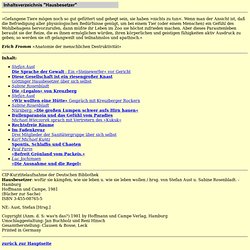 »Gefangene Tiere mögen noch so gut gefüttert und gehegt sein, sie haben >nichts zu tun<. Wenn man der Ansicht ist, daß die Befriedigung aller physiologischen Bedürfnisse genügt, um bei einem Tier (oder einem Menschen) ein Gefühl des Wohlbehagens hervorzurufen, dann müßte ihr Leben im Zoo sie höchst zufrieden machen. Aber dieses Parasitenleben beraubt sie der Reize, die es ihnen ermöglichen würden, ihren körperlichen und geistigen fähigkeiten aktiv Ausdruck zu geben; so werden sie oft gelangweilt und teilnahmslos und apathisch
[squat!net] -
[Squat!net]
Schwarze Katze
Startseite | bpb
Reclaim the Streets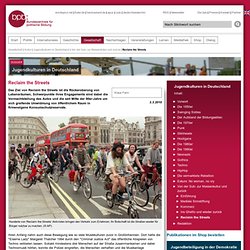 Das Ziel von Reclaim the Streets ist die Rückeroberung von Lebensräumen, Schwerpunkte ihres Engagements sind dabei die Vormachtstellung des Autos und die seit Mitte der 90er-Jahre um sich greifende Umwidmung von öffentlichem Raum in firmeneigene Konsumschutzreservate. Hunderte von 'Reclaim the Streets' Aktivisten bringen den Verkehr zum Erlahmen. Ihr Botschaft ist die Straßen wieder für Bürger nutzbar zu machen. (© AP)
redside
annalist
Startseite - Nürnberg Autofrei! @ mixxt
Konsumpf – Forum für kreative Konsumkritik – Culture Jamming, Nachhaltigkeit, Konzernkritik, Adbusting
Vor ein paar Jahren haben wir den Begriff "Kommunikationsguerilla" geprägt, um eine Anzahl politischer Praxisformen zu bezeichnen - Praxisformen, die alte Grenzziehungen zwischen politischer Aktion und Alltagswelt, subjektiver Wut und rationalem politischem Handeln, Kunst und Politik, Begehren und Arbeit, Theorie und Praxis überschreiten. Der Begriff bezeichnet also keine Organisation wie Globalize Resistance, kein politisches Netzwerk wie Attac, und auch keine der komplexeren, rhizomatischen und sich immer wieder neu zusammensetzenden Formationen der globalen Protestbewegung wie People's Global Action [www.agp.org] oder das europäische noborder-Netzwerk [www.noborder.org]. Die imaginären Brigaden der Kommunikationsguerilla sind untereinander nicht unbedingt vernetzt.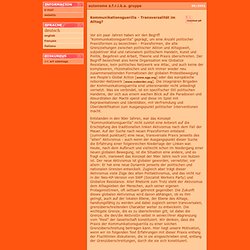 autonome a.f.r.i.k.a. gruppe | kommunikationsguerilla
BlogChronik der Kommunikationsguerilla
Adbusters Culturejammer Headquarters | Journal of the mental environment
Kritische Werbung | Ethify
Kostenlose E-Mail Adresse mit Gratis-SMS bei freenet Mail
Generation Solidarität | ARTE Journal | Die Welt verstehen | de
Generation Solidarität
GRÜNE JUGEND Bayern – Aktuelles
Etherpad Lite
Bluepingu
de.indymedia.org | 11.07.2012 05:10
GRÜNE JUGEND Nürnberg – Aktuelles
Ursprünglich war die Veranstaltung mit Dieter Janecek geplant worden, um über den Zukunftsrat in Bayern zu reden. Doch 25 Jahre nach Tschernobyl änderte die Nuklearkatastrophe in Japan. Fukoshima und auch das AKW Temelin in Tschechien rückten in den Mittelpunkt. Unvorstellbar das Leid, das über die Menschen in der betroffenen Region in Japan gekommen sei, so Brigitte Artmann, Kreisrätin Grüne Wunsiedel. Erst das Erdbeben, und dann das Wasser.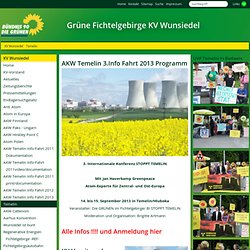 Grüner Kreisverband Wunsiedel: Temelin
JAG Nürnberg | Greenpeace-Jugend
Sea Shepherd
Could This be the Answer to the World's Energy Crisis? - Nature News
It's a breakthrough indeed for the science world when claims of being able to create diesel fuel and ethanol just by using sunlight, water and carbon dioxide were made recently by Biotechnology Company known as Joule Unlimited, based in Cambridge, Massachusetts. The company's researchers call it 'Energy Independence' where the ability to produce this new type of fuel for running jet engines whether in facilities both large or small with a much cheaper costs than fossil fuels. Is it the answer that we're looking for to save the world? Joule Unlimited Chief Executive Bill Sims has this to say about the findings, 'We make some lofty claims which we believe, validated and also we have shown it to investors. The findings will definitely revolutionize the world's largest industry, which is the oil and gas industry. And there is no reason why this technology cannot change the world.'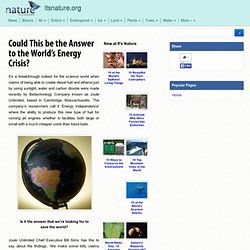 Greendiary : Greendiary - Let's go green and save the environment for a sustainable future
Hauptseite – Anarchopedia
anarchistischer mailorder
Bekleidung | linke-t-shirts.de-Versand
GreenAction - Die Kampagnen-Community
Hambacher Forst