Mind
March 2008 The web is turning writing into a conversation. Twenty years ago, writers wrote and readers read. The web lets readers respond, and increasingly they do—in comment threads, on forums, and in their own blog posts. Many who respond to something disagree with it.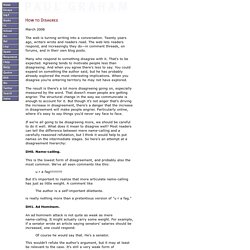 By William J. Cromie , Harvard News Office Kris Snibbe/Harvard News Office Sara Lazar (center) talks to research assistant Michael Treadway and technologist Shruthi Chakrapami about the results of experiments showing that meditation can increase brain size. People who meditate grow bigger brains than those who don't.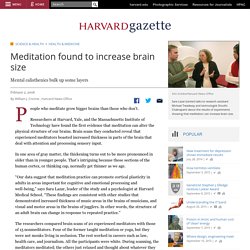 Effective Ways To Get Out of a Negative Mindset - Sri Chinmoy Inspiration - StumbleUpon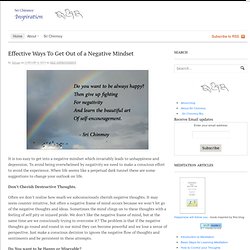 It is too easy to get into a negative mindset which invariably leads to unhappiness and depression. To avoid being overwhelmed by negativity we need to make a conscious effort to avoid the experience. When life seems like a perpetual dark tunnel these are some suggestions to change your outlook on life. Don't Cherish Destructive Thoughts. Often we don't realise how much we subconsciously cherish negative thoughts.
Skip navigation, go to page content 123-reg, the cheapest and easiest way to get a domain name Registered through 123-reg, login to manage Domain names Search and register domains with 123-reg and get your perfect domain name today.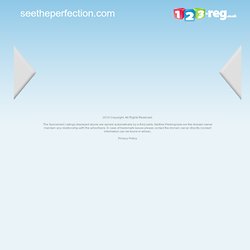 A heuristic is a "rule-of-thumb", advice that helps an AI program or human think and act more efficiently by directing thinking in an useful direction. Some of these heuristics are age-old wisdom, bordering on cliche, but most are actually helpful. If you want something done, do it yourself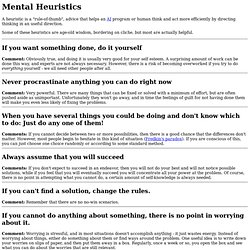 Introduction This is the launch page for the pages here at Gizmo's Tech Support Alert that list sites with free ebooks and audiobooks. There are 3 pages that separate sites on the format of the ebooks, Kindle, ePub and Online reading. There is a main page for both ebooks and audiobooks that lists all the sites carrying each.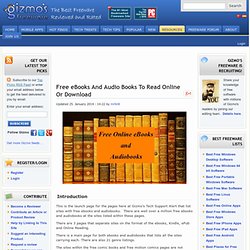 Top 20 Movies for Philosophy Students | Accredited Online Colleges.com
Willpower is one of the most important predictors of success in life. While small studies through the years have linked high levels of self-control to better health, relationships, and finances, a landmark study published this past January provided the strongest evidence to date. And taking on specific habits - like brushing your teeth with the opposite hand - can increase levels of self-control.