Stories
Blind skateboarder. Be brave, be safe.
Isaac Asimov - The Last Question
Damned!
The Untold Story of the World's Biggest Diamond Heist
Rick Rescorla
Cyril Richard "Rick" Rescorla (May 27, 1939 – September 11, 2001) was a retired United States Army officer of Cornish UK birth who served with distinction in Northern Rhodesia as a member of the Northern Rhodesia Police (NRP) and as a soldier in the Vietnam War , where he was a Second Lieutenant in the United States Army. [ 1 ] As the director of security for the financial services firm Morgan Stanley at the World Trade Center , Rescorla anticipated both attacks on the towers and implemented evacuation procedures credited with saving many lives. He died in the aftermath of the attacks of September 11, 2001 , while leading the evacuees from the South Tower. [ edit ] Early life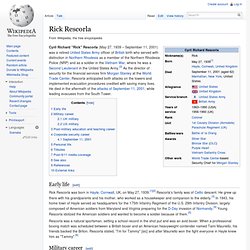 Help Me, Doctor - WireTap - CBC Player
Grave of the Fireflies ( 火垂るの墓 , Hotaru no haka ? ) is a 1988 Japanese animated drama film written and directed by Isao Takahata and animated by Studio Ghibli . It is based on the 1967 semi-autobiographical novel of the same name by Akiyuki Nosaka , [ 1 ] It is commonly considered an anti-war film , but this interpretation has been challenged by some critics and by the director.
Grave of the Fireflies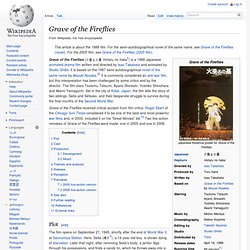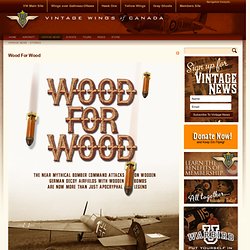 Wood For Wood > Vintage Wings of Canada
French author Pierre-Antoine Courable and his Belgian cohort Jean Dewaerheid have brought the force of serious research to the seven decade-old legend of Allied bomber crews hitting fake German airfields with fake British bombs. Now, they are looking for former Commonwealth airmen who might have been party to the shenanigans which have become urban legend. In what could easily be the finest and boldest example of death-defying and cheeky nose-thumbing during the Second World War or any conflict for that matter, bomber and intruder crews of the Royal Air Force and USAAF are reputed to have bombed the Luftwaffe's decoy airfields and dummy aircraft, not with high explosives or incendiaries, but with nothing more than dummy bombs made of wood, and painted with the smug remark "Wood for Wood"... all just to make a point.
nl6WJ.jpg (JPEG Image, 1200x906 pixels) - Scaled (71
Jeff, One Lonely Guy
Shouts & Murmurs: How I Met My Wife
SHOUTS AND MURMURS about man who describes meeting his wife at a party. In his description, he drops many prefixes. It had been a rough day, so when I walked into the party I was very chalant, despite my efforts to appear gruntled and consolate. I was furling my wieldy umbrella for the coat check when I saw her standing alone in a corner. She was a descript person, a woman in a state of total array.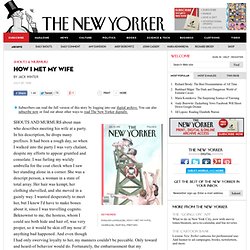 Thin Places, Where We Are Jolted Out of Old Ways of Seeing the World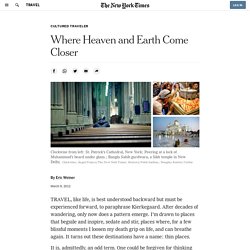 Niranjan Shrestha/Associated Press At Boudhanath Stupa, Katmandu. Leah Nash for The New York Times Powell's Books in Portland, Ore.
SALLstice comments on (Request) Haggling
Jet Li HomeWebsite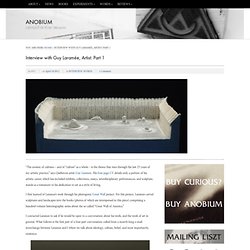 "The erosion of cultures – and of "culture" as a whole – is the theme that runs through the last 25 years of my artistic practice," says Québécois artist Guy Laramée . His four-page CV details only a portion of his artistic career, which has included exhibits, collections, essays, interdisciplinary performances, and sculpture, stands as a testament to his dedication to art as a style of living. I first learned of Laramee's work through his photogenic Great Wall project. For this project, Laramee carved sculptures and landscapes into the books (photos of which are interspersed in this piece) comprising a hundred-volume historiographic series about the so-called "Great Wall of America." I contacted Laramee to ask if he would be open to a conversation about his work, and the work of art in general.
Interview with Guy Laramée, Artist: Part 1 | ANOBIUM
02xuM.png (704×1040)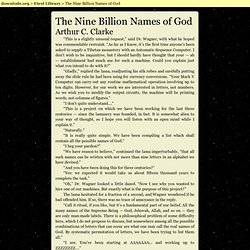 Arthur C. Clarke - The Nine Billion Names of God
"This is a slightly unusual request," said Dr. Wagner, with what he hoped was commendable restraint. "As far as I know, it's the first time anyone's been asked to supply a Tibetan monastery with an Automatic Sequence Computer. I don't wish to be inquisitive, but I should hardly have thought that your — ah — establishment had much use for such a machine. Could you explain just what you intend to do with it?" "Gladly," replied the lama, readjusting his silk robes and carefully putting away the slide rule he had been using for currency conversions.
12 May 2012 Last updated at 00:10 GMT By Shoku Amirani & Stephanie Hegarty BBC World Service Kahlil Gibran is said to be one of the world's bestselling poets, and his life has inspired a play touring the UK and the Middle East. But many critics have been lukewarm about his merits. Why, then, has his seminal work, The Prophet, struck such a chord with generations of readers? Since it was published in 1923, The Prophet has never been out of print.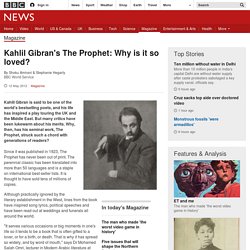 Kahlil Gibran's The Prophet: Why is it so loved?
20 November 2000 D r. Simon Tomlin studied the man sitting across the table from him. Rocking back and forth in his chair, with his shoulders slouching, his eyes darting all around the room, and his upper lip twitching every few seconds, the man conveyed a distinctly squirrel-like impression. It was hard to believe that, before his breakdown, this man had been one of the foremost number theorists in the world.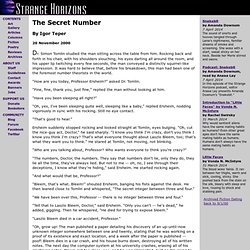 Fiction: The Secret Number, by Igor Teper
Fermat's last Theorem: There is no positive integers x, y, z, and n > 2 such that At the age of ten, browsing through his public library, Andrew Wiles stumbled across the world's greatest mathematical puzzle. Fermat's Last Theorem had baffled mathematicians for over 300 years.
Horizon - Fermat's Last Theorem
On July 18 of 1969, as the world waited anxiously for Apollo 11 to land safely on the surface of the Moon , speechwriter William Safire imagined the worst case scenario as he expertly wrote the following sombre memo to President Nixon 's Chief of Staff, H. R. Haldeman . Its contents: a contingency plan, in the form of a speech to be read out by Nixon should astronauts Neil Armstrong and Buzz Aldrin become stranded on the Moon, never to return, followed by some brief instructions relating to its broadcast.
IN EVENT OF MOON DISASTER
arthurcclarke
In October of 1945, an article titled "Extra-Terrestrial Relays — Can Rocket Stations Give Worldwide Radio Coverage?" was published in Wireless World magazine, in which world-renowned science fiction author Arthur C. Clarke discussed the idea that, in the near future, artificial satellites placed in a geostationary orbit (now sometimes known as a "Clarke Orbit") could be used as repeaters to relay radio signals.
7jFHQ.jpg (1851×1881)
Scorsese_foreign-film-list.jpg (696×903)
Dictator
Moran Cerf - Moth GrandSLAM winning story - Theme: Big Breaks
The Moth Presents Steve Burns: Fameishness
Thai Health Promotion Foundation- Smoking Kid
Archetype :: Your Memories are Just a Glitch :: Coming 1.20.2012
New Weetabix Chocolate Spoonsize Advert