Blogs
QUOTE THAT TALK. Love Quotes | Little BGCG - StumbleUpon. Smart tips to make life easier - StumbleUpon. How to Travel Full-Time for $17,000 a Year (or Less!) | Wise Bread - StumbleUpon. Wise Bread Picks For the last five years, I've been traveling the world full-time, and for less money than I've ever spent (and I'd wager less money than most people would spend) to live in one place.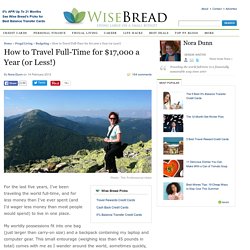 My worldly possessions fit into one bag (just larger than carry-on size) and a backpack containing my laptop and computer gear. This small entourage (weighing less than 45 pounds in total) comes with me as I wander around the world, sometimes quickly, but mostly slowly. (See also: 5 Best Travel Rewards Credit Cards) In 2011 alone, I traversed 13 countries and over 45,360 miles. Bedroom Decorating Ideas: Yellow Fever - iVillage - StumbleUpon.
35 Inspirational Interiors by yoo. Yoo is an architecture and hotel and residential interior design firm founded by property entrepreneur John Hitchcox and world-famous designer Philippe Starck.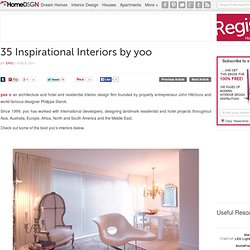 Since 1999, yoo has worked with international developers, designing landmark residential and hotel projects throughout Asia, Australia, Europe, Africa, North and South America and the Middle East. Check out some of the best yoo's interiors below. Little guiding stars. Since the new year has started I've been trying to think of ways to be more kind to my self.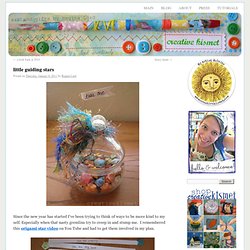 Especially when that nasty gremlins try to creep in and stump me. I remembered this origami star video on You Tube and had to get them involved in my plan. I thought it would be fun to make a whole bunch with kind words and "you are…." phrases inside. I made 60 of them, enough to last me the whole year if I open one a week, plus a few extra just in case. I used 12 x 12 inch scrapbook paper and cut 1/2 x 12″ strips, then followed the video HERE*. Most favorited all-time | craftgawker - StumbleUpon. The Technique Zone: Acrylic Paint Transfer - StumbleUpon. Supplies needed: Acrylic dabbers, photocopy of an image, water spritzer bottle, paintbrush, card stock, craft sheet and heat tool (optional) Take the lid off the dabbers and brush the paint onto the card stock, ensure you get a good coverage Take your photocopied image ( remember that you will get a reverse of the image, so don't use bold words), flip it over and place it in the acrylic.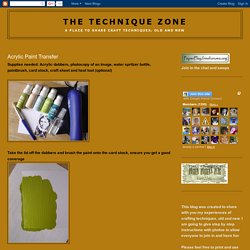 Our 20 Favorite Crochet Sites - Womans Day. 1.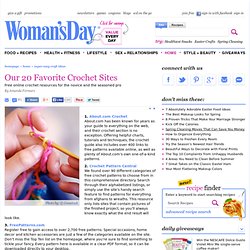 About.com CrochetAbout.com has been known for years as your guide to everything on the web, and their crochet section is no exception. Offering helpful charts, tutorials and techniques, the crochet guide also includes over 400 links to free patterns available online, as well as plenty of About.com's own one-of-a-kind patterns. 2. Crochet Pattern CentralWe found over 90 different categories of free crochet patterns to choose from in this comprehensive directory. Hand Stitching, part 1 - LA - StumbleUpon. One of my favorite crafts is hand stitching-- it's fun, addictive, expressive and relaxing :) Over the next few weeks, I'm going to share easy ways to make your own patterns for hand stitching along with some tips and ideas :) These are some samples of my past projects-- I like to draw patterns freehand and use my handwriting.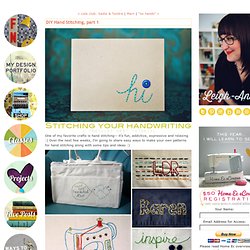 However, sometimes I adapt clipart type images to make a more complicated pattern, like the sewing machine or I just stitch the outline of an image I love, like the Goonies "Hey You Guys" silhouette :) I use a Back Stitch for all my hand stitching because it's very versatile and I like the look but you can use any combination of stitches for your projects... there's lots of fun ones! Today, we're going to start with handwriting & transferring your pattern :) You will Need: It's a Wrap: Quick & Easy DIY Gift Wrapping Ideas « Lark Crafts Lark Crafts - StumbleUpon. If you're anything like me, the manner in which a gift is packaged can be just as important as the item inside.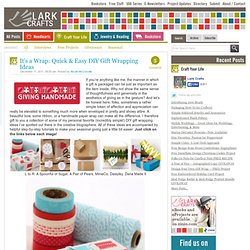 Why not show the same sense of thoughtfulness and generosity in the aesthetics of giving as in the gesture? And let's be honest here, folks, sometimes a rather simple token of affection and appreciation can really be elevated to something much more when enveloped in pretty and showy attire. A beautiful bow, some ribbon, or a handmade paper wrap can make all the difference. I therefore gift to you a collection of some of my personal favorite (incredibly simple!) DIY gift wrapping ideas I've spotted out there in the creative blogosphere. Lollies - a little ART CANT HURT - StumbleUpon.
A perfect rainy day thing to do!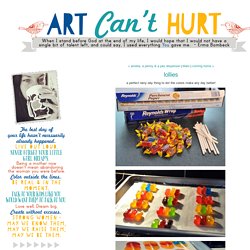 The colors make any day better! How to make LOLLIESyou will need: jolly ranchers, candy sticks, parchment paper, foil & a cookie sheet. Triple Stud Ring - a little tough, a little sweet, a lot cool - StumbleUpon. We're so excited to continue to add to our amazing crew of writers at we heart this.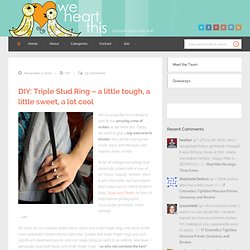 Today, we want to give a big welcome to Kirsten, who will be sharing her crafty ways with the lucky wht readers every month. A fan of vintage everything (but especially shoes) with a love of art, music, beauty, fashion, she's a wht chick after our own hearts! Do-it-Yourself DIY String Wedding Lanterns Yarn Chandeliers - StumbleUpon. Jessica of Wednesday Inc shows us how to make those gorgeous twine chandeliers from the inspiration shoot she shared with us this morning.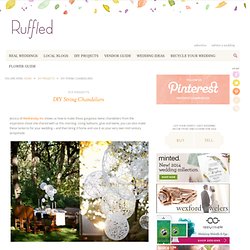 Using balloons, glue and twine, you can also make these lanterns for your wedding – and then bring it home and use it as your very own mid century lampshade. What you will need are: balloons, glue, yarn, tray for glue, corn starch 1/2 cup of Corn starch, 1/4 cup of Warm water, clear fast drying spray paint, hanging lamp cord or fishing line (depending on your desired final product), and a lighting kit if you're looking for a fully functional lantern. Jessica recommends using a sharpie to mark on the inflated balloon how much room you need to leave for the lighting cord. She also recommends coating the balloon with vaseline prior to wrapping the yarn coated with glue so it doesn't stick on the balloon once it's dry. Print Hula Hoop Rug Page | Crafts | FamilyFun - StumbleUpon. This photo originally appeared in FamilyFun Magazine Total Time 2 to 3 hours Ages school-age What does it take to transform a pile of old T-shirts into spectacular works of woven art?
Just a spare hula hoop or embroidery hoop and the techniques we'll show you here. The oversize looms and easy-to-use loops of T-shirt fabric make these projects particularly appealing to beginning weavers. Triple Max Tons: Easy Holiday Hair - StumbleUpon. Side Chignon 1. Using a round brush, blow-dry hair smooth and straight, focusing on the top sections. 2.
Once dry, use a large-barrel curling iron to create waves from the ears down. Hair. Vacation, staycation, daycation? However you decide to classify your next round of downtime, we hope there's a pool or an ocean involved. But here's the thing, little mermaids– you need to prep your hair for swimming, especially if your hair has been colored. We've talked about POOL HAIR before but only about what to do after you get out of the water. Let's take a minute to discuss our favorite pool pre-game. Over the last year, I tested out a few random methods like spraying in leave-in conditioner all over, covering my hair in spray-on sunscreen, It's not a lot of fuss and will save you so much hassle later.
Oreo and Peanut Butter Brownie Cakes - StumbleUpon. So, after being gone all last week, this has been catch up on the house week. Mostly laundry actually. Man, who knew that a weeks worth of laundry from 5 people could be so daunting. Yikes!!
---