Articles
The 20 most-watched TED Talks to date. Design The Best TED Images of 2012 2012 has been big for TED — it's the year we reached a billion video views and upped the TED Prize to one million dollars.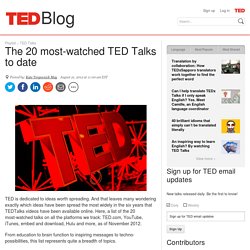 Marissa Mayer Biography. Simply brilliant life hacks. Thou shalt not commit logical fallacies. Calvin and Hobbes Snow Art Gallery. The Original Snow Goon must be making his OWN Snow Goons.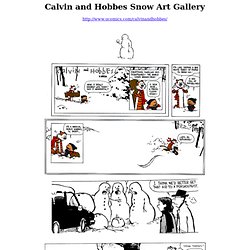 I'll bet he's making an army! In a few days, he could build a hundred snow goons! There's More to Life Than Being Happy - Emily Esfahani Smith. "It is the very pursuit of happiness that thwarts happiness.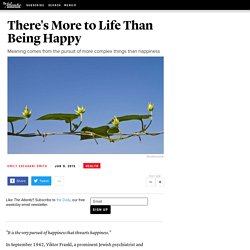 " Kacper Pempel/Reuters In September 1942, Viktor Frankl, a prominent Jewish psychiatrist and neurologist in Vienna, was arrested and transported to a Nazi concentration camp with his wife and parents. I am the Orson Welles of Powerpoint. I am the Orson Welles of PowerPoint 2010.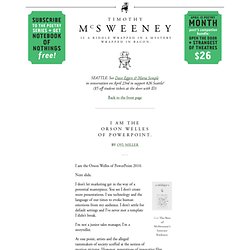 Next slide. I don't let marketing get in the way of a potential masterpiece. 9 Mind-Blowing Epiphanies That Turned My World Upside-Down. Over the years I've learned dozens of little tricks and insights for making life more fulfilling.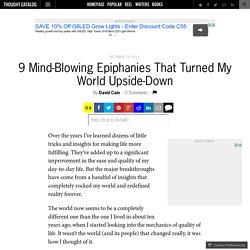 They've added up to a significant improvement in the ease and quality of my day-to-day life. But the major breakthroughs have come from a handful of insights that completely rocked my world and redefined reality forever. The world now seems to be a completely different one than the one I lived in about ten years ago, when I started looking into the mechanics of quality of life. If You're Too Busy to Meditate, Read This - Peter Bregman. This morning, like every morning, I sat cross-legged on a cushion on the floor, rested my hands on my knees, closed my eyes, and did nothing but breathe for 20 minutes. People say the hardest part about meditating is finding the time to meditate. This makes sense: who these days has time to do nothing? It's hard to justify. The Elegant Email — www.randsinrepose. For me, the amount of email that arrives is inversely proportionate to my amount of free time.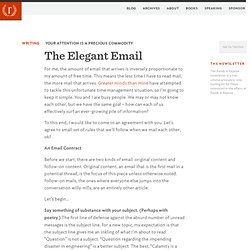 This means the less time I have to read mail, the more mail that arrives. Greater minds than mine have attempted to tackle this unfortunate time management situation, so I'm going to keep it simple. You and I are busy people. 90 Things I've Learned From Founding 4 Technology Companies — betashop. On October 27, 2010 I wrote a blog post about the "57 Things I Learned Founding 3 Tech Companies."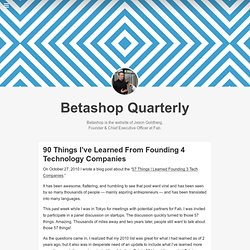 It has been awesome, flattering, and humbling to see that post went viral and has been seen by so many thousands of people — mainly aspiring entrepreneurs — and has been translated into many languages. This past week while I was in Tokyo for meetings with potential partners for Fab, I was invited to participate in a panel discussion on startups. The discussion quickly turned to those 57 things. Amazing. 9 Easy Ways to Remember Your Presentation Material : Lifestyle. Crush your anxiety with these methods that will help you thoroughly remember all of your slides before you get to them.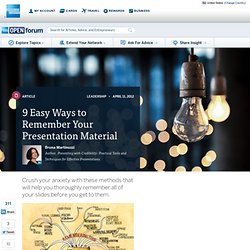 April 11, 2012 One of the most common reasons we experience presentation anxiety is the fear that we will forget what we have to say and risk losing credibility. No, you're not entitled to your opinion. Every year, I try to do at least two things with my students at least once.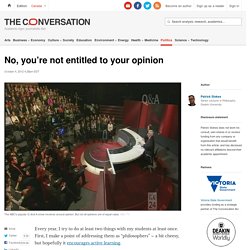 First, I make a point of addressing them as "philosophers" – a bit cheesy, but hopefully it encourages active learning. Secondly, I say something like this: "I'm sure you've heard the expression 'everyone is entitled to their opinion.' Perhaps you've even said it yourself, maybe to head off an argument or bring one to a close. Well, as soon as you walk into this room, it's no longer true. Solving Gen Y's Passion Problem - Cal Newport. By Cal Newport | 9:00 AM September 18, 2012 Generation Y, of which I'm a member, is entering the job market in record numbers, and according to many commentators things are not going well. One of the best-known books about my cohort, for instance, is titled Generation Me. The New York Post called us "The Worst Generation," while USA Today noted that we are "pampered" and "high maintenance."
Earlier this year, a New York Times op-ed called us "Generation Why Bother," noting that we're "perhaps…too happy at home checking Facebook," when we could be out aggressively seeking new jobs and helping the economy recover. Mohsin Hamid: "The Third-Born" One cold, dewy morning, you are huddled, shivering, on the packed earth under your mother's cot.
Your anguish is the anguish of a boy whose chocolate has been thrown away, whose remote controls are out of batteries, whose scooter is busted, whose new sneakers have been stolen. This is all the more remarkable since, wealth-obsessed though you will come to be, you've never in your life seen any of these things. The whites of your eyes are yellow, a consequence of spiking bilirubin levels in your blood. The virus afflicting you is called hepatitis E. Its typical mode of transmission is fecal-oral. Michael Lewis: Obama's Way. Obama was 20 or more years older than most of them, and probably not as physically gifted, though it was hard to say because of the age differences. No one held back, no one deferred. Guys on his team dribbled past him and ignored the fact he was wide open.
Zain Latif: The Man With the Midas Touch - Entrepid. Ramit Sethi Exposed: How He Earns Millions Blogging. Maker's Schedule, Manager's Schedule. July 2009 One reason programmers dislike meetings so much is that they're on a different type of schedule from other people. Meetings cost them more. There are two types of schedule, which I'll call the manager's schedule and the maker's schedule. The manager's schedule is for bosses. Wolfram Alpha's Facebook Report Analyzes Every Dark Corner of Your Facebook Activity. US teen invents advanced cancer test using Google. Ben's blog. Video - Bragging Gets a Boost From Social Media. Hear, All Ye People; Hearken, O Earth (Part One) The Credit Illusion. Charles Murray: Why Capitalism Has an Image Problem. The Most Inspirational Comics You'll Ever Read.
Transcript: Schmidt and Thiel smackdown. Eric Schmidt, chairman of Google, and Peter Thiel, technology investor and entrepreneur, participated in a lively debate at Fortune Brainstorm Tech in Aspen, CO, about the future of technology, and so much more. Fortune's Adam Lashinsky moderated. Below is an unedited transcript of the event. Eric Schmidt (left) and Peter Thiel in a lighter moment. ADAM LASHINSKY: Gentlemen, Eric, why don't you go sit on the far side. Peter, maybe sit next to me. Shawn Achor: The happy secret to better work. Facebook Is Using You. Financial Times - Tribal Workers. 32 Innovations That Will Change Your Tomorrow - Interactive Feature. Procrastination. All Revenue is Not Created Equal: The Keys to the 10X Revenue Club. Sure thing, I'd LOVE to help you move out of your two bedroom apartment!
40 Of The Most Powerful Photographs Ever Taken. OK Go's Damian Kulash on the Future of the Music Business. The IPO of the decade? My valuation of Facebook. Turning 60: The Twelve Most Important Lessons I've Learned So Far - Tony Schwartz. Creating in-cell bar charts / histograms in excel. 4 Things the NFL Can Teach Us About How to Succeed in Business - Jordan Weissmann - Business.
How to Make Wealth.
---