Happiness/SelfO.o
Signs of An Abused Man | Battered Men | Emotional, Psychological and Mental Abuse. Psychological and emotional battering, through verbal abuse, kills your spirit.
It cripples your self-esteem and your sense of self-worth. In many ways, this type of abuse does far more damage and long-term devastation than do physical blows. How to Win Friends and Influence People by Dale Carnegie - StumbleUpon. How to Hack Your Brain. @septentriones: Haha, what you're saying is actually quite indeed close to correct, though there is a bit more.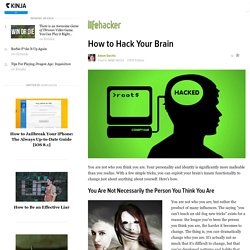 We are a culmination of our experiences, but that doesn't mean that our minds cannot advance further than that, for all that is required is the idea of an experience, for example, I have never been sledding down a mountain. However, I can imagine a sled, imagine a mountain, and myself in motion, so I can build the idea of the experience.
The Top 10 Psychology Studies of 2010 | Psychology Today - StumbleUpon. The end of 2010 fast approaches, and I'm thrilled to have been asked by the editors of Psychology Today to write about the Top 10 psychology studies of the year.
I've focused on studies that I personally feel stand out, not only as examples of great science, but even more importantly, as examples of how the science of psychology can improve our lives. Each study has a clear "take home" message, offering the reader an insight or a simple strategy they can use to reach their goals , strengthen their relationships, make better decisions, or become happier.
If you extract the wisdom from these ten studies and apply them in your own life, 2011 just might be a very good year. Nine Things Successful People Do Differently - Heidi Grant Halvorson -... - StumbleUpon. Learn more about the science of success with Heidi Grant Halvorson's HBR Single, based on this blog post.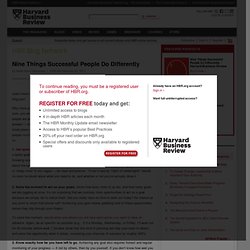 Why have you been so successful in reaching some of your goals, but not others? If you aren't sure, you are far from alone in your confusion. It turns out that even brilliant, highly accomplished people are pretty lousy when it comes to understanding why they succeed or fail. Shawn Achor: 5 Ways To Turn Happiness Into An Advantage. For you, which comes first: happiness or success?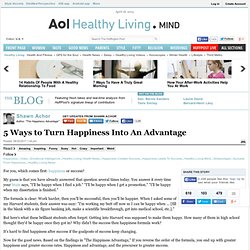 My guess is that you have already answered that question several times today. You answer it every time your brain says, "I'll be happy when I find a job. " The quiet place - StumbleUpon. Communication with the quiet place will be operated via the [spacebar] keycommunication with the quiet place will be operated via your fingergently squeeze that key, nowgently touch the screen, now in order to get the most out of your experience please silence your phone, turn on your speakers and press the [f-11] key or [cmd+shift+f] on macin order to get the most out of your experience turn up the volume and rotate landscapeagain, press [spacebar] to continueagain, tap to continue seriously though, silence your phone. it's pointless otherwisedon't worry - this is *not* one of those places that scare the crap out of youdon't worry - this is *not* one of those places that scare the crap out of you.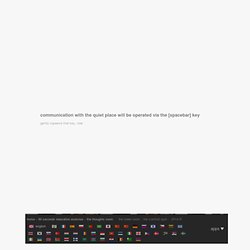 How To Treat Others: 5 Lessons From an Unknown Author - Global One TV - StumbleUpon. Five Lessons About How To Treat People -- Author Unknown 1.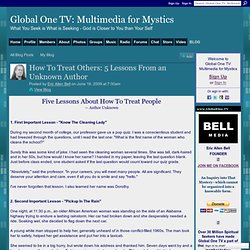 First Important Lesson - "Know The Cleaning Lady" During my second month of college, our professor gave us a pop quiz. I was a conscientious student and had breezed through the questions, until I read the last one: "What is the first name of the woman who cleans the school? " 60 Ways To Make Life Simple Again - StumbleUpon. Email When we were young life was easier, right?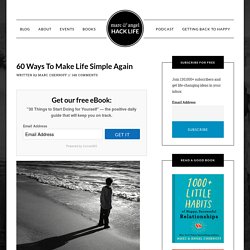 I know sometimes it seems that way. 10 Ways To Be Happy, On Purpose | PickTheBrain | Motivation and Self... "He who depends on himself will attain the greatest happiness" ~Chinese Proverb I was at a Women's Leadership Conference about a year ago and had an "ah-ha moment".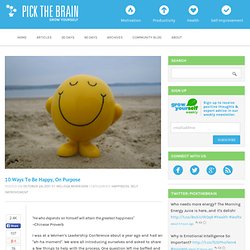 We were all introducing ourselves and asked to share a few things to help with the process. One question left me baffled and ultimately changed my life; "What do you do to make yourself happy?". At the time I honestly didn't know.
---