Explorations and Expressions of the World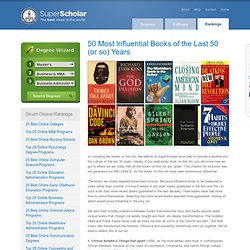 In compiling the books on this list, the editors at SuperScholar have tried to provide a window into the culture of the last 50 years. Ideally, if you read every book on this list, you will know how we got to where we are today. Not all the books on this list are "great."
The Hole in Our Collective Memory: How Copyright Made Mid-Century Books Vanish - Rebecca J. Rosen
A book published during the presidency of Chester A. Arthur has a greater chance of being in print today than one published during the time of Reagan. Paul J. Heald Last year I wrote about some very interesting research being done by Paul J. Heald at the University of Illinois, based on software that crawled Amazon for a random selection of books.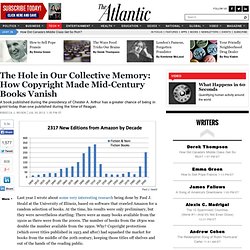 The recently deceased (2010) Alfred Kahn was an economist and academic who was beloved for his notorious memo on clear corporate communications. Kahn wrote this while serving as chairman of the Civil Aeronautics Board, sending it around to his staff and fellow board members. He implored them to abandon phrases like "we deem it inappropriate" and to try out other such pomposities on their children to see if they passed the giggle test. He also railed against "data" as singular, the overuse of the passive voice, and the use "herein," "hereunder," "heretofore" and other archaic flourishes. Early on in my career someone returned a paper I had written along with a copy of what was known as "the Kahn memo" which he had circulated in 1977 to his colleagues at the Civil Aeronautics Board.
Alfred Kahn's brave 1977 bid for clear corporate prose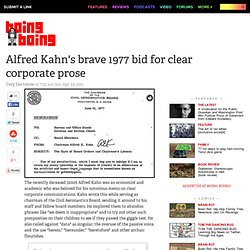 Posted on: 10 Cado 7:0 - 5.27.29 So you've procrastinated again. You told yourself you wouldn't do this 2 months ago when your professor assigned you this. But you procrastinated anyway. Shame on you.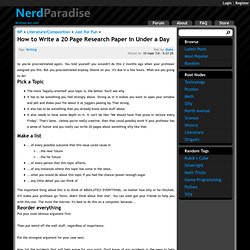 If you consider yourself a geek, or aspire to the honor of geekhood, here's an essential checklist of must-have geek skills. The term 'geek', once used to label a circus freak, has morphed in meaning over the years. What was once an unusual profession transferred into a word indicating social awkwardness.