Dr. Dolittle & Friends
I love love love animals especially little dogs! Dec 16
Astral Projection Forum • Bizarre Earth Creatures : Science
J Wilks Reserved Listing CatBall 2 Large by bountom on Etsy
Pet Bed by PurpleArmadillo2 on Etsy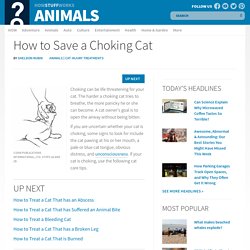 Choking can be life threatening for your cat. The harder a choking cat tries to breathe, the more panicky he or she can become. A cat owner's goal is to open the airway without being bitten. If you are uncertain whether your cat is choking, some signs to look for include the cat pawing at his or her mouth, a pale or blue cat tongue, obvious distress, and unconsciousness .
Best of the Week Cute Animal Pictures #3
Yoga Cat will Help you Through your Poses (wait for it)... | Frequency
In an odd twist of fate, sheep herds dog. Just when we thought that Bee the Bouncing Lamb was the absolute cutest lamb-playing-hide-n-seek video on the planet, comes along this darling interspecies love affair between a bouncing, fluffy sheep and one scrappy happy dog. Dingleberries and all, this Sheep is having a good ole time clomp-clomping around the barnyard with a dog that seems to have decided "...to hell with the whole herding thing." Is this normal sheep behavior?
WATCH: Bouncy Sheep Plays Hide-n-Seek With Happy Dog - The Daily Treat
10 Reasons Why My Dog Is My Valentine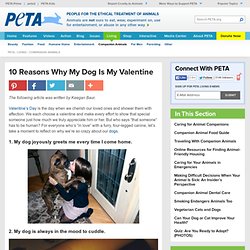 The following article was written by Keegan Baur. Valentine's Day is the day when we cherish our loved ones and shower them with affection. We each choose a valentine and make every effort to show that special someone just how much we truly appreciate him or her. But who says "that someone" has to be human? For everyone who's "in love" with a furry, four-legged canine, let's take a moment to reflect on why we're so crazy about our dogs . 1.
Kittymart.jpg (JPEG Image, 580x571 pixels)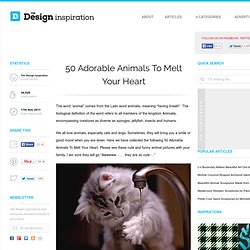 The Design Inspiration Articles Go Back 50 Adorable Animals To Melt Your Heart The word "animal" comes from the Latin word animalis, meaning "having breath".
It's okay puppy, it's the thought that counts!