Make It
I Could Do That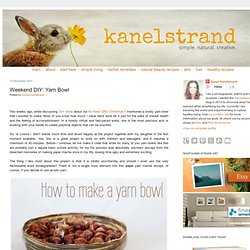 Two weeks ago, while discussing DIY ideas about our No New Gifts Christmas I mentioned a lovely yarn bowl that I wanted to make. Most of you know how much I value hand work be it just for the sake of mental health and the feeling of accomplishment. In a mostly virtual and fast-paced world, one of the most precious acts is working with your hands to create practical objects that can be touched. So, of course I didn't waste much time and dived happily at the project together with my daughter in the first moment available. Yes, this is a great project to work on with children and teenagers, and it requires a maximum of 40 minutes.
Good news and bad news. I had planned to film a short video showing you how to make a pallet garden, but the weather didn't cooperate. I was stapling the landscape fabric onto the pallet when it started drizzling and got really windy. That's the bad news.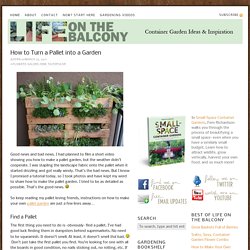 Pinspiration: White Vase + Pom Pom Flower
Have you seen all those glass vases painted white? There ALL over Pinterest. I love how clean they look… So, of course, I needed to try it out. I stopped by the Dollar Store the other day and picked up some simple vases.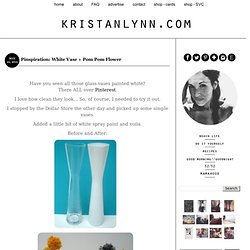 OCP | Birthday Party Ideas | Party Blog › water party: sponge ball tutorial
unnamed pearl
Allow Leaves to Dry - Hanging Leaves - Step 2 - MarthaStewart.com
Autumn Bloom Belt
As I mentioned yesterday, I LOVE autumn. Yesterday autumn got its own wreath and today it's getting its own belt. I'm going to show you how to make this belt and these fun flowers. When I made it I envisioned wearing it with a cute brown tunic, but I still haven't found or made one yet. Until then this dress will give you the idea. Let's get started.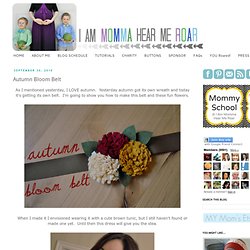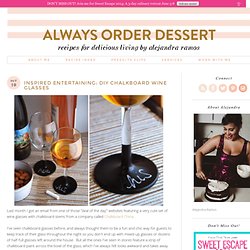 Last month I got an email from one of those "deal of the day" websites featuring a very cute set of wine glasses with chalkboard stems from a company called Chalkboard China. I've seen chalkboard glasses before, and always thought them to be a fun and chic way for guests to keep track of their glass throughout the night so you don't end up with mixed-up glasses or dozens of half-full glasses left around the house. But all the ones I've seen in stores feature a strip of chalkboard paint across the bowl of the glass, which I've always felt looks awkward and takes away from the beauty of the wine or beverage in the glass. What I like about this version is that the writing part is at the bottom on the stem and foot of the glass, so it doesn't compete with the beverage. I also like that the simple black foot on the glass is in itself an elegant design element, and would work just as well with no writing on it.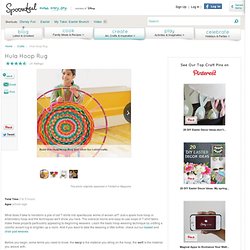 This photo originally appeared in FamilyFun Magazine Total Time 2 to 3 hours Ages school-age What does it take to transform a pile of old T-shirts into spectacular works of woven art? Just a spare hula hoop or embroidery hoop and the techniques we'll show you here. The oversize looms and easy-to-use loops of T-shirt fabric make these projects particularly appealing to beginning weavers.
Good evening! My hex nut jewellery has been neglected in the past few days, even weeks, but now I got back to it. I decided to make a very basic geometric form: 9 small brass hex nuts which are held together by small gold plated jump rings. It looks quite massive n the picture, but because it's the smallest size of hex nuts, it is actually quite discreet.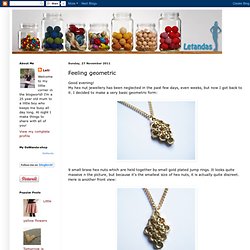 I've always been a photography nerd for as long as I can remember. From the times when I'd do happy dances because my mom granted me permission to use her camera to take photos of my American Girl dolls to now when the clicking shutter of my Nikon D40 comforts me and the chemical smell of a new Polaroid gets my heart racing. I am always prowling for ways to make my camera accessories unique because my camera collection is such a big part of my life. 1K+ (Some of my Polaroids.) Now when you work for a scarf site like Scarves.net and you think about scarves all day you kind of get scarves on the brain.
How to Make a Camera Strap from a Scarf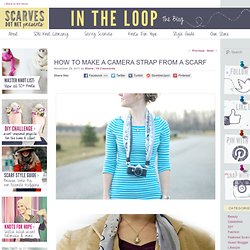 Holiday DIY: Simple Filled and Painted Ornaments Tutorial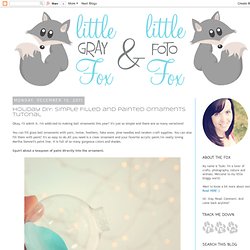 Okay, I'll admit it. I'm addicted to making ball ornaments this year! It's just so simple and there are so many variations!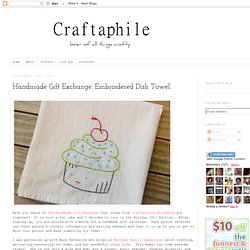 Handmade Gift Exchange: Embroidered Dish Towel
Have you heard of The Handmade Gift Exchange that Linda from Craftaholics Anonymous put together? It is such a fun idea and I decided to join in the Holiday 2011 Edition. After signing up, you are paired with someone for a handmade gift exchange. Each person receives one other person's contact information and mailing address and then it is up to you to get to know that person and make something for them!
acorn template
Tutorial: Yarn Ball Ornaments
I'm not exactly a big Christmas person. I work in retail, where it's perpetually Christmas from the beginning of October until the end of December, so I get my dose of "holiday cheer" in a big way each year. But I still like to have a little tree at home, twinkle lights, and some She & Him Christmas playing in the background. This year, my tree has a knitting theme, and yours can too with these easy-peasy yarn ball ornaments. I can see smaller ones as decorations on gift boxes, big ones in a glass vase on the mantel, a couple attached to a wreath...the ideas go on and on! Materials:
DIY Mini Christmas Tree Paper Ornaments
Happy Holidays, all! It's Chelsea here, ready to deck the halls and all that jazz! Don't you just love the holidays? That little extra excitement in the air just does me good.
Here's the second DIY I led with with BurdaStyle direct from the MAGIC floor. We did these bracelets on Wednesday, the final day of the show. It was a perfect project to wrap-up with because it was fast and easy. I think we were all feeling a little bit like the walking dead after spending the 4 days running around Las Vegas 20 hours a day.
Here's a fun and easy way to frame a favorite picture. Gather small twigs and bunch them together to create a natural frame. To make this frame I collected twigs and grouped them into four stacks. I tied the twig bunches together a the ends with thread and then used a wide organza ribbon to wrap the corners.
Etceteras: rustic twig frame
Here Comes the Sun: Moustache madness on Etsy
For bhavya, with love
DIY Leather Bow Cuff