The Human Condition
Existentialism. Existentialism is a term applied to the work of certain late 19th- and 20th-century philosophers who, despite profound doctrinal differences,[1][2][3] shared the belief that philosophical thinking begins with the human subject—not merely the thinking subject, but the acting, feeling, living human individual.[4] In existentialism, the individual's starting point is characterized by what has been called "the existential attitude", or a sense of disorientation and confusion in the face of an apparently meaningless or absurd world.[5] Many existentialists have also regarded traditional systematic or academic philosophies, in both style and content, as too abstract and remote from concrete human experience.[6][7] Definitional issues and background[edit] There has never been general agreement on the definition of existentialism.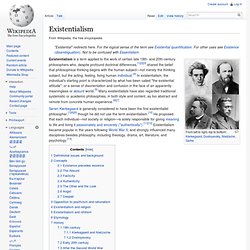 The term is often seen as an historical convenience as it was first applied to many philosophers in hindsight, long after they had died. Sociobiology. Sociobiology is a field of scientific study which is based on the assumption that social behavior has resulted from evolution and attempts to explain and examine social behavior within that context.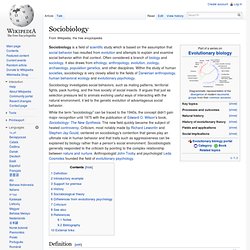 Often considered a branch of biology and sociology, it also draws from ethology, anthropology, evolution, zoology, archaeology, population genetics, and other disciplines. Within the study of human societies, sociobiology is very closely allied to the fields of Darwinian anthropology, human behavioral ecology and evolutionary psychology. Sociobiology investigates social behaviors, such as mating patterns, territorial fights, pack hunting, and the hive society of social insects. Anthropology. Anthropology /ænθrɵˈpɒlədʒi/ is the study of humankind, past and present,[1][2] that draws and builds upon knowledge from social and biological sciences, as well as the humanities and the natural sciences.[3][4] Since the work of Franz Boas and Bronisław Malinowski in the late 19th and early 20th centuries, anthropology in Great Britain and the US has been distinguished from ethnology[5] and from other social sciences by its emphasis on cross-cultural comparisons, long-term in-depth examination of context, and the importance it places on participant-observation or experiential immersion in the area of research.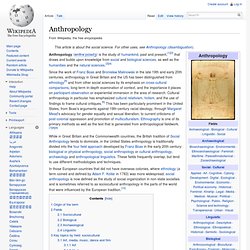 Psychology. Psychology is an academic and applied discipline that involves the scientific study of mental functions and behaviors.[1][2] Psychology has the immediate goal of understanding individuals and groups by both establishing general principles and researching specific cases,[3][4] and by many accounts it ultimately aims to benefit society.[5][6] In this field, a professional practitioner or researcher is called a psychologist and can be classified as a social, behavioral, or cognitive scientist.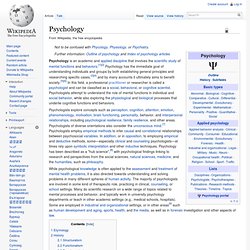 Psychologists attempt to understand the role of mental functions in individual and social behavior, while also exploring the physiological and biological processes that underlie cognitive functions and behaviors. While psychological knowledge is often applied to the assessment and treatment of mental health problems, it is also directed towards understanding and solving problems in many different spheres of human activity.
Sociology. The range of social scientific methods has also expanded.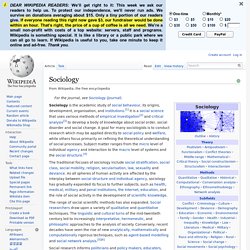 Social researchers draw upon a variety of qualitative and quantitative techniques. The linguistic and cultural turns of the mid-twentieth century led to increasingly interpretative, hermeneutic, and philosophic approaches to the analysis of society. Conversely, recent decades have seen the rise of new analytically, mathematically and computationally rigorous techniques, such as agent-based modelling and social network analysis.[5][6] Classification[edit] Sociology should not be confused with various general social studies courses which bear little relation to sociological theory or social science research methodology. Philosophy. Philosophy is the study of general and fundamental problems, such as those connected with reality, existence, knowledge, values, reason, mind, and language.[1][2] Philosophy is distinguished from other ways of addressing such problems by its critical, generally systematic approach and its reliance on rational argument.[3] In more casual speech, by extension, "philosophy" can refer to "the most basic beliefs, concepts, and attitudes of an individual or group".[4] The word "philosophy" comes from the Ancient Greek φιλοσοφία (philosophia), which literally means "love of wisdom".[5][6][7] The introduction of the terms "philosopher" and "philosophy" has been ascribed to the Greek thinker Pythagoras.[8] Areas of inquiry Philosophy is divided into many sub-fields.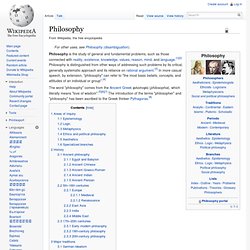 These include epistemology, logic, metaphysics, ethics, and aesthetics.[9][10] Some of the major areas of study are considered individually below. Theology. Theology is the systematic and rational study of concepts of God and of the nature of religious truths, or the learned profession acquired by completing specialized training in religious studies, usually at a university or seminary or school of divinity.[1] Definition[edit] Augustine of Hippo defined the Latin equivalent, theologia, as "reasoning or discussion concerning the Deity";[2] Richard Hooker defined "theology" in English as "the science of things divine".[3] The term can, however, be used for a variety of different disciplines or fields of study.[4] Theologians use various forms of analysis and argument (philosophical, ethnographic, historical, spiritual and others) to help understand, explain, test, critique, defend or promote any of myriad religious topics.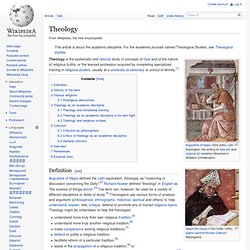 Theology might be undertaken to help the theologian:
---