Phycology
SARCASM IN RELATIONSHIPS - StumbleUpon. Sarcasm – a mocking or ironic remark (American Heritage Dictionary) Irony – the use of words to convey the opposite of their literal meaning (American Heritage Dictionary) Sarcasm is a large component of social interaction and conversation.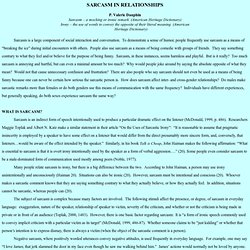 To demonstrate a sense of humor, people frequently use sarcasm as a means of "breaking the ice" during initial encounters with others. People also use sarcasm as a means of being comedic with groups of friends. Creativity tied to mental illness - StumbleUpon. Irrelevance can make you mad By William J.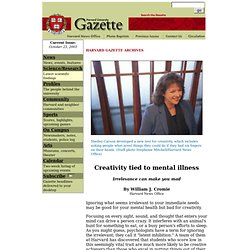 Cromie Harvard News Office Ignoring what seems irrelevant to your immediate needs may be good for your mental health but bad for creativity. Welcome to Adobe GoLive 6 - StumbleUpon. From Los Angeles Times: It's not all about you Chances are, others aren't judging you as harshly as you think, if at all.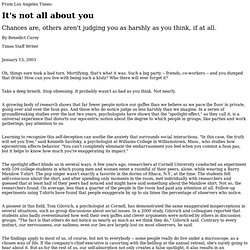 Personality test based on Jung and Briggs Myers typology - StumbleUpon. This free test is based on Carl Jung's and Isabel Briggs Myers' typological approach to personality *.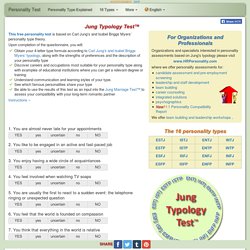 Upon completion of the questionnaire, you will: Obtain your 4-letter type formula according to Carl Jung's and Isabel Briggs Myers' typology, along with the strengths of preferences and the description of your personality type Discover careers and occupations most suitable for your personality type along with examples of educational institutions where you can get a relevant degree or training See which famous personalities share your type Access free career development resources and learn about premium ones Be able to use the results of this test as an input into the Jung Marriage Test™ and the Demo of the Marriage Test™, to assess your compatibility with your long-term romantic partner Instructions: When responding to the statements, of the two responses please choose the one you agree with most. Talk | Tag | Psychology - StumbleUpon. BBC Science | Human Body and Mind | Pyschology Tests & Surveys - StumbleUpon.
10 Life-Enhancing Things You Can Do in Ten Minutes or Less - StumbleUpon. By It usually takes us much longer to change our moods than we'd like it to take.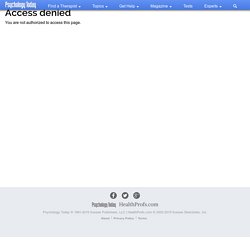 Here are ten things you can do in ten minutes or less that will have a positive emotional effect on you and those you love. . See it online at Oprah.com . This is a deeply moving segment that may be the best ten minutes you've ever invested in front of a computer. Psychology studies relevant to everyday life from PsyBlog. Color Psychology.
By David Johnson Like death and taxes, there is no escaping color.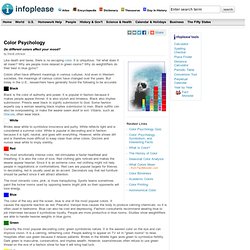 It is ubiquitous. Yet what does it all mean? 47 Mind-Blowing Psychology-Proven Facts You Should Know About Yourself - StumbleUpon. WHAT YOU ARE ABOUT TO READ IN THE NEXT PARAGRAPH IS COMMONLY BELIEVED, BUT NOT TRUE – You read by recognizing the shapes of words and groups of words.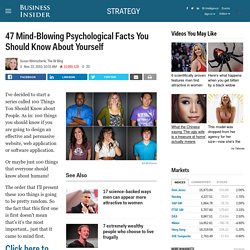 Words that are in all capital letters all have the same shape: a rectangle of a certain size. This makes words displayed in all uppercase harder to read than upper and lower case (known as "mixed case"). Mixed case words are easier to read because they make unique shapes, as demonstrated by the picture below. OK, NOW THE TRUE STUFF STARTS — When I started this article the topic was supposed to be why all capital letters are harder to read. How to Plant Ideas in Someones Mind - StumbleUpon. This is really more of a side effect of the way that computer sales work.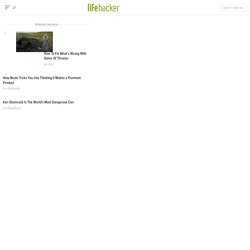 As a computer salesman, my goal is to pair you with a computer that (a) you'll be able to use to accomplish everything you want to do with a computer, including things you weren't thinking about (games, netflix) but that you'll use the thing for anyway, (b) that is capable of running things that your workplace / school will require of you, and also (c) that fits into your lifestyle well enough that it's something you'll be happy to keep using. If I fail at this job, two things will happen. You'll definitely be upset with me, because I sold you a product that didn't do what you needed.
You're also very likely to return the product for a different one, and that hurts my numbers more than me selling you a cheap computer.
---