Science
Update: - Naval Research Laboratory Charts Show Damaged Loop Current - Jesse Ventura Conspiracy Theory: 'Gulf Coast Oil Spill' - Europe: Coldest Winter in 1,000 Years On Its Way, Connected To Gulf Stream Changes, Say Scientists - Global Cooling and the New World Order: The Bilderberg group discussion agenda in 2010:"The 58th Bilderberg Meeting will be held in Sitges, Spain 3 – 6 June 2010.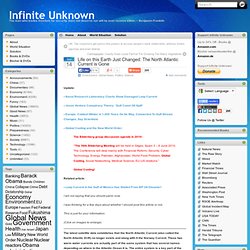 The Wonder of Water on Vimeo
How did life originate? Living things (even ancient organisms like bacteria) are enormously complex. However, all this complexity did not leap fully-formed from the primordial soup. Instead life almost certainly originated in a series of small steps, each building upon the complexity that evolved previously: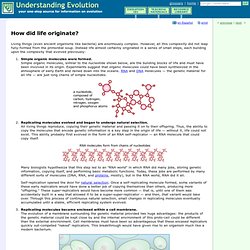 Living World Science, from Dinosaurs to Agriculture | Discover Magazine
Earth
Topic: Ecosystems | CosmoLearning Biology
Ecosystem is the complex of living organisms, their physical environment, and all their interrelationships in a particular unit of space. An ecosystem can be categorized into its abiotic constituents, including minerals, climate, soil, water, sunlight, and all other nonliving elements, and its biotic constituents, consisting of all its living members. Linking these constituents together are two major forces: the flow of energy through the ecosystem, and the cycling of nutrients within the ecosystem. The fundamental source of energy in almost all ecosystems is radiant energy from the sun. The energy of sunlight is used by the ecosystem's autotrophic, or self-sustaining, organisms.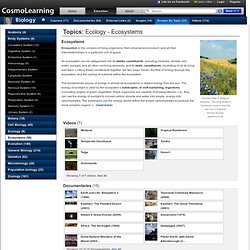 Welcome to the new Ecology Global Network Apr 19 EARTH is Number 1!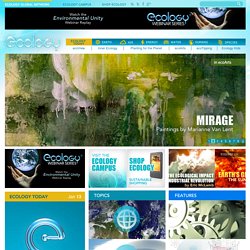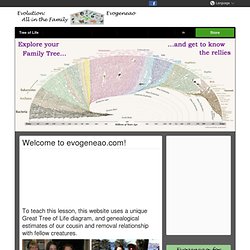 Biological evolution is one of the three most profound discoveries in science. The other two are the vastness of the universe and the depth of geologic time. As such, biological evolution, along with the other two, deserves to be the foundation of all science learning, and should be taught from an early age. If the typical fourth grader can name planets in their order from the sun, she should also know that life is all related by descent from common ancestors. Life on Earth is One Big Extended Family.