Leaks&Info
Collateral Murder
Spinwatch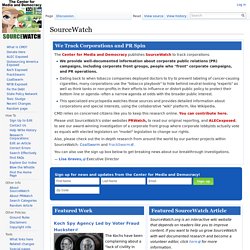 U.S. Supreme Court Considers ALEC Voting Bill; Could Have Broader Implications for Voting Rights by Brendan Fischer The U.S. Supreme Court is hearing oral arguments on March 18 to decide whether an Arizona statute that imposes restrictions on voter registration conflicts with federal law.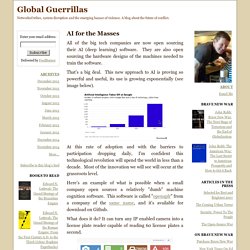 Here's some idle thinking for a sunny afternoon at the end of winter. To access it, let's make a simple assumption that economics, politics, and warfare are all a function of the dominant technological substrate. A technological substrate is the family of related technologies that we rely upon. In the 20th Century, we were clearly reliant on an industrial substrate. The challenges posed by industrial age technologies dictated the development of two management forms: bureaucracy and markets.
Site Directory
Open Source Intelligence | Analysis Intelligence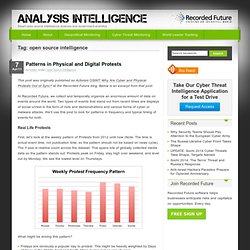 The NATO-led Libyan campaign has increased the monitoring of Twitter and other social media in its mission planning, according to today's Financial Times . Because there are "too few special forces on the ground", NATO "will take information from every source we can", according to RAF Wing Commander Mike Bracken, the Libyan operation's military spokesman. The article even quotes Twitter user @4libya , who on Tuesday tweeted to @NATO what she claimed were coordinates for Gaddafi forces. Without discussing whether this information was used or not, the article goes on to discuss both the advantages and potential pitfalls of using social media in open-source analysis.
In July 2011, J. William Leonard, a former director of the Information Security Oversight Office (ISOO), took the extraordinary step of filing a formal complaint with the Office he once led charging that a document used to indict former NSA official Thomas Drake under the Espionage Act had been wrongly classified in violation of the executive order on classification. ( "Complaint Seeks Punishment for Classification of Documents" by Scott Shane, New York Times, August 2, 2011; "Ex-federal official calls U.S. classification system 'dysfunctional'" by Ellen Nakashima, Washington Post, July 21, 2012) Last December, in a newly disclosed response , John P. Fitzpatrick, the current ISOO director , concluded that Mr.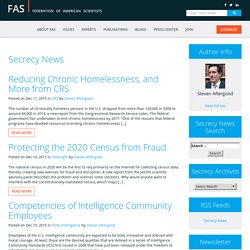 Defense News - Breaking International Defense News