Leaks&Info
Public Intelligence. Collateral Murder. Cryptome. Human Rights Watch | Defending Human Rights Worldwide. Spinwatch. Redefining the Media. SourceWatch.
SourceWatch.org is an interactive wiki website that depends on readers like you to improve content.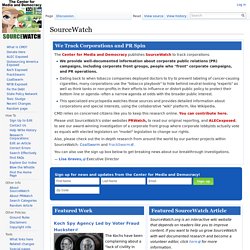 If you want to help us grow SourceWatch with well documented research and become a volunteer editor, click here for more information. National Restaurant Association Excerpt from a longer SourceWatch article on the National Restaurant Association: The National Restaurant Association (NRA) is a trade association for the $600 billion [1] restaurant industry and has an annual revenue of over $91 million, according to its 2011 Form 990. [2] NRA has been a major force in keeping the federal tipped minimum wage at $2.13 for restaurant workers for 20 years. Global Guerrillas. America has been in decay for decades (since the mid seventies).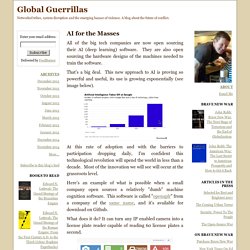 It's a problem that has consumed a large portion of my thinking for nearly a decade. I've read the analysis. Listened to the debates. Very little of it resonated. WikiLeaks. Site Directory. The Black Vault. Open Source Intelligence. It's been a while since we last weighed in on Libya, but recent events warrant an updated look at the future of the conflict.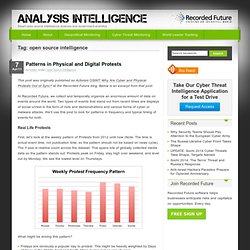 Two events in particular raise questions worth exploring. First, a recent New York Times piece interviewing Seif al-Islam Gaddafi suggests the family has found an ally in Islamist groups. This news was followed shortly by reports from rebel fighters suggesting that Khamis Gaddafi, son of Muammar and the head of a prominent military division, was killed by NATO airstrikes. Cryptome. Secrecy News. The Director of National Intelligence has forbidden most intelligence community employees from discussing "intelligence-related information" with a reporter unless they have specific authorization to do so, according to an Intelligence Community Directive that was issued last month.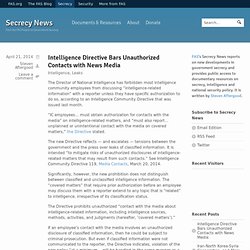 "IC employees… must obtain authorization for contacts with the media" on intelligence-related matters, and "must also report… unplanned or unintentional contact with the media on covered matters," the Directive stated. The new Directive reflects — and escalates — tensions between the government and the press over leaks of classified information. It is intended "to mitigate risks of unauthorized disclosures of intelligence-related matters that may result from such contacts." See Intelligence Community Directive 119, Media Contacts, March 20, 2014. Danger Room. Intelligence. OpenLeaks. Secrecy News.
Federation of American Scientists. Public Intelligence.
---