LinkedData 7 pays à la veille de leurs élections, 7 parcours démocratiques en un coup d'œil À partir du 10 janvier, ARTE diffuse I Love Democracy, une série documentaire en sept volets, qui prend le pouls démocratique de la planète. Cette collection entend dégager les enjeux politiques dans sept des pays susceptibles de changer d'équipe dirigeante en 2012 : la Tunisie, la Russie, l'Inde, la Grèce, les États-Unis, la Turquie et le Maroc.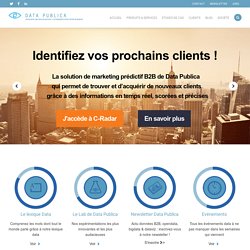 Data Publica lauréat du Concours Avec C-Radar, l'offre Big Data au service des données entreprises Data Publica lance C-Radar Les ventes prédictives appliquées au B2B débarquent en France Découvrir C-Radar GRANDS GROUPES PME ILS TRAVAILLENT AVEC DATA PUBLICA START UP Découvrez data publica en une animation Les tableaux de bord des territoires : Créez votre tableau de bord personnalisé à partir de données internes et d'open data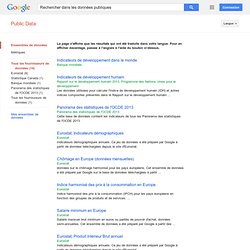 Indicateurs de développement humain Rapport sur le développement humain 2013, Programme des Nations Unies pour le développement Les données utilisées pour calculer l'Indice de développement humain (IDH) et autres indices composites présentés dans le Rapport sur le développement humain ... Eurostat, Indicateurs démographiques
RDFizing and Interlinking the EuroStat Data Set Effort - riese
LinkedData: un écosystème pour le web sémantique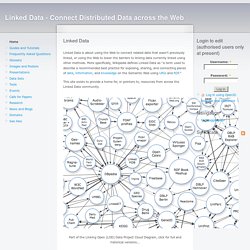 Linked Data is about using the Web to connect related data that wasn't previously linked, or using the Web to lower the barriers to linking data currently linked using other methods. More specifically, Wikipedia defines Linked Data as "a term used to describe a recommended best practice for exposing, sharing, and connecting pieces of data, information, and knowledge on the Semantic Web using URIs and RDF." This site exists to provide a home for, or pointers to, resources from across the Linked Data community.
Blogabriel » Blog Archive » How to Publish Linked Data on the Web / Comment publier des données liées sur le Web ? (1/10)
Chris Bizer (Web-based Systems Group, Freie Universität Berlin, Germany), Richard Cyganiak (Web-based Systems Group, Freie Universität Berlin, Germany) et Tom Heath (Knowledge Media Institute, The Open University, Milton Keynes, UK) ont écrit ce beau tutorial de référence dont je veux donner ici une traduction pour en faciliter la diffusion dans l'espace francophone. Je publierai cette traduction en 10 fois, respectant ainsi la découpe en section de l'original. Résumé Ce document fournit un tutoriel sur la façon de publier des données liées sur le Web. Après un aperçu général de la notion de données liées, nous présentons plusieurs recettes pratiques pour la publication d'information sous forme de données liées sur le Web. 1 – Introduction : les données liées sur le Web
Latest Post … or, the lack of it. A recent discussion at a customer made me having a closer look around support for encryption in the context of XaaS cloud service offerings as well as concerning Hadoop. In general, this can be broken down into over-the-wire (cf.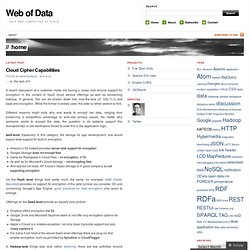 Web of Data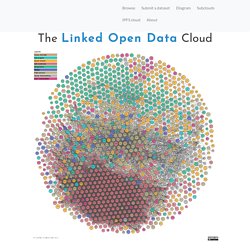 This web page is the home of the LOD cloud diagram. This image shows datasets that have been published in Linked Data format, by contributors to the Linking Open Data community project and other individuals and organisations. It is based on metadata collected and curated by contributors to the Data Hub.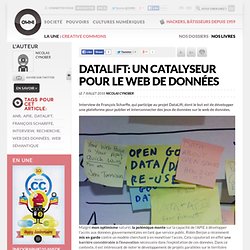 Interview de François Scharffe, qui participe au projet DataLift, dont le but est de développer une plateforme pour publier et interconnecter des jeux de données sur le web de données. Malgré mon optimisme naturel, la polémique monte sur la capacité de l'APIE à développer l'accès aux données gouvernementales en tant que service public. Robin Berjon a récemment mis en garde contre un modèle cherchant à en monétiser l'accès.
DataLift: un catalyseur pour le web de données » Article » OWNI, Digital Journalism
Rhiza Labs | Business intelligence and online mapping software for exploring, visualizing, and sharing crowdsourced data on the web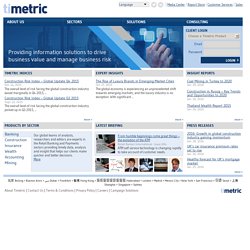 Our global teams of analysts, researchers and editors are experts in the Retail Banking and Payments sectors providing timely data, analysis and insight that helps our clients make quicker and better decisions. More We are a leading provider of intelligence for the global construction industry supplying project, industry, market and company intelligence. More We provide powerful industry briefings and intelligence products covering more than 180 markets and 4000 companies helping our partners make sound strategic decisions.