Espacio / Space
International Space Station (ISS) - ONLINE 3D REAL TIME TRACKING
With the 2012 holiday season coming into its "home stretch," many people may be seriously considering the purchase of a telescope. You've seen telescope ads in newspapers, junk mail catalogues and on those cable TV shopping channels. The typical sales pitch might run something like this: "Bring the mysteries of the universe up close for your inspection.
Thinking of Buying a Telescope? Here's Our Advice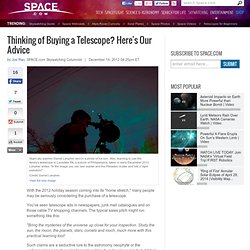 Generador de sesiones de observación - Univers Astronomie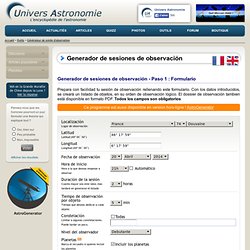 Prepara con facilidad tu sesión de observación rellenando este formulario. Con los datos introducidos, se creará un listado de objetos, en su orden de observación lógico. El dossier de observación tambien está disponible en formato PDF. Todos los campos son obligatorios Ce programme est aussi disponible en version hors-ligne ! AstroGenerator
Simulador de Telescopios .:. Astronomía Sur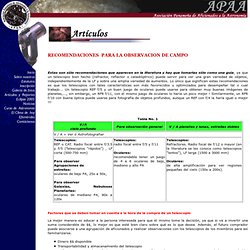 Recomendaciones para la observacion de campo - Asociacion Panamena de Aficionados a la Astronomia
Estas son sólo recomendaciones que aparecen en la literatura y hay que tomarlas sólo como una guía, ya que un telescopio bien hecho (refractor, reflector o catadióptrico) puede servir para ver una gran variedad de objetos, independientemente de la LF y sobre una amplia variedad de aumentos. Lo único que significan estas recomendaciones es que los telescopios con tales características son más favorecidos u optimizados para desempeñar tal o cual trabajo... Un telescopio REF f/5 y un buen juego de oculares puede usarse para obtener muy buenas imágenes de planetas,..., sin embargo, un RFR f/11, con el mismo juego de oculares lo haría un poco mejor ! Similarmente, un RFR f/10 con buena óptica puede usarse para fotografía de objetos profundos, aunque un REF con f/4 la haría igual o mejor !!!
Telescopios - Fórmulas prácticas .:. Astronomía Sur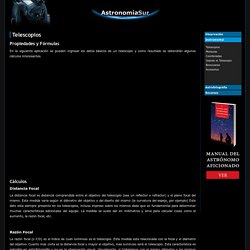 Propiedades y Fórmulas En la siguiente aplicación se pueden ingresar los datos básicos de un telescopio y como resultado se obtendrán algunos cálculos interesantes. Cálculos
Meade DS-2130AT Telescope Details and Product Specifications
Telescopios: Cómo elegir un telescopio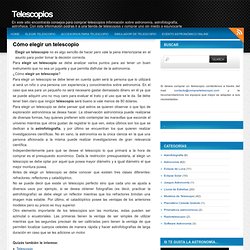 Elegir un telescopio no es algo sencillo de hacer pero vale la pena interiorizarse en el asunto para poder tomar la decisión correcta. Para elegir un telescopio se debe analizar varios puntos para así tener un buen instrumento que no sea un juguete y que permita disfrutar de la astronomía. ¿Cómo elegir un telescopio? Para elegir un telescopio se debe tener en cuenta quién será la persona que lo utilizará si será un niño o una persona con experiencia y conocimientos sobre astronomía. En el caso que sea para un pequeño no será necesario gastar demasiado dinero en él ya que se puede adquirir uno no muy caro para evaluar el trato y el uso que se le da. Se debe tener bien claro que ningún telescopio será bueno si vale menos de 80 dólares.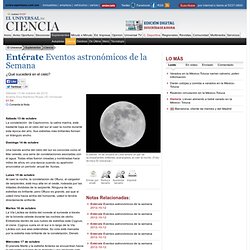 Ciencia - Entérate Eventos astronómicos de la Semana
Sábado 13 de octubre de 2012Andrés Eloy Martínez Rojas | El Universal01:54 Sábado 13 de octubre La constelación de Capricornio, la cabra marina, está bastante baja en el cielo del sur al caer la noche durante esta época del año. Sus estrellas más brillantes forman un triángulo ancho. Domingo 14 de octubre Una banda ancha del cielo del sur es conocida como el Mar celeste; una serie de constelaciones asociadas con el agua.
Misterios de la Astrofísica.
Eyes on the Solar System
1989-07-31+01%3A35
Asociación Chilena de Astronomía y Astronáutica - ACHAYA
When Comes the Sun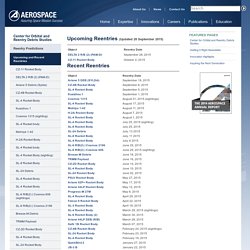 No reentries expected within the next 5 days Briz-M DEB (Tank) Sep. 12, 2012 Pharmasat Aug. 14, 2012 Atlas F Rocket Body
Upcoming Reentries
Home Page
Calgary Centre - Iridium Flares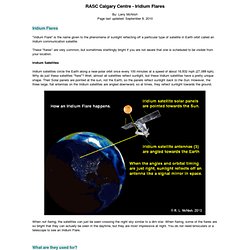 Iridium Flares "Iridium Flare" is the name given to the phenomena of sunlight reflecting off a particular type of satellite in Earth orbit called an Iridium communication satellite. These "flares" are very common, but sometimes startlingly bright if you are not aware that one is scheduled to be visible from your location. Iridium Satellites Iridium satellites circle the Earth along a near-polar orbit once every 100 minutes at a speed of about 16,832 mph (27,088 kph). Why do just these satellites "flare"?
Space Calendar (JPL)
2013 [ Dec ] 2014 [ Jan | Feb | Mar | Apr | May | Jun | Jul | Aug | Sep | Oct | Nov | Dec ] 2015 [ Jan ] Welcome to the Space Calendar! The Space Calendar covers space-related activities and anniversaries for the coming year.
Space Station sighting info for your current location
Create your personalized lunar calendar in order to include in your website! This algorithm produces calendars of the years 500 AD (julian calendar) to 4000 AD (gregorian calendar). For certain days the moon phase and the moon phase time (beside the day number) are shown.
Lunar Calendar 2012, moonrise calculator 2012, moonrise time, moonrise, moonset, sunrise, sunset, moon phases, lunar eclipse, solar eclipse, 500 AD to 4000 AD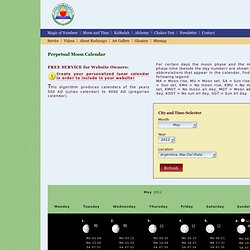 Calenario lunar para Mayo del año 2012 - fases de la luna
Data Services — Naval Oceanography Portal
Calestous Juma Calestous Juma es profesor de la Práctica de Desarrollo Internacional y director del Proyecto John F. Kennedy de Ciencia, Tecnología y Globalización de la Escuela de Gobierno de la Universidad de Harvard. El también dirige el Proyecto de Innovación Agrícola en África fundado por la Fundación Bill y Melinda Gates y el curso ejecutivo avanzado…leer más » Calestous Juma en la resolución de la hambruna en África Adriana Campa
Agricultura | EarthSky en Español
Cosmo Noticias | El Universo está lleno de sorpresas
Solar system
The Observatory: A Guide to Astronomy Resources
Space Weather Research Explorer: Solar Flares
Scientists classify the severity of solar flares according to the amount of X-rays they emit, known as X-ray flux. The GOES satellite measures the X-rays coming from the sun at any given time—see the graph of live data below. Looking at this graph, you can easily identify flares as sharp spikes—the higher the spike, the larger the flare. A spike that reaches up into the zone marked 10-5 or higher is likely to have effects here on earth. Spikes that don't reach this high are generally inconsequential flares.
Space Weather Research Explorer: CMEs
How to Look for Coronal Mass Ejections (CMEs) Below is a current coronagraph image of the sun. First, get familiar with what you're seeing: The blue circle in the center is the occulting disk, which blocks out the sun. The dark diagonal stripe in the bottom left of the image is the shadow of the arm that supports the occulting disk. The small white circle shows the size of the sun.
Space Weather Research Explorer: Space Weather and You