Greenhouseeffect
Updated April 04, 2010 In February 2007, the United Nations released a scientific report that concludes that global warming is happening and will continue to happen for centuries. The report also stated with 90% certainty that the activity of humans has been the primary cause of increasing temperatures over the past few decades. With those conclusions and the conclusions of innumerable other scientists that global warming is here and will continue into the foreseeable future, I wanted to summarize the likely effects of global warming, into the advantages and disadvantages of global warming. First, we will look at the many disadvantages of global warming and then follow with the very small number of advantages of global warming. Disadvantages of Global Warming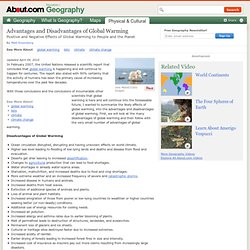 Advantages and Disadvantages of Global Warming
CarbonCycle
KScience - Animations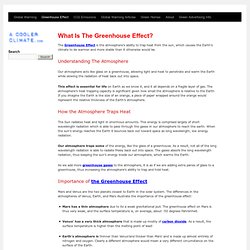 What Is The Greenhouse Effect?
The Greenhouse Effect is the atmosphere's ability to trap heat from the sun, which causes the Earth's climate to be warmer and more stable than it otherwise would be. Understanding The Atmosphere Our atmosphere acts like glass on a greenhouse, allowing light and heat to penetrate and warm the Earth while slowing the radiation of heat back out into space. This effect is essential for life on Earth as we know it, and it all depends on a fragile layer of gas.
Cause of global warming Almost 100% of the observed temperature increase over the last 50 years has been due to the increase in the atmosphere of greenhouse gas concentrations like water vapour, carbon dioxide (CO2), methane and ozone. Greenhouse gases are those gases that contribute to the greenhouse effect (see below). The largest contributing source of greenhouse gas is the burning of fossil fuels leading to the emission of carbon dioxide. The greenhouse effect
Cause and effect for global warming | Time for change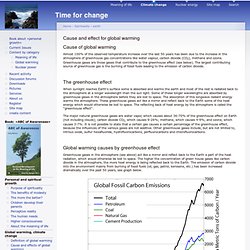 Maps predict future floods for cities - ABC Melbourne - Australian Broadcasting Corporation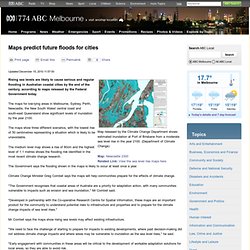 Updated December 15, 2010 11:57:00 Rising sea levels are likely to cause serious and regular flooding in Australian coastal cities by the end of the century, according to maps released by the Federal Government today. The maps for low-lying areas in Melbourne, Sydney, Perth, Newcastle, the New South Wales' central coast and south-east Queensland show significant levels of inundation by the year 2100. The maps show three different scenarios, with the lowest rise of 50 centimetres representing a situation which is likely to be unavoidable.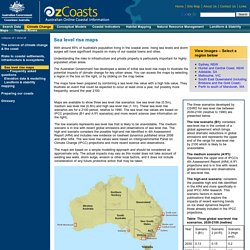 With around 85% of Australia's population living in the coastal zone, rising sea levels and storm surges will have significant impacts on many of our coastal towns and cities. Understanding the risks to infrastructure and private property is particularly important for highly populated urban areas. The Australian Government has developed a series of initial sea level rise maps to illustrate the potential impacts of climate change for key urban areas. You can access the maps by selecting a region in the box on the right, or by clicking on the map below. The maps have been prepared by combining a sea level rise value with a high tide value.
OzCoasts Climate change: Sea level rise maps
OzCoasts Climate change: Visualising sea-level rise - Melbourne region - Williamstown and Rosebud to Bass
Maps have been prepared for three sea-level rise scenarios of 0.5m, 0.8m and 1.1m,relevant for the 2100 period. You may notice that some of the areas highlighted as low lying and vulnerable are the same ones that are already prone to flooding in big storms. However, it is important to remember that the maps show flooding that may occur annually, or in some areas more frequently, around the turn of the century. The big storms of 2100 are likely to flood an even larger area.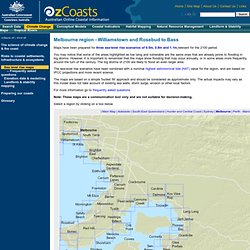 The Greenhouse Effect - Thermodynamics, Heat, Climate Change
greenhouse_2011
Google Image Result for http://www.environment.act.gov.au/__data/assets/image/0006/158289/enhanced_greenhouse_effect.gif
Global Warming Interactive, Global Warming Simulation, Climate Change Simulation
The Nitrogen Cycle
http://www.nodvin.net/snhu/SCI219/demos/Chapter_3/Chapter_03/Present/animations/32_2_1a.html
http://www.classzone.com/books/ml_science_share/vis_sim/em05_pg20_nitrogen/em05_pg20_nitrogen.swf
Nitrogen Cycle