Farkadenear
William Stanley
Health and Fitness Alliance and Online Fitness Education Inc.
*In celebration of my alma mater's NCAA championship, please use coupon UCONN for 20% off books and videos As a coach, my job is to develop my athletes. If I am training a young boxer, I want him to improve from fight to fight. Each time that he enters the ring is an opportunity to advance. Yet despite our goals to learn and improve, I am cognizant of the fact that we cannot improve everything at once.
I am a champion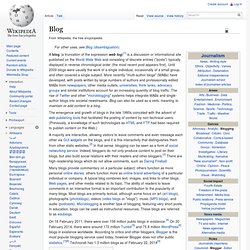 A blog (a truncation of the expression web log)[1] is a discussion or informational site published on the World Wide Web and consisting of discrete entries ("posts") typically displayed in reverse chronological order (the most recent post appears first). Until 2009 blogs were usually the work of a single individual, occasionally of a small group, and often covered a single subject. More recently "multi-author blogs" (MABs) have developed, with posts written by large numbers of authors and professionally edited. MABs from newspapers, other media outlets, universities, think tanks, advocacy groups and similar institutions account for an increasing quantity of blog traffic.
The 1 percent have long had smartphones from Porsche and Vertu to quench their high-end thirst, but when it comes to dual-SIM handsets, the elite have had to settle for something a little more ordinary. For those in need, Gresso created Azimuth, the first dual-SIM luxury handset. Starting at $2,000, the phone is made of titanium, with both the keys and logo crafted out of 18K or white gold. Since appearances are all that matter, you're getting some pretty low-end specs under the hood, including 2GB of "internal memory," a 1.3-megapixel camera, Bluetooth 2.0 and a tiny 1,100mAh battery.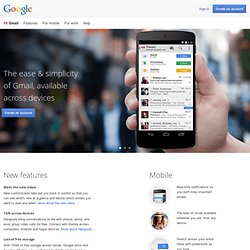 New features Meet the new inbox New customizable tabs put you back in control so that you can see what's new at a glance and decide which emails you want to read and when. More about the new inbox Talk across devices Hangouts bring conversations to life with photos, emoji, and even group video calls for free.
Reader