Social Networks
Obtaining CMO buy-in for social media. So you have ambitious plans for a new social media program that will build brand buzz and drive business impact?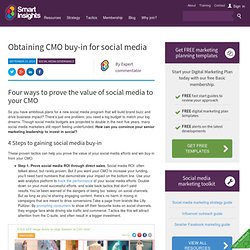 There's just one problem: you need a big budget to match your big dreams. Though social media budgets are projected to double in the next five years, many social media marketers still report feeling underfunded. How can you convince your senior marketing leadership to invest in social? 4 Steps to gaining social media buy-in These proven tactics can help you prove the value of your social media efforts and win buy-in from your CMO.
Escarguel : Your Tumblr pictures can be ... A company will scan your Tumblr pictures to work out what brands you love. When Yahoo bought Tumblr for more than a billion dollars, a lot of us wondered how it would ever turn a profit.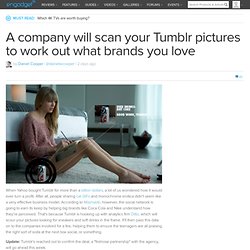 After all, people sharing cat GIFs and monochrome erotica didn't seem like a very effective business model. According to Mashable, however, the social network is going to earn its keep by helping big brands like Coca Cola and Nike understand how they're perceived. Age and Gender Matter in Viral Marketing - Kelsey Libert. By Kelsey Libert | 11:00 AM August 18, 2014 Nearly every digital marketer has a goal of creating a viral campaign.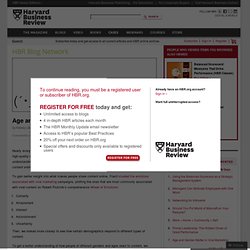 Getting mass exposure for high-quality content provides huge value to clients, but it's not always easy to pull off; it takes an understanding of the complexity of human emotion and how it plays into consuming and sharing content online. To gain better insight into what makes people share content online, Fractl studied the emotions associated with viral marketing campaigns, plotting the ones that are most commonly associated with viral content on Robert Plutchik's comprehensive Wheel of Emotions: Sales Still Matters More than Social Media - Frank V. Cespedes. By Frank V.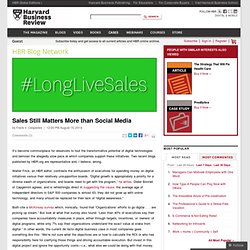 Cespedes | 12:00 PM August 15, 2014 It's become commonplace for observers to tout the transformative potential of digital technologies and bemoan the allegedly slow pace at which companies support these initiatives. Two recent blogs published by HBR.org are representative and, I believe, wrong. Walter Frick, an HBR editor, contrasts the enthusiasm of executives for spending money on digital initiatives versus their relatively unsupportive boards. 4 Mistakes Marketers Make When Trying to Go "Viral" - David Spitz. By David Spitz | 11:00 AM August 6, 2014 Can we agree to kill the word "viral" – unless it's referring to something that leads you to call a doctor, or download a security patch? The problem with this term is that it suggests there's something inherent in the content itself that makes it travel. The virus, once released into the wild oceans of social media, preys on its victims. In fact, quite the opposite is the case: unlike viruses, people actively choose to engage with marketing messages and to share them (or not) with friends. That's why some have suggested describing what the best marketers create as spreadable media rather than viral content. Facebook ad clickthrough rates 2014. Value/Importance: ★★★★★ Recommended link: Facebook ad research With the continued decline in organic reach in Facebook, opportunities for brands to get visibility for their brand page status updates is getting severely limited.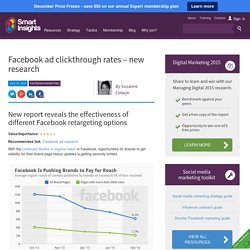 According to this Social@Ogilvy report, the organic reach of brands' posts may soon reach zero, meaning that brands will no longer be able to reach their Facebook fans at zero cost. They recommend advertising as one option, which begs the question of the clickthrough rates and costs of Facebook ads. This new report from Facebook retargeting service AdRoll provides useful data for brands to make the case for investment in Facebook advertising. Few Consumers Actually Heed Social Media - Ed O'Boyle.
By Ed O'Boyle | 1:03 PM June 23, 2014 Ever since Facebook first introduced brand pages in 2007, companies have been flocking to social media. Many business leaders believe that the more they post and share about their products and services, the greater their chances of attracting customers and generating revenue. But just-released research from Gallup's State of the American Consumer report suggests that much of these efforts have been misguided. Social media are not the powerful and persuasive marketing force many companies assumed they would be. Holiday discounts offered to travellers with a large number of social media followers. Marketing & Advertising Tourism & Travel Offering deals to social network users with a large number of followers is based on the logic that the cost of the discount will hopefully be outweighed by the subsequent exposure and publicity.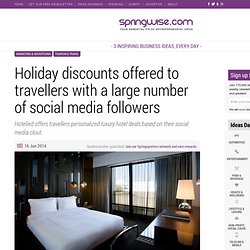 We've already seen the model employed by fashion brand Volga Verdi, and now Hotelied is looking to apply the same thought process to the travel industry. L'implacable recette de Nestlé pour éviter d'être maltraité sur Facebook - Challenges. C'est l'endroit le plus secret et le plus branché de Suisse.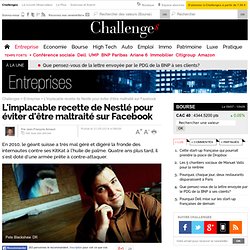 Une grande salle vitrée au siège mondial du groupe Nestlé à Vevey. On n'y pénètre que sur invitation, dûment accompagné et badgé. Facebook affine sa stratégie mobile avec de nouvelles fonctionnalités. Les annonces ont été faites par Mark Zuckerberg en personne, s'adressant à près de 1 700 développeurs et journalistes réunis à San Francisco mercredi 30 avril : preuve que la stratégie mobile est au cœur de la dynamique actuelle de Facebook, le réseau social au 1,28 milliard de membres.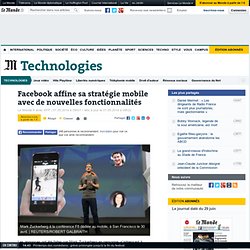 Lire : Zuckerberg : « Un milliard de personnes utilisent Facebook sur mobile, et c'est un business » Parmi les annonces de Facebook pour l'occasion figurent de nouveaux outils publicitaires ou améliorant la confidentialité des données de ses membres, susceptibles de l'imposer davantage dans l'univers en expansion des applications pour smartphones. Le premier réseau social mondial veut introduire un mode de connexion « anonyme », permettant d'utiliser des applications mobiles tierces avec ses identifiants Facebook sans les laisser accéder à des informations personnelles. Retailers Get Creative with Pinterest. Le groupe HighCo investit dans Milky. Le spécialiste des solutions marketing acquiert 48% du capital de l'agence française social media. HighCo, spécialiste européen des solutions marketing, vient d'annoncer avoir acquis 48% du capital de Milky, agence française qui touche à tout ce qui concerne réseaux sociaux et mobile.
L'agence qui compte 23 collaborateurs a été fondée par Pierre Mathuchet et compte parmi ses clients des marques telles que Canal+, SNCF et Clarins. Elle a réalisé une marge brute de plus d'1,5 million d'euros en 2013, en croissance à 2 chiffres par rapport à 2012. Elle est notamment labellisée Preferred Marketing Developer par Facebook. How Target's 'Awesome Shop' Uses Pinterest To Boost Sales. Target, which has recently shifted gears to its online shop after experiencing declining sales, has now rapidly put together a special Pinterest compilation.
The Target 'Awesome Shop,' which was assembled in just a couple of weeks by the company's in-house RAD (Rapid Accelerated Development) team, is still in beta, but it allows you to sort top-pinned items by certain preset categories as well as view the overall most most-pinned items in the online store. Pinterest has previously been of help to Target. While online sales made up a measly 2% of its $73 billion total sales in 2012, they saw a 70% increase in traffic from Pinterest in the six weeks after the Pinterest rolled out its Rich Pins feature. Jive, Microsoft, IBM & Salesforce leaders du Social Software 2013 selon Gartner | Demain la veilleDemain la veille. L'édition 2013 du Magic Quadrant « Social Software in the Workplace » de Gartner vient de consacrer les 4 éditeurs Jive, Microsoft, IBM et Salesforce comme les leaders du marché, sur un total de 20 protagonistes. Donc rien de surprenant, à part la faible présence d'éditeurs français, représentés uniquement par BlueKiwi.
Ce qui est plutôt intéressant, c'est d'observer cette dynamique du marché sur les dernières années, et constater que le haut du panier a été souvent trusté par les mêmes acteurs, et que les concentrations ont fait en sorte que le nombre d'intervenants soit plus limité. Ainsi, depuis 2007 et jusqu'à la récente édition 2013, 70 éditeurs ont figuré au total dans le Magic Quadrant mais seulement 7 étaient présents à chaque édition !
The Future of Advertising: 'Pay-Per-Gaze' Is Just the Beginning. Advertising is going to change more in the next 20 years than it has in the last 100. If you need proof of that, just look at the patent Google was granted Thursday for a Google Glass-based ad system. Dubbed "pay-per-gaze," the content would charge advertisers for the number of times someone literally looked at their ad. The concept is buried pages deep in a patent for a "gaze tracking technique ... implemented with a head-mounted gaze-tracking device that communicates with a server. " It would likely make money hand over fist, and is clearly the main future-focused impetus for the patent.
Est-ce la fin du social commerce ? Le Facebook Shopping est une pratique dont nous avons beaucoup parlé en 2011. Heureusement la frénésie autour des boutiques encapsulées s'est calmée et nous avons maintenant un regard plus serein sur ces pratiques (Mythes et réalités du social commerce). L'actualité récente fait néanmoins ressurgir le débat sur la viabilité de ces pratiques. Personne n'arrive à vendre sur Facebook. Building Customer Communities Is the Key to Creating Value - Bill Lee. Epiphanie : Leclerc joue le couplage Twitter - Facebook pour ses opérations promotionnelles.
E-commerce et mobilité : l'eldorado des entreprises à l'horizon 2013. Social Media trends. Le blog de l'agence de communication interactive et digitale You to You: campagnes de buzz marketing, communautaire, soirees blogueurs, rp interactive, marketing 2.0, buzz. Le vide poches / expression : le blog du marketing 2.0 de la plateforme PSST (opinions et tendances 2.0) by jérémy dumont.
E-conomy. Le Blog /// Agence marketing digital, viral, buzz et media sociaux ★★★ Vanksen|Culture-buzz. Real Time Search - Social Mention. Social Media, Community Management, Social CRM, e-Reputation par Cédric Deniaud. E-marketing / Social Media / Marketing viral / Search marketing / Web 2.0 / E-commerce.
Mashable | Reseaux Sociaux & Communautes Virtuelles. MediasSociaux.com. A new way to measure word-of-mouth marketing - McKinsey Quarterly - Marketing - Strategy.
---