Social Networks
Le groupe HighCo investit dans Milky - JDN Média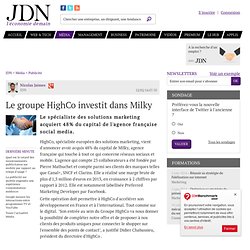 Le spécialiste des solutions marketing acquiert 48% du capital de l'agence française social media. HighCo, spécialiste européen des solutions marketing, vient d'annoncer avoir acquis 48% du capital de Milky, agence française qui touche à tout ce qui concerne réseaux sociaux et mobile. L'agence qui compte 23 collaborateurs a été fondée par Pierre Mathuchet et compte parmi ses clients des marques telles que Canal+, SNCF et Clarins. Elle a réalisé une marge brute de plus d'1,5 million d'euros en 2013, en croissance à 2 chiffres par rapport à 2012. Elle est notamment labellisée Preferred Marketing Developer par Facebook.
Target, which has recently shifted gears to its online shop after experiencing declining sales, has now rapidly put together a special Pinterest compilation. The Target 'Awesome Shop,' which was assembled in just a couple of weeks by the company's in-house RAD (Rapid Accelerated Development) team, is still in beta, but it allows you to sort top-pinned items by certain preset categories as well as view the overall most most-pinned items in the online store. Pinterest has previously been of help to Target. While online sales made up a measly 2% of its $73 billion total sales in 2012, they saw a 70% increase in traffic from Pinterest in the six weeks after the Pinterest rolled out its Rich Pins feature.
How Target's 'Awesome Shop' Uses Pinterest To Boost Sales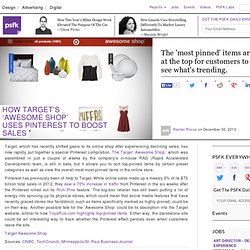 Jive, Microsoft, IBM & Salesforce leaders du Social Software 2013 selon Gartner | Demain la veilleDemain la veille
L'édition 2013 du Magic Quadrant « Social Software in the Workplace » de Gartner vient de consacrer les 4 éditeurs Jive, Microsoft, IBM et Salesforce comme les leaders du marché, sur un total de 20 protagonistes. Donc rien de surprenant, à part la faible présence d'éditeurs français, représentés uniquement par BlueKiwi. Ce qui est plutôt intéressant, c'est d'observer cette dynamique du marché sur les dernières années, et constater que le haut du panier a été souvent trusté par les mêmes acteurs, et que les concentrations ont fait en sorte que le nombre d'intervenants soit plus limité. Ainsi, depuis 2007 et jusqu'à la récente édition 2013, 70 éditeurs ont figuré au total dans le Magic Quadrant mais seulement 7 étaient présents à chaque édition !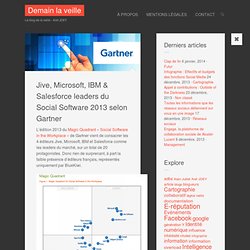 The Future of Advertising: 'Pay-Per-Gaze' Is Just the Beginning
Advertising is going to change more in the next 20 years than it has in the last 100. If you need proof of that, just look at the patent Google was granted Thursday for a Google Glass-based ad system. Dubbed "pay-per-gaze," the content would charge advertisers for the number of times someone literally looked at their ad. The concept is buried pages deep in a patent for a "gaze tracking technique ... implemented with a head-mounted gaze-tracking device that communicates with a server." It would likely make money hand over fist, and is clearly the main future-focused impetus for the patent.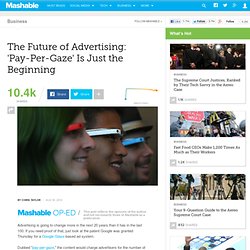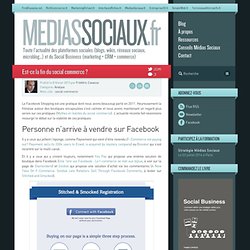 Le Facebook Shopping est une pratique dont nous avons beaucoup parlé en 2011. Heureusement la frénésie autour des boutiques encapsulées s'est calmée et nous avons maintenant un regard plus serein sur ces pratiques (Mythes et réalités du social commerce). L'actualité récente fait néanmoins ressurgir le débat sur la viabilité de ces pratiques. Personne n'arrive à vendre sur Facebook
Est-ce la fin du social commerce ?
by Bill Lee | 1:00 PM February 1, 2013 What are your customers telling their friends and colleagues about your business? As I described in my last post, your prospective customers and buyers increasingly learn about you from their peers — including your current customers — while tending more and more to ignore traditional sales and marketing communications from corporate.
Building Customer Communities Is the Key to Creating Value - Bill Lee Les enseignes avancent sur tous les fronts et il faut admettre que c'est tout à leur honneur d'arriver à suivre ces évolutions rapides et impliquantes du commerce, évolutions liées aux nouvelles technologies mais aussi à la volonté du shopper d'être cross canal et libre … Oui car c'est bien lui qui dicte la loi … Et toutes les initiatives et nouvelles aventures mixant on et off drive, click&pickup, appli et site mobile, comparateurs .... sont immédiatement plébiscitées par les clients. Et je rends hommage aux distributeurs, car ces ''grosses machines'' que sont les ''entreprises de distribution à réseaux'' sont pour moi bien en avance sur les marques, malgrès leur inertie structurelle. Par contre en ce qui concerne les réseaux sociaux, il n'est pas facile de savoir sur quel pied danser pour les distributeurs.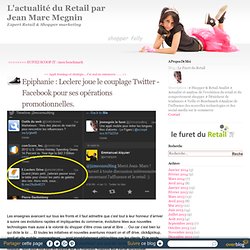 Epiphanie : Leclerc joue le couplage Twitter - Facebook pour ses opérations promotionnelles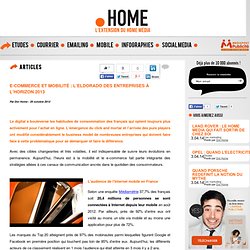 E-commerce et mobilité : l'eldorado des entreprises à l'horizon 2013
Le digital a bouleversé les habitudes de consommation des français qui optent toujours plus activement pour l'achat en ligne. L'émergence du click and mortar et l'arrivée des pure players ont modifié considérablement le business model de nombreuses entreprises qui doivent faire face à cette problématique pour se démarquer et faire la différence. Avec des cibles changeantes et très volatiles, il est indispensable de suivre leurs évolutions en permanence. Aujourd'hui, l'heure est à la mobilité et le e-commerce fait partie intégrante des stratégies alliées à ces canaux de communication ancrés dans le quotidien des consommateurs. L'audience de l'Internet mob
Le vide poches / expression : le blog du marketing 2.0 de la plateforme PSST (opinions et tendances 2.0) by jérémy dumont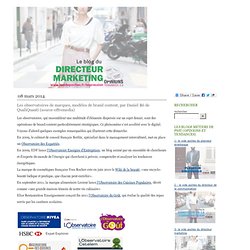 source : http://www.mediatrium.com/deezer-spotify-youtube-streaming#! Alors que Deezer a annoncé hier diverses évolutions à court terme, l'Observatoire de la Musique publie aujourd'hui une étude sur l'offre et la diversité musicale en ligne, à laquelle Mediatrium, agence digitale et agence social media, a collaboré. 7 plateformes de streaming et de téléchargement MP3 ont été explorées : Amazon MP3, Deezer, Google Play, iTunes Store, Qobuz, Spotify et Youtube.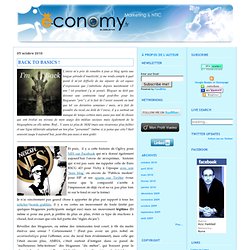 L'envie m'a pris de remettre à jour ce blog après une longue période d'inactivité, je me rends compte à quel point il m'est difficile de me séparer de cet espace d'expression que j'entretiens depuis maintenant +5 ans !
E-conomy
Consumers have always valued opinions expressed directly to them. Marketers may spend millions of dollars on elaborately conceived advertising campaigns, yet often what really makes up a consumer's mind is not only simple but also free: a word-of-mouth recommendation from a trusted source. As consumers overwhelmed by product choices tune out the ever-growing barrage of traditional marketing, word of mouth cuts through the noise quickly and effectively. Podcast Harnessing the power of word of mouth McKinsey's Ole Jørgen Vetvik explains a new way to measure the impact of word of mouth, and how marketers can use it to influence consumer behavior.
A new way to measure word-of-mouth marketing - McKinsey Quarterly - Marketing - Strategy