Fun
Photoshop Troll
I Heart Chaos
Obvious Winner - So Easy To See The Awesomeness - ow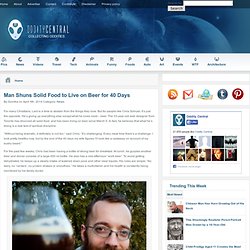 Sometimes, all you need is a message from an angel to turn your life around. And it doesn't really matter if that angel actually happens to be a human being; it's the timing that really counts. Perhaps no one realizes this fact better than a group of 15 to 22-year-olds in Mexico, who are risking their lives by going out into the streets as angels, in an attempt to change their society. The 'Messenger Angels', as they call themselves, are young evangelical Christians who take a message of peace to public places in Ciudad Juarez, Mexico's most violent city. The messenger angels are all dressed the same – hair combed back, white make up, white robes and white wings. They stand at busy intersections and places where crimes usually take place, holding up signs that display messages of peace – like 'Looking for God's Forgiveness'.
Oddity Central - Weird Places, Odd Events, Bizarre News, Strange People and A Lot More - Part 4
Barrel Chairs Posted on Feb 8th, 2014 by found Pixelated Fox
Found Shit : Funny, Bizarre, Amazing Pictures & Videos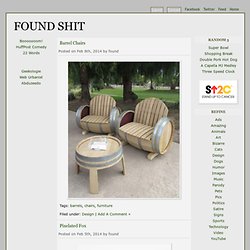 The Meta Picture
Environmental Graffiti
Pictures | That Cute Site - Part 6
Kitty High Fives are the Best The question remains, did he train his cat to do high fives, or is the cat training him… Then and Now: Dog and Cheetah Friends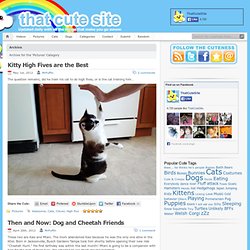 You've got mail!!
browse your computer drag and drop here Ctrl + V paste from your clipboard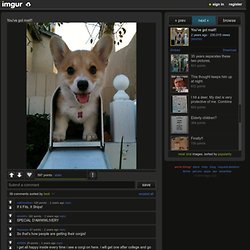 Sad and Useless Humor Blog
Barnorama
Beef Roses of the Day
theCHIVE - Funny Photos and Funny Videos – Keep Calm and Chive On
Types Of Facebookers | MakeUseOf Geeky Fun
Laughing Squid
Slingshot | Bringing You the Best of the Web
Slingshot | Featured Article
Time-Traveling Celebrities (12 Pics) |
Anatidaephobia is the pervasive, irrational fear that, somewhere in the world, a duck is watching you. The person believes that no matter where they are or what they are doing, a duck is watching them. The people who suffer from this phobia have suffered some sort of trauma in their lives, likely when he or she was a child. This trauma probably had to do with a duck or some sort of related water fowl, like a goose. Perhaps the person was attacked by one of these animals. Some of the symptoms of this phobia include an anxiety or panic attack.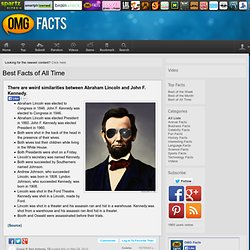 OMG Facts - Your Mind. Blown.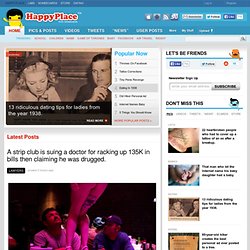 Happy Place - The Latest Funny Videos, Funny Pictures, Funny Tweets, Funny Ecards and More!
Didga the cat, as in "you didn't happen to see a skateboarding cat go by, didga?" I'm sure we all feel a little jaded when it comes to animal videos on the Internet. I mean, this is 2014.
Just for Fun!
I waste so much time
Pictures
Be Amazed | Odd, Bizzare, Weird, Nature Art, Interesting. Dalily fix of entertainmet for you
2leep.com latest links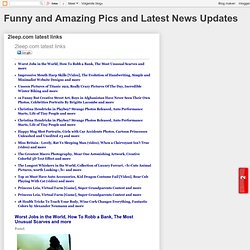 Happy Mug Shot Portraits All these people seem to be so happy when smiling for their booking photograph. I wonder why. Some of them even can?t smile. Anyway, there are amusing.more... Girls with Car Accidents Photos girls car accident photos , women car accident photos , car aciident by a girl photos , skinny woman car , accident , water car accident woman , nice woman in mud with accident , car accident injury girlsmore...
Videobash:Funny Videos Tube,Viral Clips,Free Jokes & Funny Pictures
Clients From Hell
Client: How will you get the voice over the video? Me: You mean the narration? We film the video portion and lay an audio track over it in post production. Client: What? No.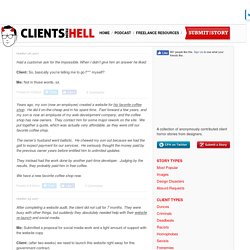 Funny Images Gallery
Pick Out Your Photo, Send Back the Rest
Claim: Woman who demands her photo back from her boyfriend receives a box of pictures with instructions to pick hers out and return the rest. Examples: [Collected via e-mail, March 2004] THE ULTIMATE RESPONSE TO A "DEAR JOHN LETTER" You gotta love a man like this ...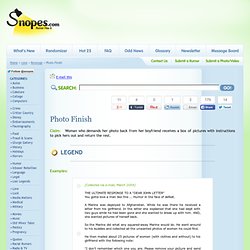 Random Facts -bubblegum
Leuke feiten, waar je niets aan hebt.
" Funny photos".
ASS MY Laugh OFF
Geeky Fun
Trending Pictures, Page: 1
Photo in caratteri ascii
Simpsonize Me
If a cow laughed real hard, would milk come out her nose? If nothing ever sticks to TEFLON, how do they make TEFLON stick to the pan? If you tied buttered toast to the back of a cat and dropped it from a height, what would happen?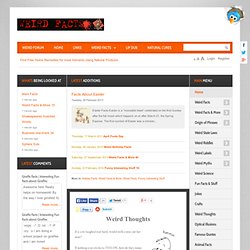 Weird Facts - Funny Videos - Stupid Laws - Optical Illusions
Barcode Yourself by Scott Blake
Barcode Yourself is a complete, interactive experience in the series of barcode art, created using the personalized data of participants. Enter an individual's gender, weight, height, age and location, and the barcode is formed using real-world data. The individualized barcode can then be printed, mapped, scanned, even depicted on a t-shirt or coffee mug.
Chill Out Point - Funny Images and Artwork
Recent Chill Out's articles The Most Hilarious Roommate Notes Roommates are considered as family and for some people roommates turned into long run friendships and relationships.
Odd, Weird, Strange and Bizarre Things From Around The World. Uphaa.com
Allpics4u - Best News and Pics Ever!
LOLCats.com - Funny Lolcat Pictures
Artsy Spot
SmilePanic
PostSecret
Damn Cool Pictures
Uncoached - Because Some Things Can't Be Taught
SmilePanic
Lolcats 'n' Funny Pictures of Cats - I Can Has Cheezburger?
SP-Studio
Puns, Puns, Puns! So Much Pun in Pictures