Fun
Photoshop Troll. I Heart Chaos. Obvious Winner - So Easy To See The Awesomeness - ow. Oddity Central - Weird Places, Odd Events, Bizarre News, Strange People and A Lot More - Part 4. If you love dogs, cats and cute, cuddly bunnies, then Vietnam's Pet Café is certainly not the place for you.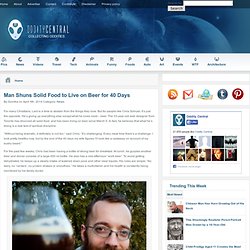 It exists to serve a totally different kind of animal lover. Located in the capital city of Hanoi, the café has an awesome collection of snakes, rats, lizards, tarantulas and even a few hedgehogs, stored in glass cages of various sizes. As you sit at your table and share a coffee with a friend, you can gaze upon these slow-moving reptiles in replicas of their natural habitats. And if you're feeling a little brave, you could even ask to touch or play with them. 28-year-old Nguyen Minh Nghia, the owner of Pet Café, has a degree in mining and geology, but is now a stockbroker. Found Shit : Funny, Bizarre, Amazing Pictures & Videos. The Meta Picture. Environmental Graffiti. Pictures | That Cute Site - Part 6. Kitty High Fives are the Best The question remains, did he train his cat to do high fives, or is the cat training him… Then and Now: Dog and Cheetah Friends.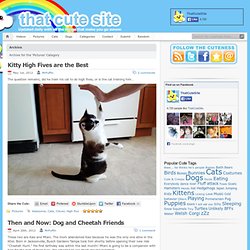 You've got mail!! Sad and Useless Humor Blog. Barnorama. Beef Roses of the Day. TheCHIVE - Funny Photos and Funny Videos – Keep Calm and Chive On. Types Of Facebookers | MakeUseOf Geeky Fun. Laughing Squid. Slingshot | Bringing You the Best of the Web. Slingshot | Featured Article. Time-Traveling Celebrities (12 Pics) |
OMG Facts - Your Mind. Blown. Anatidaephobia is the pervasive, irrational fear that, somewhere in the world, a duck is watching you.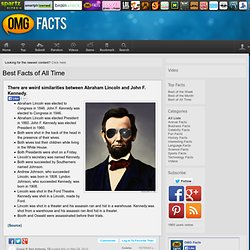 The person believes that no matter where they are or what they are doing, a duck is watching them. The people who suffer from this phobia have suffered some sort of trauma in their lives, likely when he or she was a child. This trauma probably had to do with a duck or some sort of related water fowl, like a goose. Perhaps the person was attacked by one of these animals. Some of the symptoms of this phobia include an anxiety or panic attack. Happy Place - The Latest Funny Videos, Funny Pictures, Funny Tweets, Funny Ecards and More! Just for Fun! I waste so much time. Pictures. Be Amazed | Odd, Bizzare, Weird, Nature Art, Interesting. Dalily fix of entertainmet for you. 2leep.com latest links. Happy Mug Shot Portraits All these people seem to be so happy when smiling for their booking photograph.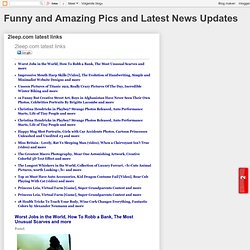 I wonder why. Some of them even can? T smile. Anyway, there are amusing.more... Girls with Car Accidents Photos girls car accident photos , women car accident photos , car aciident by a girl photos , skinny woman car , accident , water car accident woman , nice woman in mud with accident , car accident injury girlsmore... Videobash:Funny Videos Tube,Viral Clips,Free Jokes & Funny Pictures.
Clients From Hell. Funny Images Gallery. Pick Out Your Photo, Send Back the Rest. Claim: Woman who demands her photo back from her boyfriend receives a box of pictures with instructions to pick hers out and return the rest.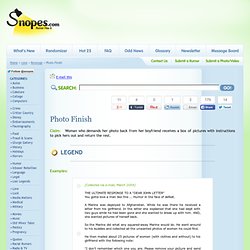 Examples: [Collected via e-mail, March 2004] THE ULTIMATE RESPONSE TO A "DEAR JOHN LETTER" You gotta love a man like this ... Random Facts -bubblegum. Leuke feiten, waar je niets aan hebt. " Funny photos". ASS MY Laugh OFF. Geeky Fun.
Trending Pictures, Page: 1. Photo in caratteri ascii. Simpsonize Me. Weird Facts - Funny Videos - Stupid Laws - Optical Illusions. Barcode Yourself by Scott Blake. Barcode Yourself is a complete, interactive experience in the series of barcode art, created using the personalized data of participants.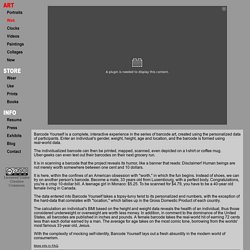 Enter an individual's gender, weight, height, age and location, and the barcode is formed using real-world data. The individualized barcode can then be printed, mapped, scanned, even depicted on a t-shirt or coffee mug. Chill Out Point - Funny Images and Artwork. Odd, Weird, Strange and Bizarre Things From Around The World. Uphaa.com. Allpics4u - Best News and Pics Ever! LOLCats.com - Funny Lolcat Pictures. Artsy Spot. SmilePanic. PostSecret. Damn Cool Pictures. Uncoached - Because Some Things Can't Be Taught. SmilePanic. Lolcats 'n' Funny Pictures of Cats - I Can Has Cheezburger?
SP-Studio. Puns, Puns, Puns! So Much Pun in Pictures.
---