Hair
22 Beauty Tutorials For Dramatic Holiday Looks. Hair Archives - Kouturekiss - Your One Stop Everything Beauty Spot - kouturekiss.comKouturekiss – Your One Stop Everything Beauty Spot – kouturekiss.com. The Ultimate Faux Hawk March 20, 2014 Disclaimer: This hairstyle is for the bold, brave and ultra glamorous!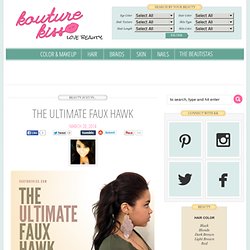 It also takes a tad bit longer than most tutorials I have posted. » The Your-Hair-Never-Looked-So-Good Hair Mask. The Your-Hair-Never-Looked-So-Good Hair Mask!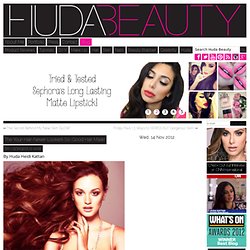 Wed, 14 Nov 2012 By Huda Heidi Kattan Everyone wants show-stopping hair, but sooooo many of us don't actually do the very essential for gorgeous hair! As much as we need nourishment and hydration, sometimes all we really need is a good cleaning (even if you have dry hair)! DIY Hair Bow - Handmade Wedding. Posted September 28, 2012 | 24 Comments Hi, loves, and Happy Friday!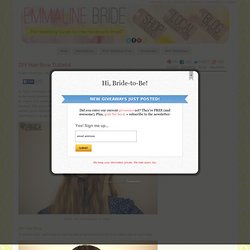 Today we're showing you a fun hairstyle you can do at home thanks to the lovely Stephanie of Hair and Makeup By Steph. This fantastic blog has everything you need to inspire your wedding day hair and makeup, including fun DIY tutorials that are easy to tackle yourself. With just a little patience and know-how, you can tackle today's DIY hair bow tutorial, the perfect go-to hairstyle for dress shopping, bridal shower, rehearsal dinner – even the big day itself! - StumbleUpon. How-To: Instant Hairstyles- Do Yourself.
25 HairStyle TUTORIALS & EXTRAS. Looking GOOD!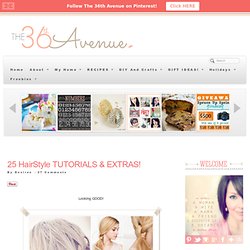 With the holidays also come a bunch of parties! Some of them are just family gatherings, some other ones are work related and some are hosted by great friends. Whatever the occasion is I think we ladies deserve to look good, regardless of our age, size or taste. Sea of Shoes: HAIR HOW-TO. I am sometimes asked how I style my hair, and while my method is far from perfect, I thought I'd show you how!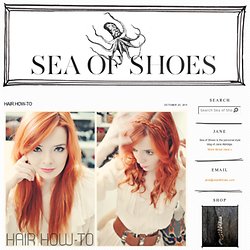 My hair is pretty straight and fine naturally and I always let it air dry. Since I go about three days between washes, I like to curl it on the first day and let it mellow out into some nice waves over the next two. Bye Bye Beehive: Hair Styles. PIN IT UP, GIRL. Photo: justin coit for thebeautydepartment.com post designed by kristin ess Our email box is literally flooded with requests for updos so here's a fun one to get us all going!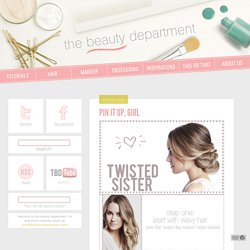 This is always a favorite for attending an event. This updo looks gorgeous on any hair color but particularly amazing with hilighted hair because it gives the hair lots of depth and dimension. Pinterest Hairdo. 5 New Hair Tutorials to Try Tonight. Looking for a little hairspiration!?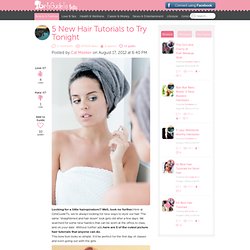 Well, look no further.Here at GirlsGuideTo, we're always looking for new ways to style our hair. The same "straightened and hair down" look gets old after a few days. We searched for some new hairdo's that can be worn at the office,to class, and on your date. Without further ado,here are 5 of the cutest picture hair tutorials that anyone can do. This bow bun looks so simple. A Splendid Assemblage: Favorite Up-Do Hairstyle Tutorials for Summer. Hair has always been my "thing" but I do develop certain "shave it all off" tendencies at least once a year.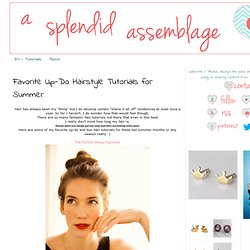 So far I haven't..I do wonder how that would feel though. There are so many fantastic hair tutorials out there that even in this heat I really don't mind how long my hair is.Except when my bangs get too long and then everything turns dark. Here are some of my favorite up-do and bun hair tutorials for these hot summer months or any season really :) Do It Yourself: Creative Hairstyles. BEAUTY. How To Put Your Hair Up In A Cute Bun | Guide « Wonder How To. Comb your hair carefully to eliminate any tangles or knots.Take some hair from the top of your head. 3.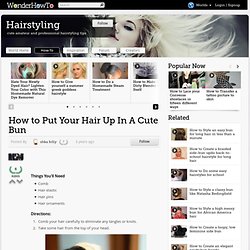 Tie off this hair with a hair elastic. 4. Hair. HAIR TUTORIAL: Side Braid For Short/Medium Hair! How To Style Maiden Braids. Last month I did a makeover story with Kelsie and had many requests for a maiden braid tutorial.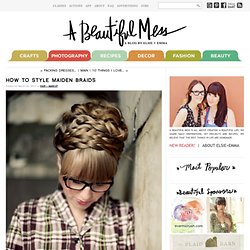 Yesterday she came in and we photographed these simple step by steps. Kelsie has extremely long and thick hair, but anyone with shoulder length or longer can do these braids (see my photo below for an example). Steps 1-2: Braid two strands on each side of a center part. Steps 3-5: Wrap braids around the crown of your head and pin in place with one pin each. Step 6: Arrange braids so that they cover the front of your head like a headband. Totally trying this! Split and braid your hai. Braid Brigade: 17 Trends to Try. Make a Hair Protectant Spray. Steps Method 1 of 2: Making the Mixture a Hair Protectant Spray Step 1.360p.mp4Make a Hair Protectant Spray Step 1 Version 2.jpg- Watch a 10 second video1Get an old spray bottle. French Hair-Do.
Beauty Do the French! 1- 4. The Beauty Department: Your Daily Dose of Pretty. Photos: angelaandithyle.com post designed by kristin ess Time to mix up the mundane… This has always been one of our favorite ways to spice up the plain old ponytail. We asked our fabulous friend Jaclyn from somenotesonnapkins.com to lend us a head to show you how to get hot hair in a hurry! Get the Perfect Blowout. If I could, I would love the luxury of getting a professional blowout for my hair regularly. Unfortunately, constant salon visits just don't fit my budget. No need to fret, because a perfect salon-worthy blowout is possible at home. Here are our tips to DIY! Natural looking beach curls in under 20 minutes! - Wonder Forest -: Messy chunky beach waves... Easy tutorial!
Beach-Ready Hairstyles. Four Simple Chopstick Hairstyles. How To Style a Hair Bow. Design Crush & Tipped Out. The Can-Do Updo | Spark. THE LONG + THE SHORT OF IT - thebeautydepartment.com. No Heat Curls - Moms Who Wear High Heels and Swear.
---