Agile
IttecoTracPlugin. Itteco Trac Plugin is the implementation of necessary features of agile project management, such as shared whiteboards.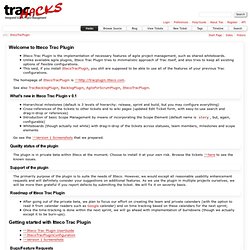 Unlike available agile plugins, Itteco Trac Plugin tries to minimalistic approach of Trac itself, and also tries to keep all existing options of flexible configurations. This said, if you install IttecoTracPlugin, you still are supposed to be able to use all of the features of your previous Trac configurations. The homepage of IttecoTracPlugin is ​ See also TracBacklogPlugin, BacklogPlugin, AgiloForScrumPlugin, IttecoTracPlugin. Smarter Project Management. AgileTracPlugin. Recent News ¶ 18th November 2010: ​Version 0.4.0 has been released.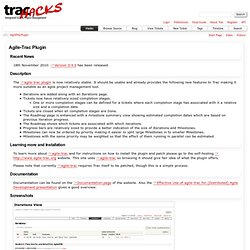 Description ¶ The ​agile-trac plugin is now relatively stable.
Pivotal Tracker - Features Tour. Points and Velocity The conversation around assigning points to a feature is often as important as the estimate itself.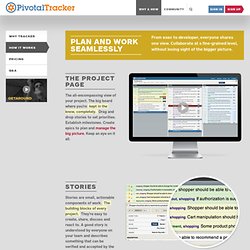 When points are determined based on the team's estimation of how complex the feature will be to complete, they dial-in estimates that can help predict the future. This achieves the goal of steady velocity with low volatility. Story Work­flow. Rational Team Concert - Projects. The Trac Project. Agile-trac. Trac and Kanban. (Don't miss my update Trac and Kanban Redux)We use a Trac wiki page as a simple kanban board.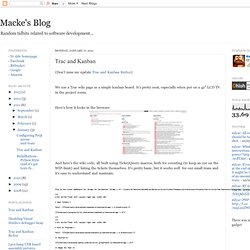 It's pretty neat, especially when put on a 42" LCD TV in the project room.Here's how it looks in the browser: And here's the wiki code, all built using TickeyQuery-macros, both for counting (to keep an eye on the WIP-limit) and listing the tickets themselves. It's pretty basic, but it works well for our small team and it's easy to understand and maintain. Agile42 | The Agile Coaching Company. Ivan Kuznetsov › Using Trac for agile project management. By now I've been using Trac more than two years for managing various projects – from very small ones with just a few people involved (combining in themselves developers, testers and product owners) to large ones with more than 20 people (both in private projects and in Nokia – yes, yes, some Nokia projects are also using Trac).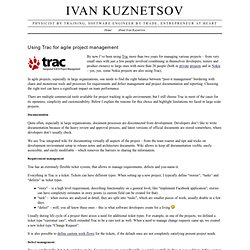 In agile projects, especially in large organizations, one needs to find the right balance between "post-it management" bordering with chaos and monstrous tools and processes for requirements and defect management and project documentation and reporting. Choosing the right tool can have a significant impact on team performance. There are multiple commercial tools available for project tracking in agile environment, but I still choose Trac in most of the cases for its openness, simplicity and customizability.
---