Agile
continuous integration - Trac in a Scrum team : What are the best plugins / hacks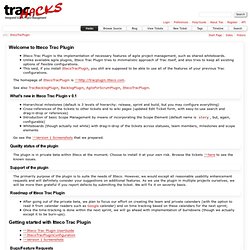 IttecoTracPlugin
Itteco Trac Plugin is the implementation of necessary features of agile project management, such as shared whiteboards. Unlike available agile plugins, Itteco Trac Plugin tries to minimalistic approach of Trac itself, and also tries to keep all existing options of flexible configurations. This said, if you install IttecoTracPlugin , you still are supposed to be able to use all of the features of your previous Trac configurations. The homepage of IttecoTracPlugin is http://tracplugin.itteco.com . See also TracBacklogPlugin , BacklogPlugin , AgiloForScrumPlugin , IttecoTracPlugin .
Smarter Project Management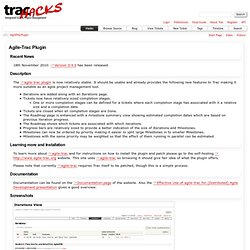 Recent News ¶ 18th November 2010: Version 0.4.0 has been released. Description ¶ The agile-trac plugin is now relatively stable.
AgileTracPlugin
UserGuide – virtual-planner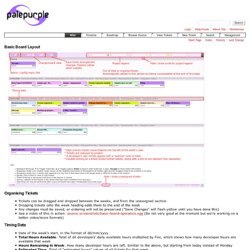 Basic Board Layout ¶ Organising Tickets ¶ Tickets can be dragged and dropped between the weeks, and from the unassigned section Dropping tickets onto the week heading adds them to the end of the week Any changes must be saved, or ordering will not be preserved ("Save Changes" will flash yellow until you have done this) See a video of this in action: source:screenshots/basic-board-operation.ogg (Its not very good at the moment but we're working on a better video/more formats)
State of the art: index cards We've been doing agile software development since before terms like "Agile" and "XP" existed. Over the years we've made numerous attempts to use the variety of software project management and agile development applications available, from Microsoft Project to the more current agile-specific products. We kept returning to index cards, sometimes augmented with a patchwork of wikis and spreadsheets. We followed the agile planning tools out there, but each attempt to adopt one resulted in frustration. Configuration and data entry were a constant expense.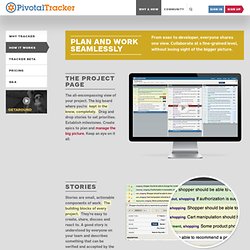 Rational Team Concert - Projects
agile-trac
Trac and Kanban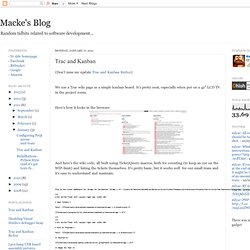 (Don't miss my update Trac and Kanban Redux ) We use a Trac wiki page as a simple kanban board. It's pretty neat, especially when put on a 42" LCD TV in the project room. Here's how it looks in the browser: And here's the wiki code, all built using TickeyQuery-macros, both for counting (to keep an eye on the WIP-limit) and listing the tickets themselves.
agile42 | The Agile Coaching Company
Ivan Kuznetsov › Using Trac for agile project management
By now I've been using Trac more than two years for managing various projects – from very small ones with just a few people involved (combining in themselves developers, testers and product owners) to large ones with more than 20 people (both in private projects and in Nokia – yes, yes, some Nokia projects are also using Trac). In agile projects, especially in large organizations, one needs to find the right balance between "post-it management" bordering with chaos and monstrous tools and processes for requirements and defect management and project documentation and reporting. Choosing the right tool can have a significant impact on team performance. There are multiple commercial tools available for project tracking in agile environment, but I still choose Trac in most of the cases for its openness, simplicity and customizability.