Agile
Hier verzamel ik alle relevante websites rond Agile ontwikkelingsmethodieken met specifieke aandacht voor Scrum en Smart.
Requirements Envisioning: An Agile Best Practice. 1.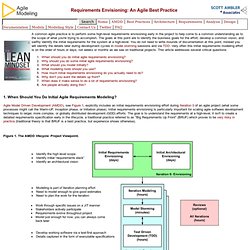 When Should You Do Initial Agile Requirements Modeling? Agile Model Driven Development (AMDD), see Figure 1, explicitly includes an initial requirements envisioning effort during Iteration 0 of an agile project (what some processes might call the Warm-UP, Inception phase, or Initiation phase). Facebook Paper explained, plus four tips on how brands can use it. Announced late last week, it capitalises on the emerging trend that the immersive experience of content is just as important as the content itself (as also demonstrated recently by Jelly).
The app has redesigned the Facebook user interface from scratch. Focusing on full-screen, bold images, the familiar "timeline" has been replaced with a Flipboardesque interface, with familiar looking mosaic-style posts appearing along the bottom. These posts however are re-dubbed as stories; text updates become full screen black text on white background affairs, while images also receive the full screen treatment, with text overlaid and the option to scroll panoramically by tilting the phone.
11 Agile Myths and 2 Truths. 18inShare I deliver a lot of Agile training courses and I give a lot of talks about Agile (BCS Bristol tonight).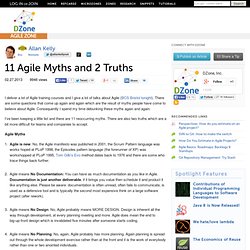 There are some questions that come up again and again which are the result of myths people have come to believe about Agile. Consequently I spend my time debunking these myths again and again. The Role of the Analyst in Agile Projects. There is a gap in much of the literature about Agile software development practices, and on many Agile teams.
This gap is the role of Analysis in Agile projects - who does it, what is the use and value, and how does it change? The implied (and I have heard stated at least once) attitude is "we don't need no stinkin' analysts" - needless to say I feel this is WRONG! In this article I make the case that the Business Analyst can play a useful in relation to Agile teamwork - when properly aligned with the business, rather than with the development team, as is too often the case. Agile Development + Content Strategy: An Opportunity or Headache? Blog Post written by Gareth Morgan Over the past 12 months, Critical Mass has integrated agile development practices into some of our client engagements.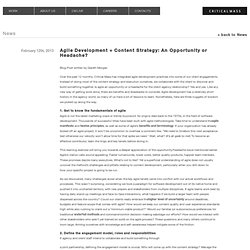 Instead of doing most of the content strategy and execution ourselves, we collaborate with the client to discover and build something together. Is agile an opportunity or a headache for the client-agency relationship?
Top 100 Agile Books (Edition 2012) Note: this is an old list.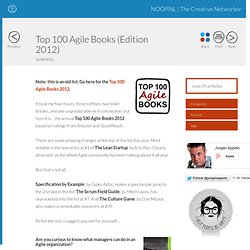 Go here for the Top 100 Agile Books 2013. It took me four hours, three coffees, two toilet breaks, and one unpredictable wi-fi connection, but here it is… the annual Top 100 Agile Books 2012, based on ratings from Amazon and GoodReads. There are some amazing changes at the top of the list this year. Most notable is the new entry at #1 of The Lean Startup, by Eric Ries. Clearly deserved, as the whole Agile community has been talking about it all year.
Handling Bugs in an Agile Context | Test Obsessed. I was honored to be included on the lunch and learn panel at the Software Quality Association of Denver (SQuAD) conference this week.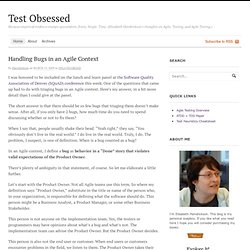 One of the questions that came up had to do with triaging bugs in an Agile context. Here's my answer, in a bit more detail than I could give at the panel. The new design methodologies. Net magazine is the number one choice for the professional web designer and developer.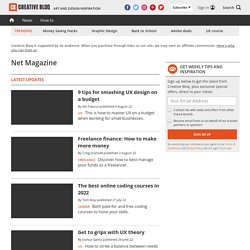 It's here that you find out about the latest new web trends, technologies and techniques – all in one handy package. Each issue boasts a wealth of expert tips and advice, including in-depth features and over 30 pages of advanced front- and backend tutorials on subjects as diverse as CSS, HTML, JavaScript, WordPress, PHP, and plenty more. net compiles the hottest new sites from around the web, and being the voice of web design, our mission is to source the best articles written by the best people in the industry and feature interviews and opinions crammed with inspiration and creative advice.
10 ways to encourage customer reviews online. Customer reviews are a hugely important in ecommerce for improving your conversion rate, and can lead to an uplift of 18% in sales.
Research has shown that 61% of customers read online reviews before making a purchase decision and 63% of customers are more likely to make a purchase from a site that has user reviews. Annoyingly though, customers generally can't be bothered to leave their feedback. Moving from Scrum to Kanban. Rachel Davies - Moving from Scrum to Kanban from NDCOslo on Vimeo.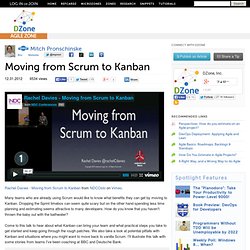 Many teams who are already using Scrum would like to know what benefits they can get by moving to Kanban. Dropping the Sprint timebox can seem quite scary but on the other hand spending less time planning and estimating seems attractive to many developers. How do you know that you haven't thrown the baby out with the bathwater? The invisible man. The crucial but undefined role of testers in agile. Outside-in.
Twelve (12) emerging best practice for adding user experience work to agile software development. How experienced UX practitioners have adapted to work happily in Agile environments Agile development originated from a place where user experience practice was weak In my last blog essay I explain how I see that the type of product we build has big effect on the process we follow to build it. In the lower left of my simple 4 quadrant model I place software built internally for use by an organization where usage is mandatory for its target users.
I explained that this is where Agile processes originated from. I also explained that strong user experience practice rarely exists here. Most things work…until they don't. I have a secret to tell you when it comes to facilitating agile teams. I'll whisper it to you… Most things work, until they don't. Yep, that's it. That's the secret. Behavior Driven Development. In software engineering, behavior-driven development (abbreviated BDD) is a software development process based on test-driven development (TDD).[1][2] Behavior-driven development combines the general techniques and principles of TDD with ideas from domain-driven design and object-oriented analysis and design to provide software developers and business analysts with shared tools and a shared process to collaborate on software development,[1][3] with the aim of delivering "software that matters".[4] Although BDD is principally an idea about how software development should be managed by both business interests and technical insight, the practice of BDD does assume the use of specialized software tools to support the development process.[2] Although these tools are often developed specifically for use in BDD projects, they can be seen as specialized forms of the tooling that supports test-driven development.
Introducing BDD « DanNorth.net. History: This article first appeared in Better Software magazine in March 2006. It has been translated into Japanese by Yukei Wachi, Korean by HongJoo Lee, Italian by Arialdo Martini and French by Philippe Poumaroux and most recently into Spanish by Oscar Zárate. and Turkish by Selim Öber. I had a problem. While using and teaching agile practices like test-driven development (TDD) on projects in different environments, I kept coming across the same confusion and misunderstandings.
Programmers wanted to know where to start, what to test and what not to test, how much to test in one go, what to call their tests, and how to understand why a test fails. Skating On The Canals & Creating Customer Memories. I'm just back from a whirlwind trip to Amsterdam where I was honored to be invited to speak at Hippo's Client Day as one of the key speakers. My talk was on how context is such an important part of the content marketing process.
But two things happened during my trip (well I also fell of a loaned bicycle and bruised a rib but that's another story for different beverages) that I found particularly interesting as it relates to us as marketers and storytellers. So, the picture above is apparently a rare treat. Agile. Why (Most) Companies Don't Learn | Agile Software Development. The Agile Inception Deck « The Agile Warrior. Bringing User Centered Design to the Agile Environment. Daily Stand-up Variations. A sprinkle of agile, a dash of lean. OpenAgile is an open learning system for delivering value | OpenAgile.com. Ten Year Agile Retrospective: How We Can Improve In The Next Ten Years. 10 ways to better lead your agile team « The Agile Warrior. The Myths and Misconceptions - The Big Agile Toolkit - Deliver agile projects to quality to time and to budget.
Table of Contents - The Big Agile Toolkit - Deliver agile projects to quality to time and to budget. Agile Software Development. Agile Use Cases in Four Steps. Het institutionaliseren van agile | www.sanderhoogendoorn.com. Kanban. Scrum. Methodologies.
---