Agile
Get flash to fully experience Pearltrees
Contents Introduction SCRUM is a loose set of guidelines that govern the development process of a product, from its design stages to its completion. It aims to cure some common failures of the typical development process, such as: Chaos due to changing requirements - the real or perceived requirements of a project usually change drastically from the time the product is designed to when it is released.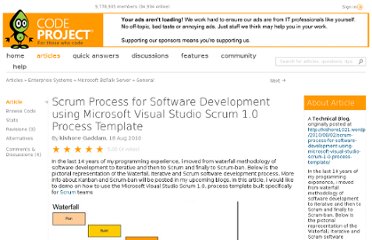 In the last 14 years of my programming experience, i moved from waterfall methodology of software development to Iterative and then to Scrum and finally to Scrum-ban. Below is the pictorial representation of the Waterfall, Iterative and Scrum software development process. More info about Kanban and Scrum-ban will be posted in my upcoming blogs. In this article, i would like to demo on how to use the Microsoft Visual Studio Scrum 1.0, process template built specifically for Scrum teams Picture 1: Pictorial representation of Waterfall, Iterative and Scrum Software Development methodologies.
History: This article first appeared in Better Software magazine in March 2006. It has been translated into Japanese by Yukei Wachi , Korean by HongJoo Lee , Italian by Arialdo Martini and French by Philippe Poumaroux . I had a problem. While using and teaching agile practices like test-driven development (TDD) on projects in different environments, I kept coming across the same confusion and misunderstandings. Programmers wanted to know where to start, what to test and what not to test, how much to test in one go, what to call their tests, and how to understand why a test fails.
The term 'Mock Objects' has become a popular one to describe special case objects that mimic real objects for testing. Most language environments now have frameworks that make it easy to create mock objects. What's often not realized, however, is that mock objects are but one form of special case test object, one that enables a different style of testing. In this article I'll explain how mock objects work, how they encourage testing based on behavior verification, and how the community around them uses them to develop a different style of testing. I first came across the term "mock object" a few years ago in the XP community.
In this post, I provide an introduction to Moq which is the newest of the Mock Object Frameworks. Moq is promoted by its creators as easier to learn and use than other Mock Object Frameworks such as Rhino Mocks and TypeMock Isolator. Moq takes advantage of recent VB.NET and C# language features such as lambdas and generics. When creating mock objects with Moq, you use lambda expressions to represent the methods and properties that you want to mock.
Update : Development of this project has moved to GitHub . New releases and bug fixes will be published there. var mock = new Mock < ILoveThisFramework >();
You might have come across the phrases IoC, Dependency Injection, Mocking among others, these are commonly used when talking about "Inversion Of Control" which is the full meaning of the abbreviation IoC. So what is this "IoC" that everyone is talking about? Inversion of control is a principle in Software Engineering, let's just take a look at the Wikipedia definition of this In practice, Inversion of Control is a style of software construction where reusable generic code controls the execution of problem-specific code.
In previous articles we've looked at how to increase code quality by either introducing test drive development for new features or using inversion of control. There are of course many other aspects that come into play when you want to reach high-quality code and this article is going to introduce you to mocking that will help you along the way. You might have come across the word "mock" before, when for instance a UI designer for a Windows Phone application on your team puts together a picture of how the application might look when it is finished: Where do the buttons go?