Psychologie / Changement
Managing Transitions – Letting Go « BWR Consulting Blog. A longtime client has requested some help with managing change.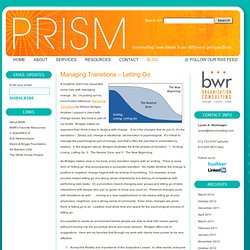 So, I'm pulling out my most trusted reference: Managing Transitions by William Bridges. Anytime I support a client with change issues, this book is part of my toolkit. Bridges makes an argument that I think is key in dealing with change: "It isn't the changes that do you in, it's the transitions." Simply put, change is situational, yet transition is psychological. Bridges-3-Phases-of-Transition.png (1131×603) In Times of Change, Go Slow to Go Fast | Interaction Associates. Lean Manufacturing Blog, Kaizen Articles and Advice | Gemba Panta Rei. By Jon Miller | Post Date: July 8, 2009 6:55 PM | Comments: 6 My Japanese teachers often spoke about making processes flow "like a single brushstroke".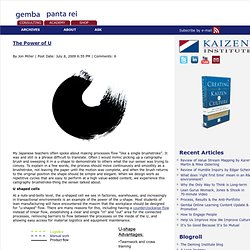 It was and still is a phrase difficult to translate. Often I would mimic picking up a calligraphy brush and sweeping it in a u-shape to demonstrate to others what the our sensei was trying to convey. To explain in a few words, the process should move continuously and smoothly as a brushstroke, not leaving the paper until the motion was complete, and when the brush returns to the original position the shape should be simple and elegant. When we design work as repetitive cycles that are easy to perform at a high value-added content, we experience this calligraphy brushstroke-thing the sensei talked about.
Theory u.PNG (553×352)
The Five Stages of Coping with Sustainability. The following is a guest post by our friends at Saybrook University's Organizational Systems Program (a 3p sponsor) – designed for students who want to understand the nature of organizations, collaborative practices, and transformative change.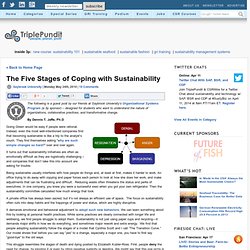 By Dennis T. Jaffe, Ph.D Going Green would be easy if people were rational. Instead, even the most well-intentioned companies find that becoming sustainable is like a trip to the analyst's couch. Respecting the five Stages of Grief within Change Processes | ChangeCom. Respecting the five Stages of Grief within Change Processes During several consultations I am asking myself "is this company ready for Change"?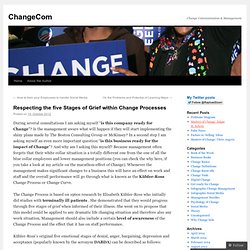 Is the management aware what will happen if they will start implementing the shiny plans made by The Boston Consulting Group or McKinsey? The-five-stages-of-grief.jpg (400×304) Cycle-du-deuil.png (1632×972) The Positive Change Cycle. Disciplines > Change Management > The psychology of change The Positive Change Cycle Uninformed optimism | Informed pessimism | Informed optimism | Completion | See also Just as there is a negative cycle of emotions experienced when the change is not to the liking of the person in question, so also is there a positive cycle.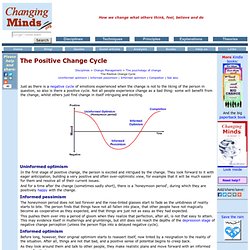 Not all people experience change as a bad thing: some will benefit from the change, whilst others just find change in itself intriguing and exciting. Uninformed optimism. Using the Kubler-Ross Model to Understand and Manage Change | ChEnected | Engineers talk chemicals, bio, safety, energy, sustainability. July 20th, 2010By RC Ramaswamy | Image via Wikipedia Isaac Asimov was an American professor of biochemistry at Boston University.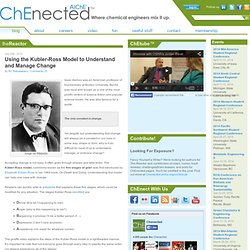 Kubler ross model environment. Google's Take on "Change Aversion" Misses the Point. If we take the post written by Google UX Researcher Aaron Sedley as Google's philosophy on why users get upset at design changes, then we can easily understand why users get upset when Google makes changes to their design.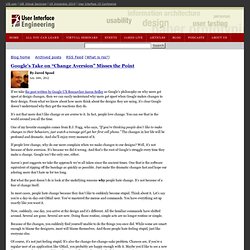 From what we know about how users think about the designs they are using, it's clear Google doesn't understand why they get the reactions they do. It's not that users don't like change or are averse to it. In fact, people love change. You can see that in the world around you all the time. Change aversion: why users hate what you launched (and what to do about it) Change is good.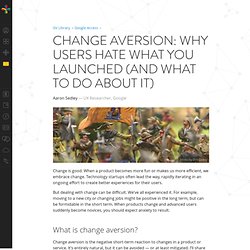 When a product becomes more fun or makes us more efficient, we embrace change. Technology startups often lead the way, rapidly iterating in an ongoing effort to create better experiences for their users. Change-satisfaction-trend.png (1349×529) Change-satisfaction-trend. Raymond Kurzweil.
---