Desserts & Sweets
Frozen Fruit Recipes. 30 Sweet and Tasty Cake Art Design Collection. You'll see Cakes in different occasions.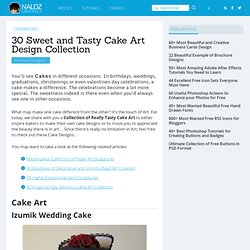 In birthdays, weddings, graduations, christenings or even valentines day celebrations, a cake makes a difference. The celebrations become a lot more special. The sweetness indeed is there even when you'd always see one in other occasions. Instant Pancake Mix Recipe : Alton Brown : Recipes. Five-Minute (Healthy) Chunky Monkey Ice Cream.
How To Make Creamy Ice Cream with Just One Ingredient! | Apartment Therapy The Kitchn. Yes, that's right; you heard us.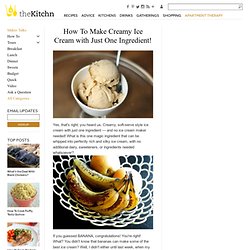 Creamy, soft-serve style ice cream with just one ingredient — and no ice cream maker needed! What is this one magic ingredient that can be whipped into perfectly rich and silky ice cream, with no additional dairy, sweeteners, or ingredients needed whatsoever? If you guessed BANANA, congratulations! Summer Fun! Make Ice Cream in a Ziplock Bag! | wormsinpuddles.com. Better-Than-Crack-Brownies. I'm sorry for doing this to you.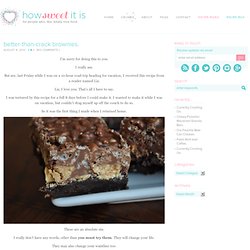 I really am. But see, last Friday while I was on a 10-hour road trip heading for vacation, I received this recipe from a reader named Liz. Liz, I love you. The Brownie Project. Brownie Power - 99 of the Best Brownie Recipes. Salted Chocolate. We're watching our friend's cat right now, and it's a lot of fun.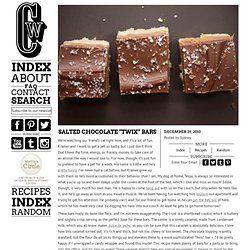 Kramer and I want to get a pet so badly, but I just don't think that I have the time, energy, or, frankly, money, to take care of an animal the way I would like to. For now, though, it's just fun to pretend to have a pet for a week. Chocolate Peanut Butter Bars. There is a deli near my house that makes the most amazing chocolate peanut butter bars.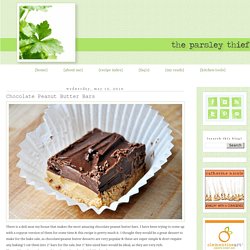 I have been trying to come up with a copycat version of them for some time & this recipe is pretty much it. I thought they would be a great dessert to make for the bake sale, as chocolate/peanut butter desserts are very popular & these are super simple & don't require any baking! I cut them into 2" bars for the sale, but 1" bite-sized bars would be ideal, as they are very rich. Warm Toasted Marshmallow S'more Bars. The Motherlode Layered Cookie Bars!
Good Thursday folks!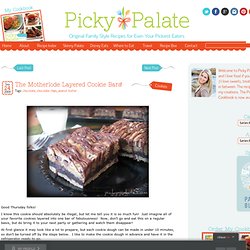 I know this cookie should absolutely be illegal, but let me tell you it is so much fun! Just imagine all of your favorite cookies layered into one bar of fabulousness! Twix Cheesecakes – Gingerbread Bagels. Chocolate Chip Cheesecake Cookie Cups. When Natasha from That's So Yummy offered up this guest post on Chocolate Chip Cheesecake Cookie Cups, how could I possible resist?!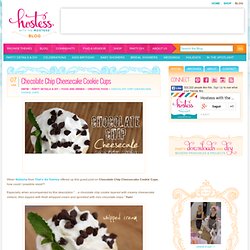 Especially when accompanied by this description "…a chocolate chip cookie layered with creamy cheesecake mixture, then topped with fresh whipped cream and sprinkled with mini chocolate chips." Yum! Read on for the full recipe & step-by-step details from Natasha! INGREDIENTS FOR CHOCOLATE CHIP BOTTOM LAYER 1 cup (2 sticks) butter 3/4 cup packed brown sugar 3/4 cup granulated sugar 1 teaspoon vanilla 2 large eggs 2.5 cups flour 1 tsp baking soda 1 tsp salt 2 cups semi-sweet chocolate chips.
Cheesecake Recipes - Easy Cheesecake Recipes at WomansDay.com. Whipped, mixed, baked or frozen, at one point or another, most of us have lingered in our love affair with cheesecake.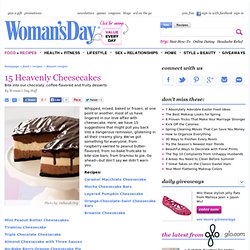 Here, we have 15 suggestions that might pull you back into a dangerous remission, glistening in all their creamy glory. We've got something for everyone, from raspberry-swirled to peanut butter-flavored; from no-bake fruitcake to bite-size bars; from tiramisu to pie. No-Bake Chewy Cookies and Cream Bars. Oh how I love a treat that can be whipped up in about 15 minutes.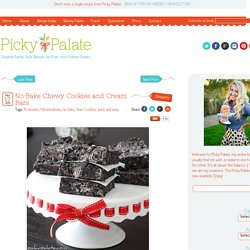 My boys and their buddies couldn't get enough of these Chewy Oreo Bars we had as an after school snack this week. Sometimes my spontaneous recipe creations turn out to be the most fun, lol! Mint Chocolate Chip Cookies Recipe. How To Make Perfect Brownies | How To Cook Like Your Grandmother - StumbleUpon. I've tried lots of brownie recipes: Boxes, scratch, frosted, plain, nuts, chips, fudge … Each of them has something to like, but depending on my mood I might want a change of pace.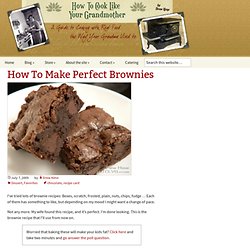 Not any more. My wife found this recipe, and it's perfect. I'm done looking. This is the brownie recipe that I'll use from now on. Ingredients. Maangchi. Ultimate Dessert Guide – 50 Best Chocolate Desserts. Mmm, the Best Chocolate Desserts! I honestly believe that chocolate is the closest we can get to heaven as mortals. Seriously. Is there anything better than chocolate to make you feel all wonderful and gooey inside? Can anything cheer you up as instantly as chocolate desserts can? If you're like me, you are going to love these Best Chocolate Desserts as well as the mouth-watering pictures of the amazing treats and the detailed cooking recipes provided for all 50 chocolate desserts.
Detox Foods | Detox smoothies. Toxins-free for life Looking to increase your energy levels, to lose weight, get clearer skin, prevent premature ageing and to help preventing diseases? Then look no further! This 5 days step-by-step detox will help you implement long-lasting healthy habits that yields results. DIY Pinata cookies to help quell the sweet tooth demon inside you. In the kitchen with: jenny and teri's no-yeast cake doughnuts. We met Jenny and Teri, the team behind Spoon Fork Bacon, earlier today with their Honey-Rum Fizz. We thought their recipe for no-yeast cake dougnuts was perfect for the holidays too, especially for those of you who need to prepare something for Santa when he slides down the chimney, or for whoever has present-wrapping duty for those gifts that Santa doesn't bring.
As Teri and Jenny indicate later, you can really choose any topping you'd like for these, so why not put some festive sprinkles on top? My favorite are the little silver balls! This will be our last post until January. Until then, eat, drink, and be merry! Homemade Raw Vegan Ice Cream Bars! & Veggie Wedgie - StumbleUpon. Yes, another ice cream recipe! Funny that I am posting this today, because I started a juice fast this morning!
I feel like I really need it because (believe it or not) I have been eating a lot of heavy vegan food lately…Good thing that ice cream does not go bad, coz these little guys will have to wait for me a while in my freezer Anyway, back to the ice cream! Nutella Mug Cake. I have been experimenting with different mug cakes every since I heard about them about a year ago. None of them have been winners. They were either too chewy, too dry, or not sweet enough.
Well, I continued experimenting, and thought why not add some decadent Nutella into the mix. I modified the classic mug cake recipe, added Nutella, and a little more milk and oil than I had been using before. Fuck Yeah, Making Stuff! Apple Pies & Jo In the Kitchen - StumbleUpon. Honeyed Pears in Puff Pastry. Frankford Candy - Frankford. Nutella Shots. Healthy snacks | start grazing today. Cheesecake.
I am baker | confections, creations, and lots of calories. §. Pull Apart Pumpkin Cinnamon Bread. Desert. Sweet Potato Pie Gooey Bars Recipe | Black Girl Chef's Whites. How to Make Caramel Apple Shots. Cookies.
Cinnamon Sugar Pull-Apart Bread. Pull-Apart Cinnamon Sugar Pumpkin Bread. Cake recipes.
---