Diseño Grafico
Impresión de folletos | Acrobat, Reader
The Ezine Directory
"IDEAS PARA TENER IDEAS" de Agustín Medina
Most people, most of the time, aren't creative, generous or willing to stand up and contribute worthwhile work to the community.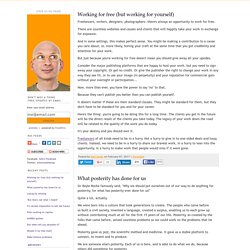 <iframe id="511b5ab353480" name="511b5ab353480" src="http://ox-d.bullfrog-digital.co.uk/w/1.0/afr?auid=267876&cb=INSERT_RANDOM_NUMBER_HERE" frameborder="0" scrolling="no" width="300" height="250"><a href="http://ox-d.bullfrog-digital.co.uk/w/1.0/rc?
25 Cool and Creative MacBook Stickers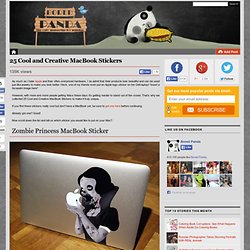 Here's a fun tutorial on how to make a message bangle that's one-of-a-kind, done in the sun, waterproof and weatherproof. Even after several trips to the beach, it won't fade or wash off! Essentially, it's the Perfect Summer Bangle.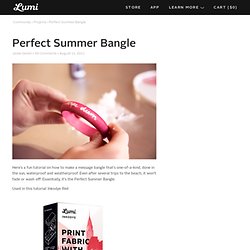 tumblr_l6y89sozbz1qa3fgno1_500_large.jpg (550×550)
Aprende a contar desde 0 a 255 en binario.
Diseño « Aula Geek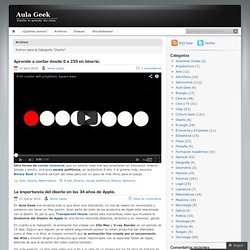 Boredpanda / Pinterest
HACK HiSPANO - Seguridad Informática y Nuevas Tecnologías - Ezine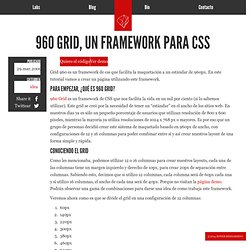 960 Grid, un framework para CSS /// Jepser Bernardino
Grid 960 es un framework de css que facilita la maquetación a un estándar de 960px.
Grid System — Demo
NewWebPick.com Free, Magazine, E-magazine, Connection, Designer, Art, Animation, Digital Art, Graphic, Graphic Artist, Flash, Print, Illustration, Advertising, CG, Film-making, Interior, Architectural, Wraper, Photography
Summer 2011 Issue | Eco-Beautiful Weddings - The E-Magazine & Blog for Eco-Friendly and Green Weddings
A volar on the Behance Network
Pump Up line Inc - With more than 15 years of experience, we manufacture and distribute promotional products.
Tutoriales para el diseñador gráfico, enseñanza para diseñadores gráficos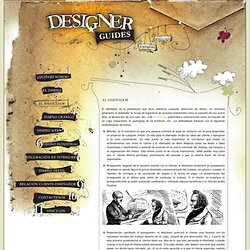 El diseñador es el profesional que lleva adelante cualquier desarrollo de diseño. En términos generales, el diseñador se ocupa de ingeniería de procesos industriales como la creación de una nueva silla, la decoración de una casa, etc. y de marketing , publicidad y comunicación como la creación de un Logo corporativo, el packaging de un producto, etc.
CANALTUTORIALES
It has been long since we posted our last free font collection (see: 20 Free Handwritten Fonts and 21 Incredible Fonts That Shouldn't Be Free ), so we decided it's a high time to do one more. The use of retro and vintage themes in design is still very popular, so it's always good to have a big font collection.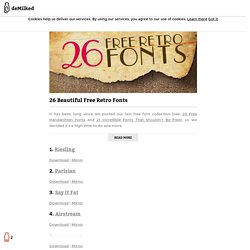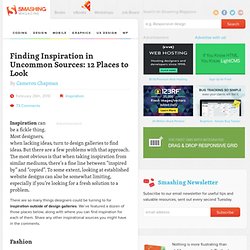 Inspiration can be a fickle thing. Most designers, when lacking ideas, turn to design galleries to find ideas.
12 sitios donde buscar inspiración para diseñadores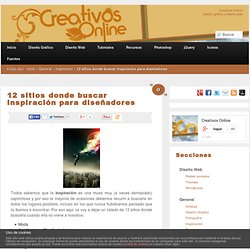 Todos sabemos que la inspiración es una musa muy (a veces demasiado) caprichosa y por eso la mayoría de ocasiones debemos recurrir a buscarla en todos los lugares posibles, incluso en los que nunca hubiéramos pensado que la íbamos a encontrar. Por eso aquí os voy a dejar un listado de 12 sitios donde buscarla cuando ella no viene a nosotros: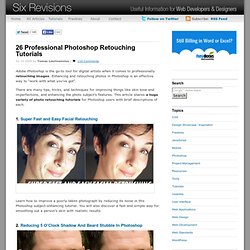 Adobe Photoshop is the go-to tool for digital artists when it comes to professionally retouching images . Enhancing and retouching photos in Photoshop is an effective way to "work with what you've got". There are many tips, tricks, and techniques for improving things like skin tone and imperfections, and enhancing the photo subject's features.
Not Found - WebbyZone
Estás aquí : Inicio » Photoshop » 45 Tutoriales de Photoshop para practicar
45 Tutoriales de Photoshop para practicar
Ilustraciones para inspirarse I
Quisiera hacer una pequeña lista de ilustradores de distintas zonas del mundo que pueden servirnos de inspiración. Cada uno a su manera y con una técnica y un tendencia distinta consiguen llegar al espectador con sus imágenes de una u otra forma.
When we talk about image editing or photo enhancement, Adobe Photoshop is the first thing that comes to our minds.
45 Latest Photo Manipulation Tutorials for Photoshop
16 procesos diferentes para diseñar logotipos
El diseño de un logotipo debe ser preciso y sencillo, preciso porque es un dibujo pequeño que debe transmitir las ideas de una marca, sus intereses, sus fines, su labor, etc…y sencillo porque es un dibujo que la mayoría de veces se verá a un tamaño relativamente pequeño y si es muy complicado puede que muchos de sus detalles no se aprecien o lo que sería peor, se amontonen y emborronen el dibujo. En Cosas Sencillas he encontrado una referencia a un artículo de The Design Cubicle donde hablan de hasta 16 procesos diferentes para diseñar logotipos , para que cada uno elija el que mejor le vaya con su forma de trabajar. Artículo | 16 procesos diferentes para diseñar logotipos
Psicología del color
Colour Combination Makes a Better Impact in Logo Designing
40 Logotipos que usan el espacio negativo
30 Effective Business Cards that Grab Attention
30 Tarjetas de visita para impresionar a los clientes
15 tarjetas de presentación creativas e imaginativas
Folletos con un diseño sencillo