Inspiration n1
OTHER FOCUS
Funny and Inspirational Quotes
Advertisement I'm addicted to sayings and quotes. They are inspiring, motivating and they have the power to hassle new thought. They have the power to break down old beliefs and inject wisdom into your life. I've always gained inspiration from quotes and sayings, which is why I've decided to gather some of my favorite ones into this post. Each comes with an elaboration from me.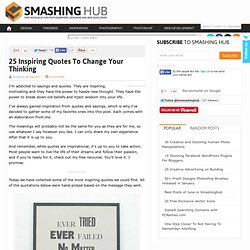 25 Inspiring Quotes To Change Your Thinking
Web Design
Francesco Mugnai, designer, teacher, project manager, florentine, sagittarius, cyborg
Inspiration | Hongkiat.com
The online design community is simply overflowing with inspiration. Every day countless blog posts are being published showcasing 30-100 amazing examples of "insert item here." Further, CSS galleries like our own contain hundreds or even thousands of great site designs. With all this inspiration being tossed at you all the time, you need a way to catalogue and store it.
6 Apps for Collecting Digital Inspiration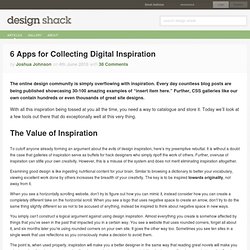 Inspiraxion
Ideasbehind.net
Cafundó Estúdio Criativo
Iniciativa Colectiva Art Magazine
Inspiration can be a fickle thing. Most designers, when lacking ideas, turn to design galleries to find ideas. But there are a few problems with that approach. The most obvious is that when taking inspiration from similar mediums, there's a fine line between "inspired by" and "copied". To some extent, looking at established website designs can also be somewhat limiting, especially if you're looking for a fresh solution to a problem.