Inspiration n1
Förpackad -Blogg om Förpackningsdesign, Förpackningar, Grafisk Design - CAP&Design - Nordens största tidning för kreativa formgivare. Hittade nytt godis i butiken.
Ser ut som gamla hederliga nötcreme fast med fruktsmak (japp, låter vidrigt, I know) i färglada förpackningar med små monster på. Efter lite googlande vet jag att de faktiskt tillverkas av Nötcreme och att det finns hela 48 små monster/figurer. BOOOOOOOM! - CREATE * INSPIRE * COMMUNITY * ART * DESIGN * MUSIC * FILM * PHOTO * PROJECTS. Design Inspiration + Visual Art Inspiration | Designflavr | OTHER FOCUS. Little Box Of Ideas – Your Daily Design And Development Fix! Discover, share, tag, and converge images that inspire you and your work.
Dzinpress [Where Dzine World Live!] DesignFloat - Web Design News & Tips. Design Inspiration. 25 Inspiring Quotes To Change Your Thinking. Advertisement I'm addicted to sayings and quotes.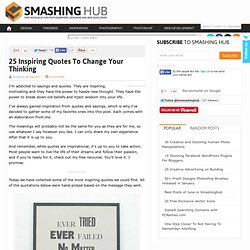 They are inspiring, motivating and they have the power to hassle new thought. They have the power to break down old beliefs and inject wisdom into your life. I've always gained inspiration from quotes and sayings, which is why I've decided to gather some of my favorite ones into this post. Each comes with an elaboration from me. Francesco Mugnai, designer, teacher, project manager, florentine, sagittarius, cyborg. FrancescoMugnai.com - Graphic Design Inspiration and Web Design Trends.
Inspiration | Hongkiat.com. 6 Apps for Collecting Digital Inspiration. The online design community is simply overflowing with inspiration.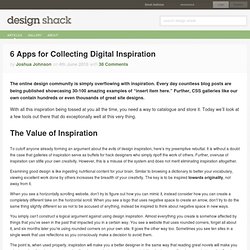 Every day countless blog posts are being published showcasing 30-100 amazing examples of "insert item here." Further, CSS galleries like our own contain hundreds or even thousands of great site designs. With all this inspiration being tossed at you all the time, you need a way to catalogue and store it. Lost At E Minor: For creative people. Inspiraxion. Ideasbehind.net. Cafundó Estúdio Criativo. Fudgegraphics | for lovers. LEARN SOMETHING EVERY DAY. All Designs,Graphics and Web Resources-Naldz Graphics. Iniciativa Colectiva Art Magazine. Finding Inspiration in Uncommon Sources: 12 Places to Look - Smashing Magazine. Advertisement Inspiration can be a fickle thing.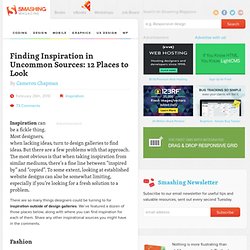 Most designers, when lacking ideas, turn to design galleries to find ideas. But there are a few problems with that approach. The most obvious is that when taking inspiration from similar mediums, there's a fine line between "inspired by" and "copied".
---