Stuff That's Just Cool
I know what you're thinking: "What if I attached a faucet to a watermelon and filled it with spiked watermelon juice so party guests could serve themselves right from the melon?"
drunken watermelon on tap
Philip H. Howard | soft drinks zoom
Some of my favorite things are so simple, like ice cube shapes for example. Here's a list of some of my favorite Ice Cube Trays and related inventions, not including the previously featured Global Warming Ice Cubes! If you like stuff like this join us on facebook or follow us on twitter to find more cool things and automatically enter to win awesome stuff on One More Gadget. 1. Cool Shooters Cool shooters are a great way to really keep your drinks ice cold and get frost bite at the same time.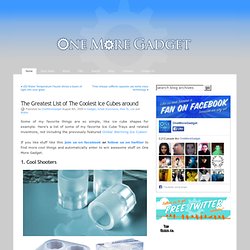 zoomquilt
You might ask yourself... What's That Stuff? Ever wondered about what's really in hair coloring, Silly Putty, Cheese Wiz, artificial snow, or self-tanners? C&EN presents a collection of articles that gives you a look at the chemistry behind a wide variety of everyday products.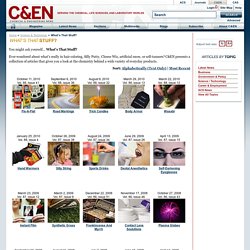 It looks like any other sea slug, aside from its bright green hue. But the Elysia chlorotica is far from ordinary: it is both a plant and an animal, according to biologists who have been studying the species for two decades. Not only does E. chlorotica turn sunlight into energy — something only plants can do — it also appears to have swiped this ability from the algae it consumes. Native to the salt marshes of New England and Canada, these sea slugs use contraband chlorophyll-producing genes and cell parts called chloroplasts from algae to carry out photosynthesis, says Sidney Pierce, a biologist at the University of South Florida in Tampa. That genetic material has since been passed down to the next generation, eliminating the need to consume algae for energy. However, the baby slugs can't carry out photosynthesis until they've stolen their own chloroplasts, which they aren't yet able to produce on their own, from their first and only meal of algae.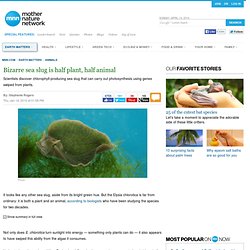 Makers Market: aKNITomy
Werktrein in Overpelt.wmv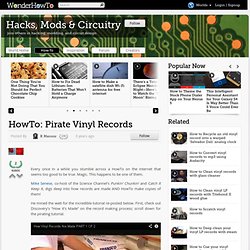 Every once in a while you stumble across a HowTo on the internet that seems too good to be true. Magic. This happens to be one of them. Mike Senese, co-host of the Science Channel's Punkin' Chunkin' and Catch It Keep It, digs deep into how records are made AND HowTo make copies of them! He mined the web for the incredible tutorial re-posted below.
HowTo: Pirate Vinyl Records « Wonderment Blog