Gaming
Get flash to fully experience Pearltrees
Ni no Kuni ( 二ノ国 ? , literally Second Country , also called The Another World ) is a role-playing video game , developed by Level-5 and Studio Ghibli , [ 1 ] for the Nintendo DS and later PlayStation 3 . [ 7 ] The Nintendo DS version, titled Ni no Kuni: Shikkoku no Madōshi ( 二ノ国 漆黒の魔導士 ?
The Last Symphony was created to showcase design strategies based on indexical storytelling.
http://www.teachwithportals.com/?cat=3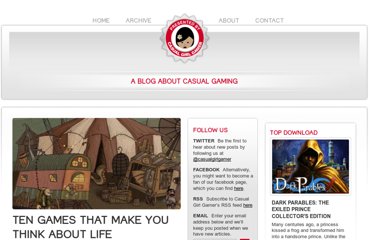 At the start of this year, we decided to come up with a list of Flash casual games with a philosophical bent.
Do games tell stories? Sure, text, artwork, voice acting and cut-scenes can all arguably tell or help tell a story, but how can you truly say that the game itself is telling the story?
GAME DESIGN AS NARRATIVE ARCHITECTURE By Henry Jenkins The relationship between games and story remains a divisive question among game fans, designers, and scholars alike.
How do you know who you are? You remember, but this describes solely how you persist in knowing who you are, not in how that knowing comes to pass. If you pause to question how you know who you are, answers will not be forthcoming because every aspect of the notion of a 'who' that would be your identity is something you have inherited from an earlier you.
This lecture was given by Jonathan Blow (introduction by Jason Della Rocca) on November 19th, 2008 at the Montreal International Game Summit.
-A brief note on games and narratives