Classroom Mindfulness
Mindful Schools - Engaging children. Supporting educators. Transforming schools.
Learning to BREATHE | A Mindfulness Curriculum for Adolescents
How To Teach The Relaxation Response
Tips for Teaching Mindfulness to Kids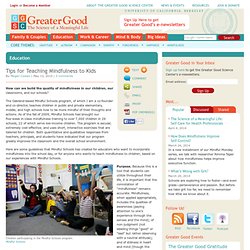 How can we build the quality of mindfulness in our children, our classrooms, and our schools?
Teachers Guide | The Buddha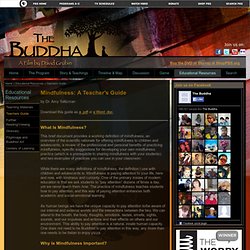 by Dr. Amy Saltzman Download this guide as a .pdf or a Word .doc .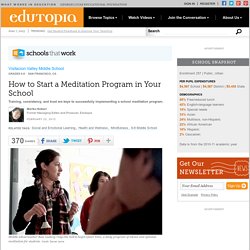 How To Start a Meditation Program in Your School
Training, consistency, and trust are keys to successfully implementing a school meditation program.
Educators from Visitacion Valley Middle School, in San Francisco, have provided these resources for you to use in your school. All students at this urban middle school participate in a daily program of quietude and optional meditation (left). Trainer Noah Schechtman (right) explains how the benefits of meditation can help students achieve their goals.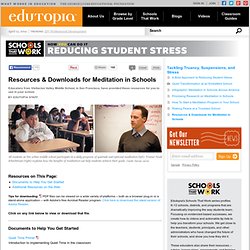 Resources & Downloads for Meditation in Schools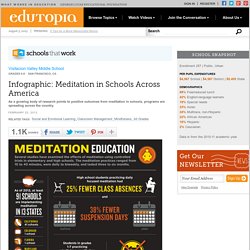 Edutopia's Schools That Work series profiles K-12 schools, districts, and programs that are dramatically improving the way students learn. Focusing on evidenced-based successes, we create how-to videos and actionable tip lists to help you transform your schools. We get close to the teachers, students, principals, and other administrators who have changed the future of their schools, and show you how they did it.
Infographic: Meditation in Schools Across America
Consciousness-Based Education Association
Welcome | The Hawn Foundation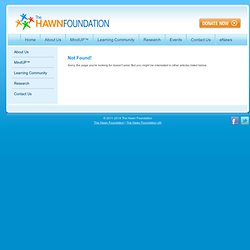 Contemporary theories of hope and optimism provide two explanations for how positive expectancies can shape human behavior and promote well-being. -M.W.