Classroom Mindfulness
Mindful Schools - Engaging children. Supporting educators. Transforming schools.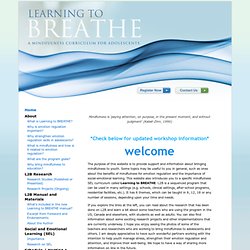 Learning to BREATHE | A Mindfulness Curriculum for Adolescents
The purpose of this website is to provide support and information about bringing mindfulness to youth. Some topics may be useful to you in general, such as ones about the benefits of mindfulness for emotion regulation and the importance of social-emotional learning. This website also introduces you to a specific mindfulness SEL curriculum called Learning to BREATHE. L2B is a sequenced program that can be used in many settings (e.g. schools, clinical settings, after-school programs, residential facilities, etc.). It has 6 themes, which can be taught in 6, 12, 18 or any number of sessions, depending upon your time and needs.
How To Teach The Relaxation Response
Tips for Teaching Mindfulness to Kids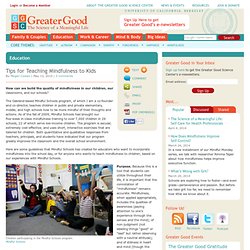 How can we build the quality of mindfulness in our children, our classrooms, and our schools? The Oakland-based Mindful Schools program, of which I am a co-founder and co-director, teaches children in public and private elementary, middle, and high schools how to be more mindful of their thoughts and actions. As of the fall of 2009, Mindful Schools had brought our five-week in-class mindfulness training to over 7,000 children in 26 schools, 22 of which serve low-income children. The program is secular, extremely cost-effective, and uses short, interactive exercises that are tailored for children.
Teachers Guide | The Buddha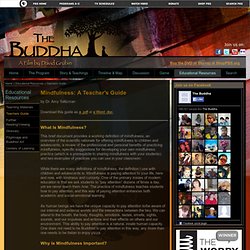 by Dr. Amy Saltzman Download this guide as a .pdf or a Word .doc .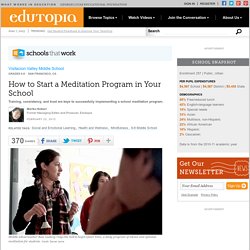 How To Start a Meditation Program in Your School
Training, consistency, and trust are keys to successfully implementing a school meditation program. Teachers meditate in the staff lounge (left) to rest and reenergize. Middle school teacher Rose Ludwig (right) rings the bell to begin Quiet Time, a daily program of silence and optional meditation for students. Credit: Daniel Jarvis Quiet Time (QT) is a program of mandatory quietude and optional meditation that happens schoolwide, twice a day at Visitacion Valley Middle School (VVMS) in San Francisco.
Educators from Visitacion Valley Middle School, in San Francisco, have provided these resources for you to use in your school. All students at this urban middle school participate in a daily program of quietude and optional meditation (left). Trainer Noah Schechtman (right) explains how the benefits of meditation can help students achieve their goals.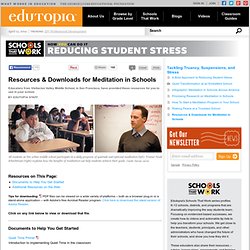 Resources & Downloads for Meditation in Schools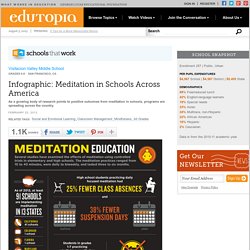 As a growing body of research points to positive outcomes from meditation in schools, programs are spreading across the country. Correction: The Teachers' Rating Scale of Social Competence is incorrectly attributed to Schonert-Reichl & Miller 2005; it should be attributed to Schonert-Reichl & Lawlor 2010.
Infographic: Meditation in Schools Across America