Stumble upon
Get flash to fully experience Pearltrees
selected and edited by
Working with the new Excel 2007 is now more frustrating than ever when it comes to finding the right commands. Sometimes it seems like part magic and part luck.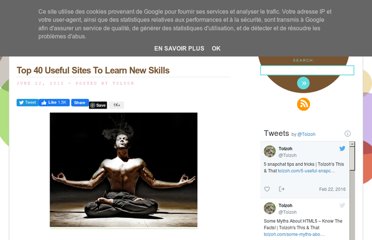 The web is a powerful resource that can easily help you learn new skills.
Home Courses Death Course Description There is one thing I can be sure of: I am going to die.
First, before I begin to bore you with the usual sort of things science fiction writers say in speeches, let me bring you official greetings from Disneyland. I consider myself a spokesperson for Disneyland because I live just a few miles from it — and, as if that were not enough, I once had the honour of being interviewed there by Paris TV.
T he Bible tells us that God created Adam and Eve just a few thousand years ago, by some fundamentalist interpretations. Science informs us that this is mere fiction and that man is a few million years old, and that civilization just tens of thousands of years old. Could it be, however, that conventional science is just as mistaken as the Bible stories?
Tony Smith from StarShipSofa sez,
If you're a professional who likes to be intellectually stimulated and you enjoy keeping up with the latest news and breaking trends, the internet provides you with an endless choice of carefully curated sites to visit. Today, we bring you six of them that we believe are leaps and bounds above the rest.
post written by: Marc Email When you stop chasing the wrong things you give the right things a chance to catch you.