US
Longform.org's Guide to the 2012 GOP Field: One great read about every Republican running for president. - By Max Linsky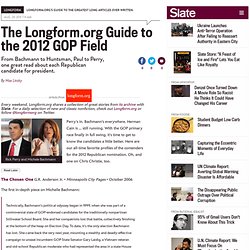 Perry's in. Bachmann's everywhere. Herman Cain is ... still running. With the GOP primary race finally in full swing, it's time to get to know the candidates a little better.
Rolling Stone | Political News, Matt Taibbi, Politics, Issues and More
ThinkProgress » Home Page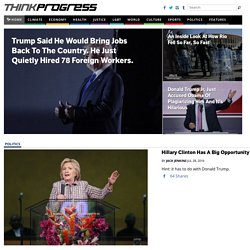 Federal Court Deals Blow To Open Internet Access Does West Virginia Have The Political Will To Prevent The Next Water Disaster? New York Post Columnist Calls Sandy Hook A 'Little Convenient Massacre' Justice
Looks like we're on track for one of the New Jersey senators investigating the bridge scandal to himself be a fact witness. Awesome ... TPM's Sahil Kapur reviews the forthcoming documentary on Mitt Romney that's getting so much buzz. TPMCafe: MTV Prevents Teen Pregnancy By Shaming Single Moms Father accidentally shoots child while cleaning his gun.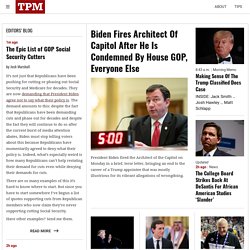 Talking Points Memo | Breaking News and Analysis
Daily Kos :: State of the Nation
Ramune Golysenkiene via Getty Images I've been tweezing, shaving, moisturizing, defrizzing, flat-ironing, bikini-waxing, gym-joining (notice I said gym-joining, not gym-going?) exfoliating and manicuring since 8th grade, all while sleeping on a silk pillowcase to reduce wrinkles. I'm ready to grow a beard and just RELAX. If you have a "bring your own device" policy in place, employees need be informed that your company is monitoring data on their devices. You need to be clear that you are not interested in their personal data.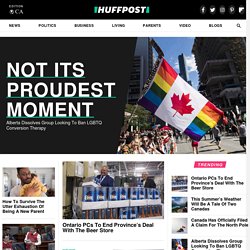 Breaking News and Opinion on The Huffington Post
Wonkette — The D.C. Gossip
Hey, kids, it's January (really, we checked the Google), so you know what that means, right? Time for Republicans to make their annual attempt to pass a "No Taxpayer Funding For Abortion" bill. But wait, you are saying to yourself, isn't taxpayer funding for abortion already prohibited? Yes, you are correct, and it has been that way since 1976. Wait some more, you are now saying to yourself, shouldn't Republicans be focused on actual problems that actually exist?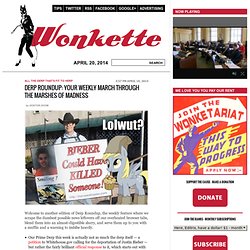 The Atlantic Follow Us Video Let's Get Physical: A 1950s Guide to Hooking Up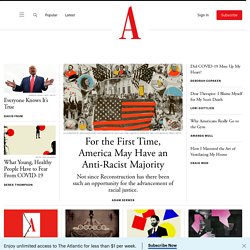 The Atlantic — News and analysis on politics, business, culture, technology, national, international, and life – TheAtlantic.com
New York Magazine -- NYC Guide to Restaurants, Fashion, Nightlife, Shopping, Politics, Movies
Mother Jones | Smart, Fearless Journalism
The bill now being pushed by the neocons and AIPAC could destroy the most promising developments in a decade. He's not the only Republican governor who has abused his office to destroy political enemies. Oh, how we love those Republican "straight-shooters."
The Nation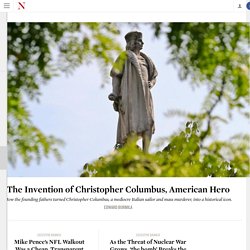 The New York Times - Breaking News, World News & Multimedia
François Sinzikiramuka, perpetrator (left); Christophe Karorero, survivor. Jean Pierre Karenzi, perpetrator (left); Viviane Nyiramana, survivor. Godefroid Mudaheranwa, perpetrator (left); Evasta Mukanyandwi, survivor. Juvenal Nzabamwita, perpetrator (right); Cansilde Kampundu, survivor. Deogratias Habyarimana, perpetrator (right); Cesarie Mukabutera, survivor.
NPR : National Public Radio : News & Analysis, World, US, Music & Arts