US
Longform.org's Guide to the 2012 GOP Field: One great read about every Republican running for president. - By Max Linsky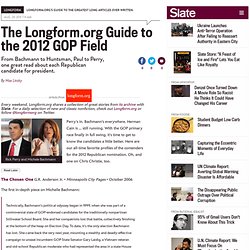 Perry's in. Bachmann's everywhere. Herman Cain is ... still running. With the GOP primary race finally in full swing, it's time to get to know the candidates a little better.
Rolling Stone | Political News, Matt Taibbi, Politics, Issues and More
ThinkProgress » Home Page
I've just launched a discussion in The Hive (sub req) about the transformation from reading paper books to digital books. Baffling as it is to me, since for decades I was not only a voracious reader but a devotee of the physical book itself, I made the transition about three years ago. I'm just not able to read paper books anymore. I'm almost embarrassed to admit that. But it's true.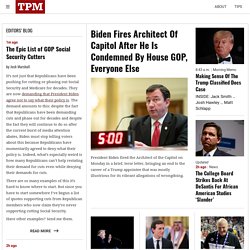 Talking Points Memo | Breaking News and Analysis
Daily Kos :: State of the Nation
Ramune Golysenkiene via Getty Images I've been tweezing, shaving, moisturizing, defrizzing, flat-ironing, bikini-waxing, gym-joining (notice I said gym-joining, not gym-going?) exfoliating and manicuring since 8th grade, all while sleeping on a silk pillowcase to reduce wrinkles. I'm ready to grow a beard and just RELAX. If you have a "bring your own device" policy in place, employees need be informed that your company is monitoring data on their devices. You need to be clear that you are not interested in their personal data.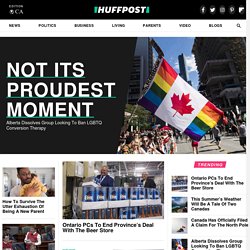 Breaking News and Opinion on The Huffington Post
Wonkette — The D.C. Gossip
Welcome to another edition of Derp Roundup, the weekly feature where we scrape the dumbest possible news leftovers off our overheated browser tabs, blend them into an almost-digestible slurry, and serve them up to you with a muffin and a warning to imbibe heavily. Our Prime Derp this week is actually not so much the derp itself — a petition to Whitehouse.gov calling for the deportation of Justin Bieber — but rather the fairly brilliant official response to it, which starts out with a "sorry, no way" and then moves on to make a case for immigration reform, because are you people nuts, if you're going to waste time with a dumb petition, we may as well talk about something that matters. The "response" starts with the stupid old fine print:Sorry to disappoint, but we won't be commenting on this one. READ MORE »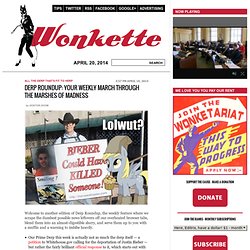 The Atlantic — News and analysis on politics, business, culture, technology, national, international, and life – TheAtlantic.com
New York Magazine -- NYC Guide to Restaurants, Fashion, Nightlife, Shopping, Politics, Movies
Mother Jones | Smart, Fearless Journalism
Did you know that Mother Jones is a 501(c)(3) nonprofit? It's true: The majority of our funding comes from readers like you. Your contributions keep us free, independent, and uncensored. Will you support the Mother Jones Investigative Fund with a $5 gift? Your donation of any amount will make a real difference.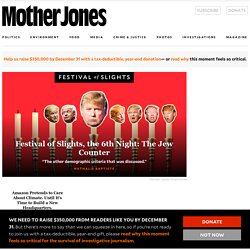 Not only does capitalist growth not reduce inequality; it increases it. What happens when the black experience is relegated to background noise? What role should the social platform play as the feminist movement continues to grow?
The Nation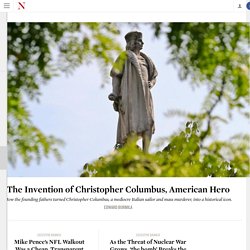 The New York Times - Breaking News, World News & Multimedia
François Sinzikiramuka, perpetrator (left); Christophe Karorero, survivor. Jean Pierre Karenzi, perpetrator (left); Viviane Nyiramana, survivor. Godefroid Mudaheranwa, perpetrator (left); Evasta Mukanyandwi, survivor. Juvenal Nzabamwita, perpetrator (right); Cansilde Kampundu, survivor. Deogratias Habyarimana, perpetrator (right); Cesarie Mukabutera, survivor.
NPR : National Public Radio : News & Analysis, World, US, Music & Arts