US
Longform.org's Guide to the 2012 GOP Field: One great read about every Republican running for president. - By Max Linsky. Perry's in.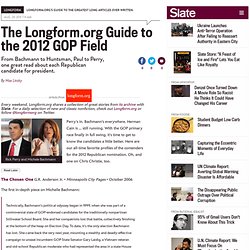 Bachmann's everywhere. Herman Cain is ... still running. With the GOP primary race finally in full swing, it's time to get to know the candidates a little better. Rolling Stone | Political News, Matt Taibbi, Politics, Issues and More. ThinkProgress » Home Page. Talking Points Memo | Breaking News and Analysis. Daily Kos :: State of the Nation. Breaking News and Opinion on The Huffington Post. Wonkette — The D.C. Gossip. The Atlantic — News and analysis on politics, business, culture, technology, national, international, and life – TheAtlantic.com. New York Magazine -- NYC Guide to Restaurants, Fashion, Nightlife, Shopping, Politics, Movies.
Mother Jones | Smart, Fearless Journalism. The Nation. The New York Times - Breaking News, World News & Multimedia. NPR : National Public Radio : News & Analysis, World, US, Music & Arts.
---